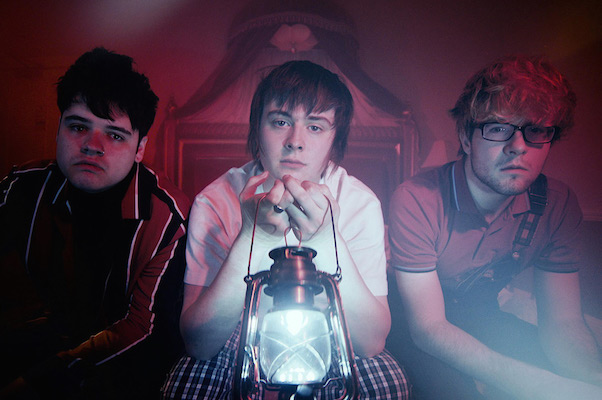 Berating Bystanders
Derry band Touts' rapid-fire sociopolitical commentary resonates with a despondent generation, writes Jake Tiernan, in the second review from our new Music Writer Mentoring Scheme, supported by Galway City and Galway County Arts Offices.
Born under Derry skies, the same that watched over The Undertones and those other Northern Irish greats, Stiff Little Fingers, Touts wear these influences on their army-green parka sleeves. A Spotify playlist, 'teds tuneskis', by Touts singer and Telecaster tormentor Matthew Crossan, shows the band's less obvious inspirations. Packed full of tracks from artists such as Paul Simon and Ray Davies, it's easy to see where the Derry punks get their melodic adroitness.
With their 2017 four-track EP Sickening & Deplorable, lasting just over 6 minutes, Touts unveiled their blueprint for rapid-fire sociopolitical commentary. But it was 2018's ripened effort Analysis Paralysis that enticed me.

Minimalist approach
Support on the night came from young Dublin group Inhaler. Guitarist Josh Jenkinson had a minimalistic approach, knowing when to take a back seat and let the rhythm take hold, and adding just the right amount of flourishes to perfect the texture of the tracks. He was inventive, most notably utilising the strings on the headstock of his guitar to achieve a great chiming sound. Their latest release, 'It Won't Always Be Like This', featuring an unshakeable chorus melody with Elijah Hewson on lead vocals, was undoubtedly the best received track of the night.
At around 9:30pm, Touts seized the Róisín Dubh stage as if it wasn't their own, opening the set with 'Overworked and Underpaid'. 'It's complicated' calls Crossan. 'I feel like scratchin' my eyes' responds bassist Jason Feenan. Simple, dry humorous lyrics, but lyrics that resonate strongly with a despondent generation. The line-up is completed by aggressive percussionist Luke McLaughlin who meticulously batters his kit non-stop for 21 songs, driving the band from the back seat.
One thing that stands out immediately about Touts is the abrupt nature of the songs. Both lyrically and musically, they are straight to the point and clinical. No extra fat, no pretentiousness. On the night, this was best displayed in 'Go Fuck Yourself' from Analysis Paralysis. Feenan rolls a thunderous bass-line through the song as Crossan's Telecaster echoes the repetitious chorus. Lyrically at his most juvenile, Feenan berates those who don't know when to shut up: 'Talking your shite and telling stories, has nobody told you that it's fucking boring?'
A blistering soundscape
With 'Working for the Weekend', a hymn for the despairing Monday to Friday workforce, the crowd seemed to double in size, and triple in density. Bystanders became main offenders in the mosh pit. I relocated from the right side of the sound desk to the centre of the shenanigans. The band fed off the crowd's energy. 'Sold Out' followed by 'Bombscare' makes for a fervid finish to the set. The former is the band's first single, still red raw with the energy of a young band bursting onto the scene, while the latter typifies everything great about Touts: passionate, political lyrics upon a blistering soundscape.
'Bombscare' begins with tromping guitar, rallying the rhythm section that eagerly awaits it. One last time for the night, Crossan, Feenan and McLaughlin thrust forward together, a musical militia above a riotous crowd. Over fitful rhythms, Crossan cries 'You don't care 'cause it's not your war', holding bystanders to account and suggesting a more unified approach to our time's social and political issues. The song approaches the finish line over a rapid drumroll with Feenan and Crossan screaming the song's title, McLaughlin pushing the tempo higher and higher, challenging his bandmates to keep up, until they all run out of breath, and, in unison with the crowd, collapse in a glorious heap.
Touts are an empowering young band. In Galway, they were passionate, political, sometimes smug and sometimes cynical. Musically the band used the limitations of a three-piece to their advantage, weaving together to create a tightly packed sound, but also allowing the right elements to breath at the right time. Cynics will say it's a sound they've heard before. Cynics are missing out.
This concert took place on 24 March at the Róisín Dubh, Galway. For more on Touts, visit: https://touts.tmstor.es/.
–
This is the second review published as part of  the Journal of Music/Galway City and County Music Writer Mentoring Scheme 2019 and is supported by Galway City Council and Galway County Council Arts Offices. Over the course of the year, the editorial team of the Journal of Music will work with six new writers – Rachel Deckard, Massimo Cattaneo, Jake Tiernan and Kerri Haberlin (Galway city) and  James Fleming and Tara Broderick (Galway county) – and publish their reviews of music in Galway.
Read more about our previous Music Writer Mentoring Schemes here.
Published on 2 May 2019
Jake Tiernan is bass-player with the band Turnstiles and writes a blog at https://waxlyrical667328945.wordpress.com. He was a participant in the Journal of Music/Galway City and County Council Music Writer Mentoring Scheme in 2019.