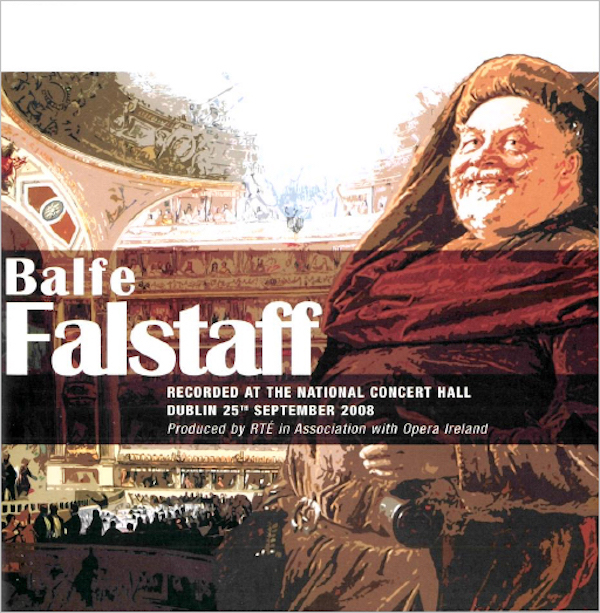 CD Review: Balfe – Falstaff
Falstaff / RTÉ lyric fm CD119
Shakespeare's vainglorious corpulent knight Falstaff has proved an irresistible lure to composers over the centuries. Salieri, Mozart, Elgar, Holst, Vaughan Williams and, most memorably, Verdi, have all set the picaresque misadventures of the tragi-comic royal companion to music. As did Ireland's most prolific opera composer, Michael William Balfe (1807–70).
It's a measure of the abject neglect that Balfe's Italianate Falstaff has fallen into that it receives just a throwaway mention in both Kobbé and Grove. Even more telling is that despite fulsome praise from public and pundits alike for its premiere production, in Her Majesty's Theatre, London in 1838, the two-act opera has neither been seen nor heard in any form in the intervening 170 years.
So, credit to Opera Ireland for staging a concert performance of Falstaff at the National Concert Hall in September to mark the bicentenary of the composer's birth, and to RTÉ for recording it for both broadcast and commercial release. And applause, too, for this is a persuasive revival of an immensely attractive and fleetly executed exercise in bel canto whose restoration casts a fresh and flattering light on Ireland's most successful musical export of the nineteenth century.
Falstaff is early Balfe and, more obviously than the familiar The Bohemian Girl, reveals the composer's operatic roots. His Falstaff is not, by any means, Verdi's – it's far too light and honeycombed for that – but it is pleasantly easy on the ears and goes a significant way to illustrating why contemporary audiences held him in such high regard. The influence of Donizetti and Bellini can clearly be heard in the long- and loose-limbed, light-as-air melodies that permeate the compact but often florid orchestral and vocal writing, but the more telling presence of Rossini is also to be felt, and not least in the adroitly managed narrative flow and the winning brio and sparkling vivacity of the comic elements that are pleasingly prominent throughout.
Particularly enjoyable is the palpable conviction in the work, the RTÉ Concert Orchestra, led with finger-tip delicacy by conductor Marco Zambelli, playing with idiomatic precision and clearly relishing the music's many melodic, emotional and comedic high points.
Just as agreeable are the two central performances. In the title role (originally written for the great Italian/Irish bass Luigi Lablache) Marcel Vanaud's bleached-oak baritone fashions a subtly sung portrait even if it occasionally feels a touch too measured and deliberately understated. Mrs Ford, the larger of the two roles, is a notable success for homegrown soprano Majella Cullagh, whose hearty but superbly agile flesh-and-bones performance, excelling in Balfe's characteristically curlicued coloratura, steals the attention on every occasion.
There's strong support in depth, too, with the National Chamber Choir on particularly fine form and Tara Erraught's prettily-sung Annetta and the ardently realised Fenton of Barry Banks especially vivid contributions.
The performance uses a new edition of the score undertaken by Valerie Langfield created from the vocal score, autograph score (revised a decade after the first production) and an aria originally written for a mooted revival with Jenny Lind, 'Ah! Si mio sposo', but never performed. A synopsis, full libretto and an essay by Balfe expert Basil Walsh completes this relishable revival.
Published on 1 January 2009
Michael Quinn is a freelance music and theatre journalist based in Co. Down.