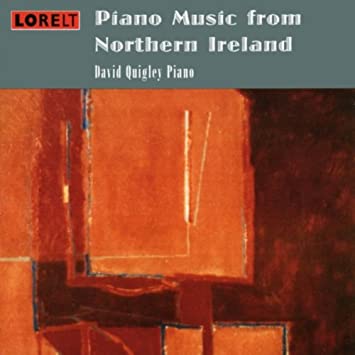 CD Reviews: David Quigley
Piano Music from Northern Ireland, Lorelt LNT122
Reaching 30 this year and a onetime BBC Young Musician of the Year finalist and piano section-winner of RTÉ's Young Musician of the Future Competition, David Quigley has matured into a fine and subtle musician in the past decade. Abundant evidence of that can be found on this eloquent survey of contemporary piano music from Northern Ireland.
The lion's share of the disc is divided between Alan Mills, who has two works here, and Philip Hammond – one of the more sophisticated composers at work in the north today and deserving of far greater attention – with three. Hammond's African Black (1993) begins the disc with a rhythmically feisty and virtuosic flourish with two skillfully interpolated African tunes wrestling over separate ownership of the black and white keys. By blissful contrast, east coast America is the trigger for the delightfully insouciant Ho Hum Hill NH. A gently playful, sun-dappled work, it is played with a pert delicacy by Quigley, for whom it was written in 2001.
The Island Beyond The World (the title is taken from a saying attributed to St Isaac of Syria) was commissioned by Nikolai Demidenko for his Irish tour in 2001 and reveals yet another side of Hammond's intelligently deft way with the piano. Eschewing his dedicatee's flair for firework-like displays of dexterity, Hammond instead tests (and rewards) his listeners' willingness to venture into the subterranean after the pleasingly superficial attractions of his American sojourn. The intensely conceived score is marked 'Very slow and intense, almost static, but with very careful, subtle expression', and Quigley's performance is accordingly measured in a deeply thoughtful and reflective conclusion to the disc.
Elsewhere, Alan Mills's 20-year-old Scriabin-esque Night-music is a chill moonlit miniature, evocative and atmospheric and redolent of a previous, more sedate moment in time. Earlier composers also make their presences felt in his four-part Reproductions from 2002, the titles of each individual movement separately referencing Grieg, Liszt, Coleridge-Taylor and Chabrier. It's here, in avoiding the pitfalls of erroneously assumed pastiche, that Quigley shows himself to be an adept interlocutor between the occasionally tongue-in-cheek archness of Mills's ideas and his clean, unambiguous execution of a set of freshly delineated character pieces.
Eibhlis Farrell's Yeats-inflected Time drops (1988) requires an engaging spontaneity from Quigley, with a surprisingly wide palette of sound coaxed from splashes of contrasting registers and tumbling toccata-like phrases. Ulster Orchestra chief David Byers's Echoes of Survival (2004) – 'a sort of musical palimpsest' – employs a Pousseur-like approach to the scoring that teasingly imbues the whole with a fractured juxta- position of layers. And Deirdre McKay's Time, shining (1998) distils the memory of a snow-clad winter landscape into a frozen shiver of a moment long gone and is played with icy precision by Quigley.
The recording is clear, forward and well balanced, and frames a persuasive calling card for Quigley and an enjoyable varied programme that illustrates the variousness and vitality of contemporary writing for piano in the north.
Published on 1 January 2007
Michael Quinn is a freelance music and theatre journalist based in Co. Down.