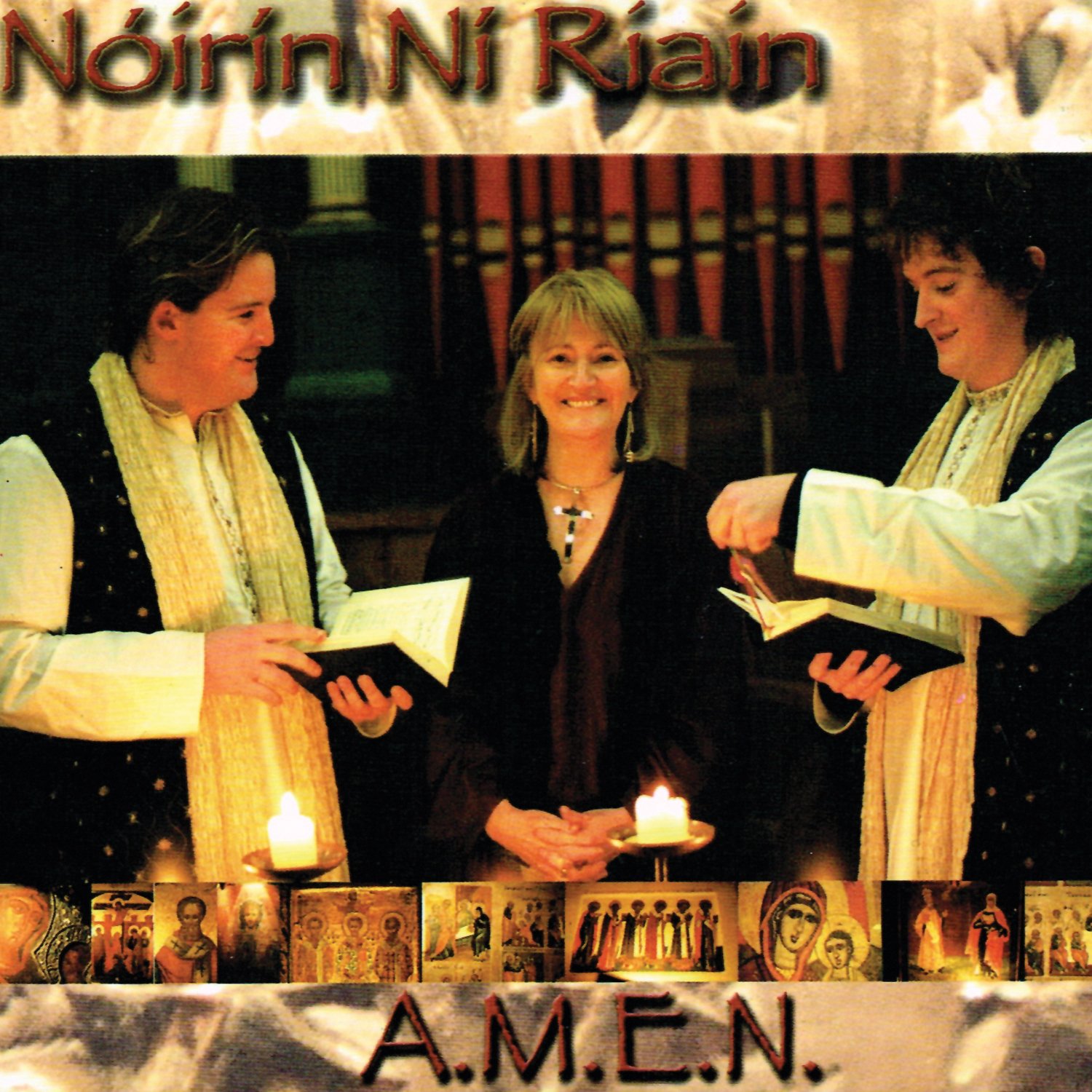 CD Reviews: Nóirín Ní Riain
A.M.E.N. / Daisy Discs, DLDC 026
Nóirín Ní Riain has long been known as a singer of songs of a spiritual dimension, her repertoire stemming from sources as diverse as the ancient vocal traditions of Ireland and India and the no less venerable heritage of Gregorian chant and Plainsong, while also comfortably accommodating the contemporary cutting edge of the music of John Cage and Markus Stockhausen.
Her eighth release finds her, incongruously enough, making her first appearance on traditional music virtuoso Sharon Shannon's Daisy Label. Stylistically and emotionally, A.M.E.N. sees Ní Riain returning to her musical and family roots with the musical focus narrowing to largely concentrate on songs from the Christian tradition, illustrating what Ní Riain, a Limerick University theology graduate, describes as 'theosony', a self-coined word meaning 'the Sound of God'.
The vocal approach is loosely based on sean-nós technique, with Ní Riain's fellow singers her sons Eoin and Mícheál Ó Súilleabháin, with their illustrious father, Mícheál senior, joining them to provide the occasional organ accompaniment. (The album's punning acronymic title identifies the three singers by the initials of their first names after first throwing open the widest of doors to 'Almighty, audience, absolute, anyone who has ears to hear'.)
On the (in places hopelessly illegible) booklet, Ní Riain rhetorically asks, 'What is the Sound of the Womb?' Answer: 'A mother singing with her two children', a somewhat queasy declaration that, for sheer affected sentimentality alone, sets alarm bells ringing straight away.
Discovering that all 17 tracks are first-take performances adds to the initial disquiet. There are moments – a shaky refrain here, a wavering note there, the occasional threat of ensemble about to unravel – when one wishes that the trio had allowed themselves the luxury of a second take, or at least made judicious use of a section patch – a standard approach to invisible mending that seldom interferes with the integrity of a performance. The decision not to do so is an occasional pity, for the performances, on the whole, are clean, well proportioned and delivered with a beguiling soft-edged luminosity and ultimately persuasive intimacy.
Among the more successful items are Caoineadh na dTrí Mhuire, a beautiful traditional Irish song with drone accompaniment, a plangent plainchant setting of the Hail Mary, a nimbly realised account of the familiar Cornish carol The Holly and the Ivy, and a radiant rendition of John Henry Newman's Lead Kindly Light.
Whether the peculiar mélange on offer – Ní Riain also adds references from Benedictine and Greek Byzantine traditions as well as Shaker and 'Sacred Harp' material from the United States and Mozart's Ave Verum – knits together is for the individual listener to decide.
What can be said is that this is a recording of obvious sincerity of feeling that benefits from the resonant acoustic of County Waterford's Glencairn Abbey.
Published on 1 March 2008
Michael Quinn is a freelance music and theatre journalist based in Co. Down.