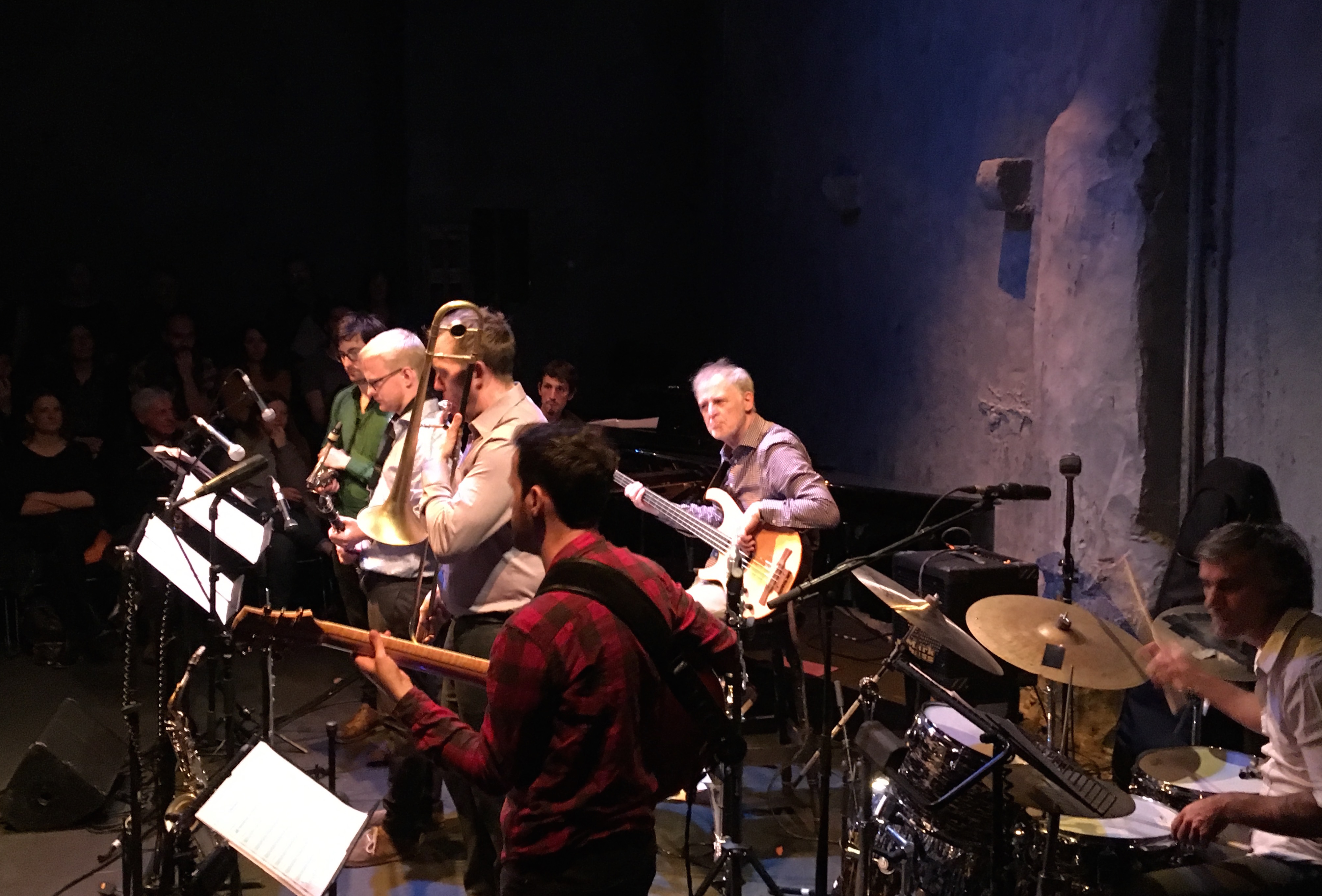 Dig it in Galway
The Galway Jazz Festival is on an ambitious new path – with over 40 events over 4 days held in October. Toner Quinn attended three sold-out shows at the Mick Lally Theatre.
Galway Jazz Festival began in 2005, but had slimmed down one to just one day of events by 2015. In 2017, a new team were determined to put it back on the path towards growth. Matthew Berrill (Artistic Director), Ellen Cranitch (Director) and Ciarán Ryan (General Manager) programmed more than forty events over four days (5–8 October), and set about a serious publicity campaign that created a real sense of anticipation. By the time the event was officially launched on 6 October by Carl Corcoran, Ryan could say from the mic, with real excitement, that people 'were buying tickets like never before'.
The four-day programme consisted of leading Irish artists – Ronan Guilfoyle, Mike Nielsen – and adventurous international acts  – Simon Nabatov, Trondheim Voices, Haz'art Trio – but also those at the edges of the new music scene in Ireland: Cora Venus Lunny, Oledya Zorovetska, Dave Flynn, Jack Talty, The Jimmy Cake. There was also a panel discussion about jazz education with composer Bill Whelan, Eve O'Kelly (Music Generation), Deborah Kelleher (RIAM), Talty and Guilfoyle.
Always know
On Saturday afternoon (7 October), bass-player Ronan Guilfoyle had assembled a seven-piece band to perform his new eight-part suite Always Know inspired by Thelonious Monk. Monk always said to his band 'Always know' before they went on stage, though he never told them what they should know.
The Suite reminded me of Guifoyle's James Joyce-inspired Counterparts from 2013 – it also featured extraordinary French drummer Christopher Lavergne. This music is extremely complex but absolutely riveting. On top of the colourful melodic work – now angular, now meditative – Guilfoyle regularly fires the musicians off in different rhythmic directions – juxtaposing impossibly different times – creating long, edgy passages with no clear centre. When these moments find their resolution, it has an immediate impact on the audience. Over eight pieces – the highlight being 'You've Got to Dig it, You Dig?' (another piece of advice from Monk) – Always Know would rise and fall, clicking into place and shaking the Mick Lally Theatre. Ronan's son, Chris Guilfoyle on guitar, had some super runs, and Lavergne was always compelling to watch, but this was a brilliant collective performance – also featuring Matthew Berill (clarinet), Sam Comerford (saxophone/flute), Paul Dunlea (trombone), Greg Felton (piano)  – that brought a huge response from the full house.
Electro-concertina
On Saturday evening, Jack Talty and Graham Dunne presented a first half of improvised work for concertina, guitar and electronics. It was quite tentative – this was the first time they had performed these pieces – and although the final piece combining bass concertina with recordings of speech from Junior Crehan gradually drew in the audience, in general the improvisations seemed to lack enough intensity to really engage the Galway crowd.
The following evening, Naomi Berrill (cello and vocals) and Simone Graziano (piano), also presented a low-key 45 minutes. Berrill's gentle approach to melody and harmony, with pastoral lyrics and minimalist melodies, was perhaps a little understated, although Graziano's harmonies and feel on the piano always seemed to suggest the possibility of other levels. The final song, with Matthew Berrill on clarinet, did seem to combine the best of what the duo are capable of – subtle, original, introspective.
Hugh Buckley's idea to combine his jazz pieces with the quartet of Cello Ireland – Úna Ní Chanainn, Katie Tertell, Ailbhe McDonagh and Lioba Petrie – was a really enticing idea. With arrangements by Fiachra Trench, the first piece had a definite cinematic feel – the cellos weaving in and out of the quintet of Buckley (guitar), Michael Buckley (sax), Phil Ware (piano), Dominic Mullan (drums) and Dan Bodwell (bass). But, frustratingly, the cellos were too low in the mix for much of the gig and much of the detail was lost.
Rolling with it
As the festival reached its close on Sunday evening, I thought it would be hard to match Always Know, but Arve Henricksen (trumpet, electronics) and Terje Isungset (percussion) opened their set with Nordic-style, thoughtful, adventurous improvisations, showing great skill, playfulness and creativity, engaging with percussion, pieces of stone, bells and even a fly that kept trying to join in. It was too much for the two women on front of me, who sniggered their way through it, commenting on the musicians so we all could hear. Henricksen and Isungset noticed but rolled with it. The ladies left after the first piece. And what a shame they did, for surely their minds would have been changed about what is possible and entertaining in improvisation and music if they had stayed for the second and final piece.
After a slow build up, Isungset suddenly began a brilliant rhythmic drone on the Jew's harp and Henricksen started vigorously signalling with his harms. I presumed he was trying to get the attention of the sound man, but the crowd opposite me realised he was signalling to them. He began leading them with sounds and beats and noises that they had to repeat and – Galway being Galway – the crowd threw themselves into the moment. Then he moved to the middle section and finally my section. Suddenly, from a quite intellectual first half we had moved to beautiful bedlam and musical madness, the crowd stamping and shouting, Henricksen leading us with improvised melodies, crossing jazz, pop, rock, hip-hop, Isungset's Jew's harp binding us all together. The Mick Lally Theatre was ready to erupt.
And then it ended. A standing ovation for the duo was a fitting way to end the festival.
Something is happening in music in Galway. In three years, the city will be European Capital of Culture – a new youth orchestra for the west, Symphonic Sounds, has been established in the build-up; the University is about to launch its first music degree in 2018; Con Tempo Quartet have signed a five-year partnership with the college; Music Generation have announced that it is expanding its music education programme to the city and county; the Journal of Music/Galway City Council Music Writer Mentoring Scheme is finding talented new writers; Finghin Collins continues to have a big impact at Music for Galway; Galway International Arts Festival brings major music productions, such as The Second Violinist, to the west; and now Galway Jazz Festival appears to be on an ambitious new path. The next few years could see some exceptional results. 
Published on 2 November 2017
Toner Quinn is Editor of the Journal of Music.