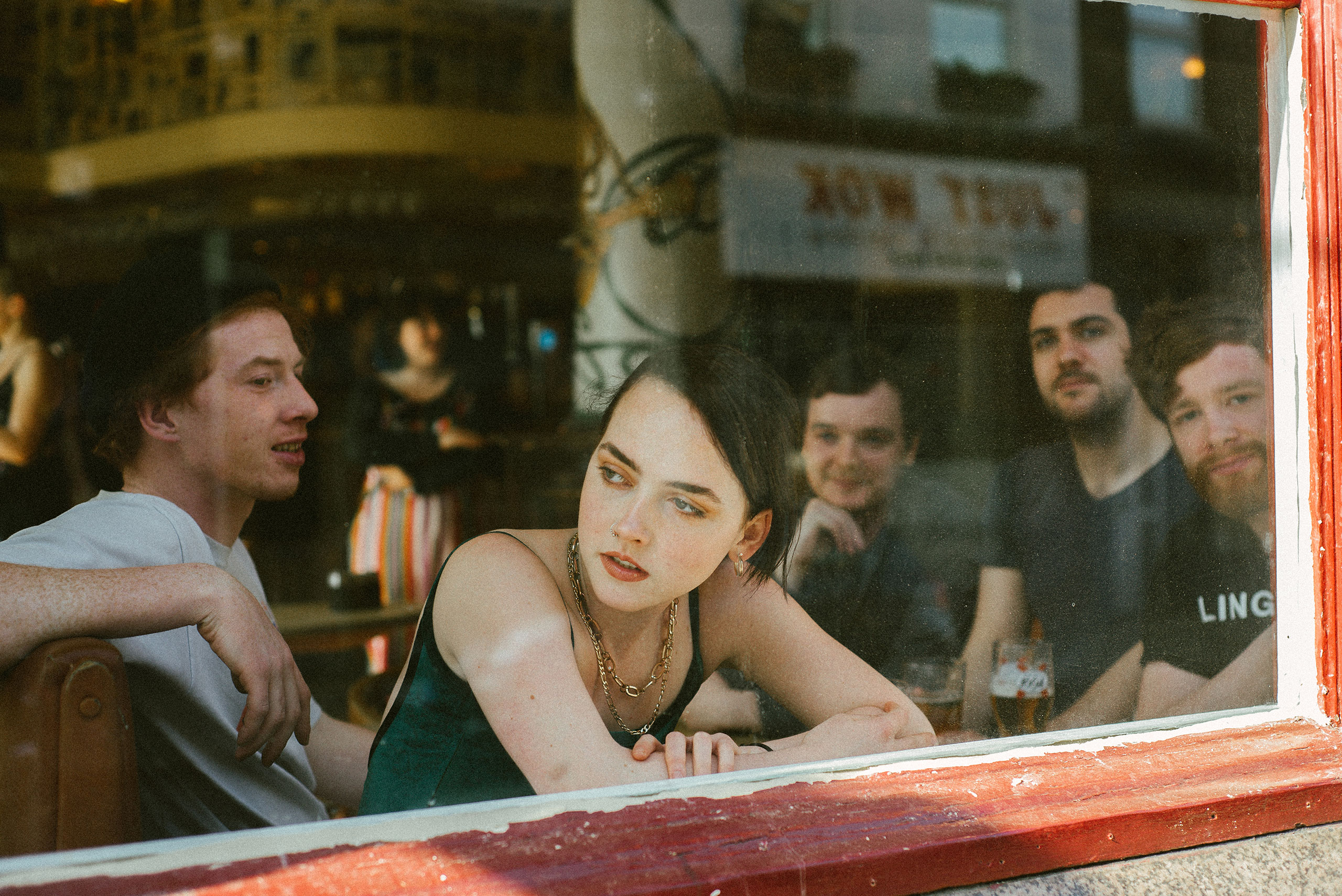 Dream of Distortion
Just Mustard from Dundalk recently supported The Cure and this week were announced for the Iceland Airwaves festival. Shannon McNamee reviews their Galway concert at the Róisín Dubh.
It's no longer news that the border town of Dundalk in County Louth has produced some of the most exciting emerging artists in Ireland's music scene. Electro pop act Æ Mak, singer David Keenan, rappers TPM, songwriter Elephant and the band Just Mustard are a few who base themselves there.
Artist-led label Pizza Pizza Records represents a number of the acts, including Just Mustard and electronic artist Trick Mist, who hails from Dundalk but is based in Cork. Both played Galway's Róisín Dubh last Friday (14 June).
Influences of dream pop, shoe gaze and electronic
Just Mustard, which is made up of singer Katie Ball, guitarists David Noonan and Mete Kalyon, bassist Rob Clarke and drummer Shane Maguire, released their debut album Wednesday last year. Nominated for the RTÉ Choice Music Prize, the record is a collection of distortion fuelled tracks with a sound that refuses classification in one genre. The influence of dream-pop and shoegaze are apparent, and alt rock, electronic and grunge too.
Having just supported The Cure at Malahide Castle, performed at Primavera Sound in Barcelona, and this week were announced for Iceland Airwaves, Just Mustard are getting used to much bigger stages. The Róisín Dubh's small size, however, worked well, with the band performing to a sizeable, elbows-touching audience.
Wednesday
Trick Mist is electronic artist Gavin Murray who played support on the night. His ambient style of music is inspired by traditional, folk and storytelling, accumulating in a mellow experience, but it unfortunately was lost on the crowd who mostly filed in when Just Mustard had taken to the stage. 
The band's set was made up mostly of tracks from Wednesday and some new music they have released in the past few months. 'Tennis' came early on and is one of the band's slower, more eerie numbers with howling strings and a simple and repetitive march on percussion. Ball's vocals start off gradually, wailing the words 'Let me out, let me out', mimicking the strings as they increase in volume, behind a wall of distortion.
'Frank', one of the band's new tracks, shows their songwriting progression. 'I watch TV to fall asleep and I can't fly in my dreams,' sings Ball repetitively over a syncopated rhythm. What starts off as a simple sound with vocals, percussion and a drone underneath eventually layers with a trill hook on guitar and a crescendo of vocals, strings, percussion and a prominent bass. 'Frank' is one of the strongest in their set and goes down well with the crowd, many of whom are singing along.
Soft and edgy
The night fills up with songs such as the slow and haunting 'Boo' with prominent bass and percussion that features Noonan sing in unison with Ball. 'Deaf' is a personal favourite and perhaps the most melodic and dream-like of their repertoire. The intro of whirling guitar and Ball's soft vocals –'What can I say, when I go?' – echo in rhythm with the guitar in a harmony that is the perfect juxtaposition of soft and edgy.
Having not seen the shoegazing quintet since before the release of their debut, I could hear that their songwriting has not only become more refined but their experience of festivals and big gigs is showing in their stage performance too. They played an absorbing gig to an eager crowd. Just Mustard have their own niche and while it isn't mainstream, it's accessible yet mysterious, abstract yet enthralling, a combination that seems to grow their fanbase with every gig and release.
For details on Just Mustard's upcoming concerts, visit: www.breakingtunes.com/justmustard
Published on 20 June 2019
Shannon McNamee is Assistant Editor of the Journal of Music.