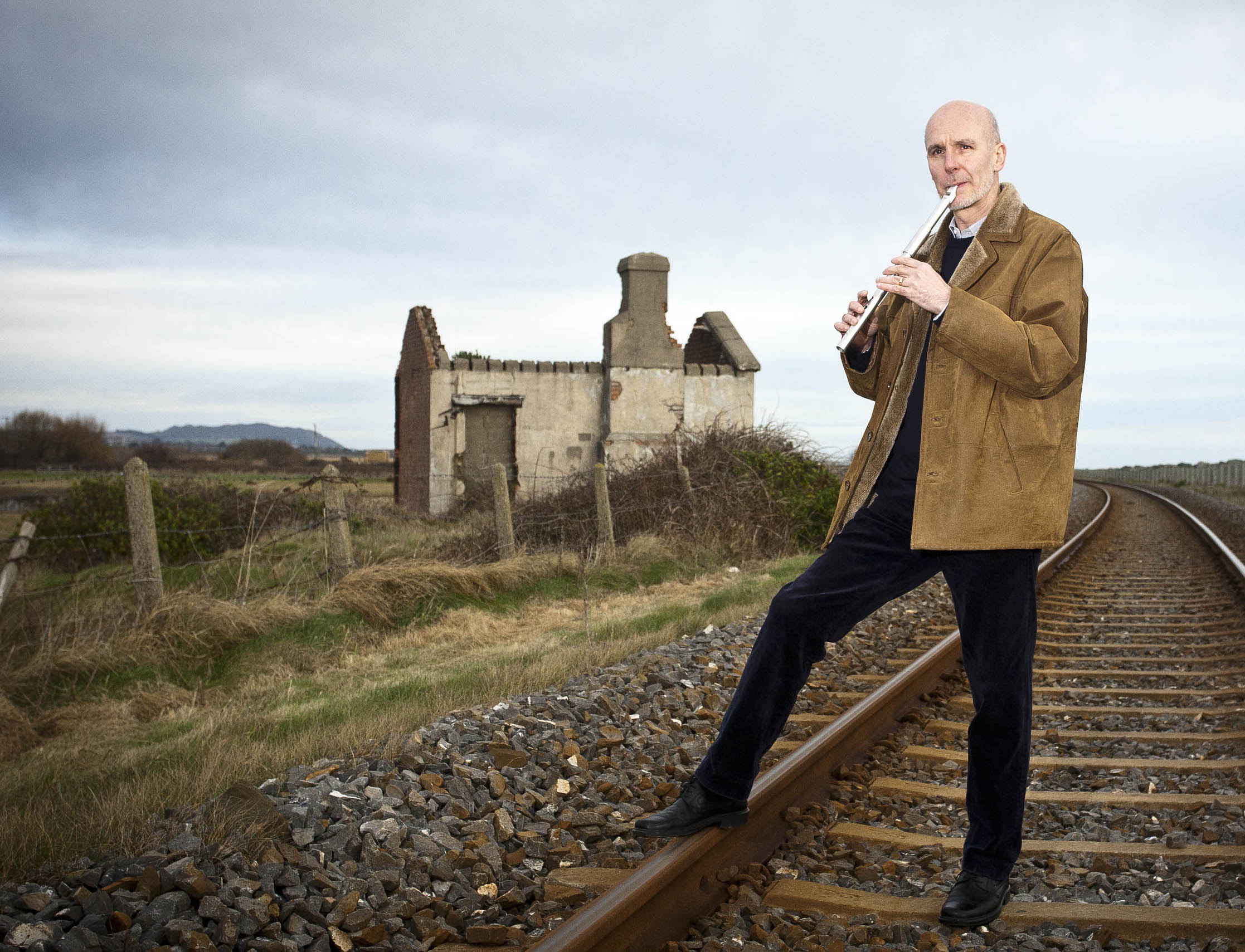 The End and the Beginning
Cormac Breatnach's 'The Whistle Blower' tour and album, featuring Daire Bracken and Martin Tourish, is both an act of healing as well as a challenging musical offering. Ian Bascombe reviews the performance at Glór.
Whistle-player Cormac Breatnach's music has often asked questions of his listeners. His ground-breaking albums from the 1990s with the group Deiseal stretched traditional music's boundaries, exhibiting brandishments of jazz and blues and challenging customary aesthetics.
Later solo projects and collaborations – for example, with Roger Doyle – pushed further at the limits, and more recently his work with Sonamus probes the intersection of traditional and Baroque musics. Nevertheless, Breatnach's status as a tradition-bearer seems assured with some prestigious appearances, notably at the Masters of Tradition festival in Bantry.
With this year's The Whistle Blower album and tour, Breatnach continues to challenge – investigating composition and film, and indeed interrogating the very integrity of the State through an exploration of personal events from 1976: namely, the wrongful arrest, extorted confession and ensuing 17 months' imprisonment of his brother Osgur. Last week in Glór in Ennis, Breatnach recounted those events in a stylish documentary/animated film that preceded, then backdropped, the concert. 
Sonic railway
Breatnach's trio opened with the track 'On Board', introduced by a tapped staccato effect on the whistle – a trademark much used by him down the years (Deiseal's 'The Shores of Loch Ghamhna' springs to mind). The piece then transformed into sonic railway imagery with the rumbling reel-time piano accordion of Martin Tourish, and unfolding in an episodic 'programme' structure. Lilted and whistled melody gave way to voiced whistle (reminiscent of Jethro Tull's Ian Anderson), followed by spoken word. Next, a slower, reflective passage was unfurled, with leisurely scat singing from Breatnach. Finally, dense textures from Tourish and fiddler Daire Bracken gave way to solo voice.
Railway-sound evocation underpinned much of the concert's first-half, returned to in See No Evil – the music now in jig time – with each member of the ensemble swapping melodic lines in an elaborate sequence of both echo and call-and-answer. This was a music that was almost visual, or as Breatnach described it, one that 'bears witness'.
The recital's second-half brought a musical and emotional shift. With the slow air Amhrán na Mná, a modulating melody in traditional solo form (introduced by Tourish) grew in stature and intensity as Bracken assumed ownership, with Breatnach bringing the piece to a poignant climax. In the linked follow-on Faoi Bhláth, the ensemble treated a comparatively simple melodic line to a sophisticated arrangement, weaving and then combining to create a rich summation.
Musical apotheosis
Even for those already familiar with Breatnach's capacity to convey emotional intensity, these tracks represented something more. This, conceivably, was the music that he had been waiting to write and play since 1976 – a distillation of both pain and hope into a searingly beautiful melodic apotheosis. With the finale of the evening – 'The Beginning and the End' – a continuation of the second half's tonal centre, aided by Tourish's harmonic deftness and Bracken's occasional and gentle vamping, ensured that the effect was maintained – as one listener described it, 'touching souls'.
I've always had a sense that Cormac Breatnach's music is his release-valve: here is a man with a seemingly quiet demeanour who produces music that not only challenges but displays unchained flourishes of feeling; sometimes melancholic, frequently joyful, and often questing in spirit – like lava bubbling through an outer-crust.
The Whistle Blower album and tour does much to explain both this apparent exterior reticence and his musical trajectory. The project seems to be a simultaneous act of healing and a reminder that work still needs to be done – but also an acknowledgement that, sometimes, there are simply no right outcomes. The strands are synthesised into a musical offering of the highest calibre, perhaps his finest work.
The Whistle Blower tour continues at The Market Place Theatre (2 Feb), Siamsa Tíre (16 Feb), Linenhall Arts Centre (21 Feb), Dunamaise Arts Centre (9 Mar), The Riverbank Theatre (22 Mar). 
Listen to The Whistle Blower on Spotify:
Published on 23 January 2019
Ian Bascombe is a tin whistle and bouzouki player, teacher and writer based in County Clare. His recently completed PhD, funded by the Irish Research Council, investigated the nineteenth-century origins of the mass-produced tin whistle, and he is the author of 'The Official Handbook for the Clarke Tin Whistle'.