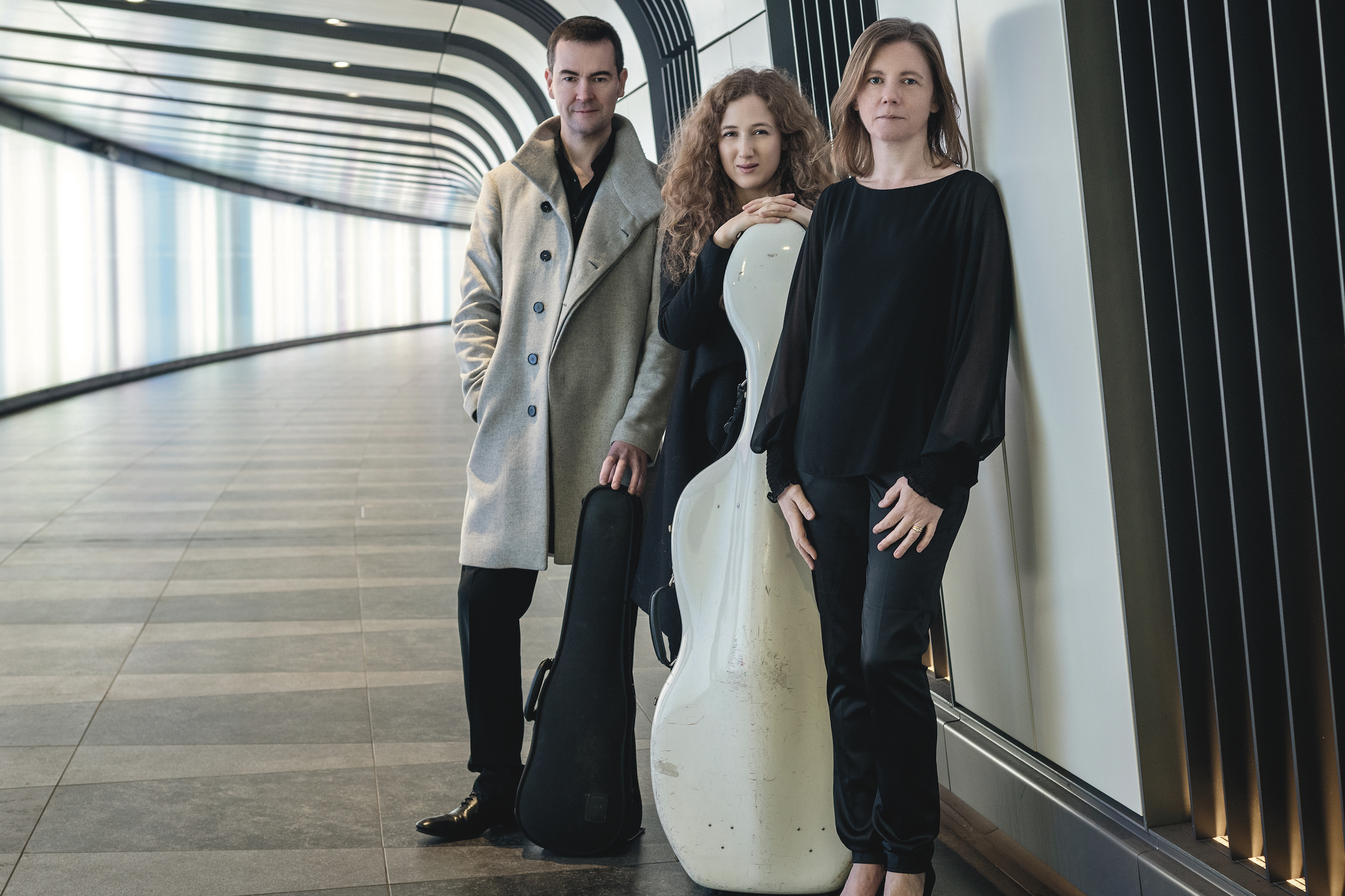 Hard to Reconcile
The Fidelio Trio's second album of French piano trios has all the fine musicianship of the busy trio, writes Brendan Finan, but too many eccentricities.
Squeaking in at the tail end of 2018, on 28 December the Fidelio Trio released a new album of works by Ernest Chausson and Gabriel Fauré, along with new arrangements by John White of works by Erik Satie. It's their second album of French piano trios on the Resonus label, after a 2016 release of Ravel and Saint-Saëns.
The group, when I have seen them live, have performed a welcome mixture of contemporary and older music, leaning far more into the twentieth century than a lot of ensembles. They're also prolific: this release is their fourth full album since 2016, after an album of Irish contemporary music and a Rhona Clarke disc, as well as the first album in this series, and even a single release of Philip Glass' Pendulum. (That doesn't include solo projects – Darragh Morgan's For Violin and Electronics in 2017, and pianist Mary Dullea's release last year of Eric Craven's Entangled States – or their performance schedule. They're busy, is what I'm saying.)
Dancing canons
As for this new album, first things first: the sound quality is not good enough. In particular, the piano is badly recorded – it's often overpowered by the violin and cello; passages in the bass lose a lot of detail, and in the treble sound watery. It's nothing to do with Dullea's playing, which is intricate and well-voiced, but it makes a mess of some really excellent musicianship.  
The bulk of the album is given over to Chausson and Fauré. Chausson's G-minor piano trio, a brooding work in four movements, shows more than a little influence of Brahms, not least in the muscular piano part. As a result, it suffers most from the recording quality, with climactic runs coming through subdued or too dominated by the strings. The performance is good nonetheless; the trio takes the first movement about as quickly as the 'Pas trop lent' tempo marking would allow, which makes room for the music to flow, and gives it an extra punchiness in faster sections.
Fauré's second piano trio, in D minor, allows the group more opportunities for dialogue, especially in the last movement, where the music is fresh and clear as running water. Morgan and cellist Adi Tal play this movement's dancing canons with excellent balance and rhythmic propulsion, for an exhilarating arrival at the end. 
Wanting more
Two works by Satie, in new arrangements for piano trio by John White, complete the collection. First is the last movement from his Messe Des Pauvres ('Mass for the Poor'), the most intriguing work on the album. It's similar to the style of Satie's Quatre Ogives, alternating a simple modal melody with a full, surprising harmonisation of the same melody. The arrangement, in which violin and cello take the solo melodies, and piano the harmonised versions, imbues the piece with more intimacy and lyricism than its more solemn organ solo progenitor. Out of all the works on the album, this was the only one that left me wanting more; it would be interesting to hear the trio attempt an arrangement of the whole mass (although the first two movements, which feature vocal parts, could pose a challenge).
Second is a rather bizarre series of very short comic dances (about 15–45 seconds), La Piège de Méduse, from Satie's equally bizarre-sounding play of the same name. Their cheerily sarcastic mood is hard to reconcile with the rest of the album: too light and frivolous to fit the serious tone of the other works; too short to stand on their own, but too long to feel like an encore. Rather it feels like the performers had the arrangements and needed somewhere to put them, and the end of this album was as good a place as any. That said, a little more variety in mood from the earlier works would also have prevented their sorbet-sharp arrival. 
Boxed in
The Fidelio Trio, as I said at the beginning, put a strong emphasis on variety in their programmes, so it's surprising that their albums are, by comparison, so cloistered: just contemporary music on one album; just Romantic French piano trios on another. While that may be due to recording contract concerns, it does seem to box them in unnecessarily. Given free rein, I have seen them create programmes which span centuries while never feeling stretched.
The eccentricities in this album are all too common in classical releases. A group as good as the Fidelio Trio deserves better.
Fauré, Chausson & Satie: Piano Trios is available from Resonus Records at www.resonusclassics.com.
Listen to the full album on Spotify:

Published on 15 January 2019
Brendan Finan is a teacher and writer. Visit www.brendanfinan.net.