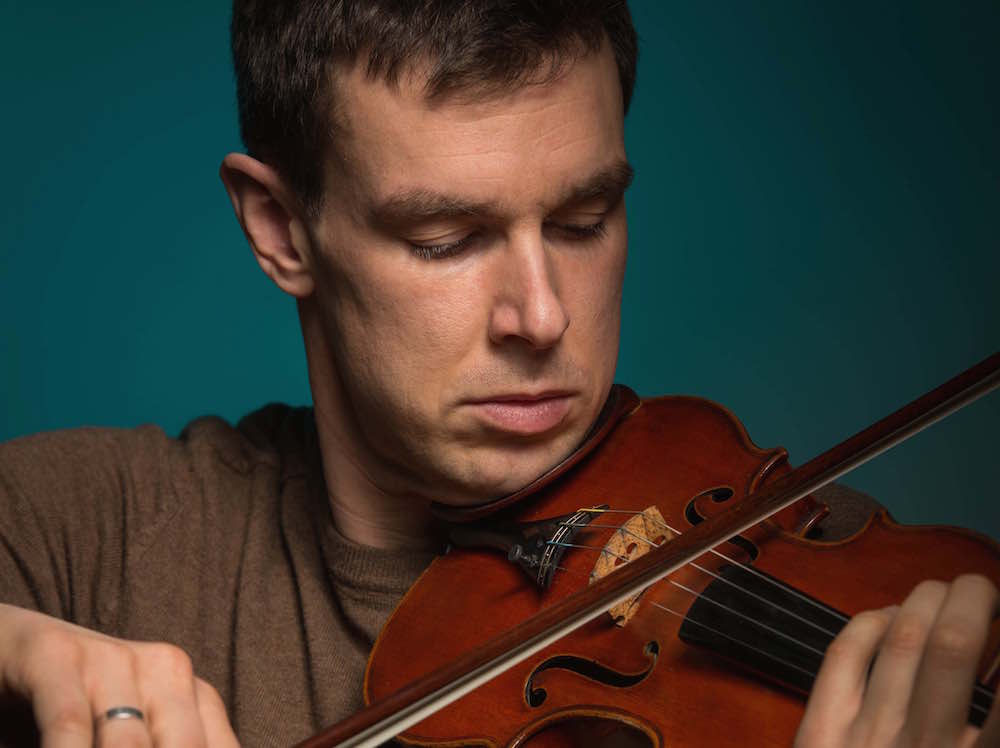 At the Heart of Fiddle-Playing
Liam O'Connor's first solo album strikes the balance between virtuosity and style, writes Toner Quinn.
The 1960s and 1970s were breakthrough decades for Irish traditional music, triggering a climb in popularity that continued right up to the 1990s.
In terms of fiddle playing, the 'post-peak' generation that rose to prominence after the 1990s, in an even more diverse environment, have continued to produce original approaches. Caoimhín Ó Raghallaigh, Zoë Conway, Ciarán Ó Maonaigh, Breda Keville, Malachy Bourke and Liam O'Connor – all of whom would have been born within a decade of each other – illustrate the diversity of fiddle styles today. If Bourke and Keville work on a compact area of musical ground; and Ó Raghallaigh and Conway are innovators; then Ó Maonaigh and O'Connor lie between, drawing in wider influences but always second to intense solo and duet playing.
In traditional music, O'Connor's technical ability on the violin is crucial. He studied both classical and traditional technique, which is still not overly common, and to watch him play illustrates the extent of his training. Now in his 30s, he has been a regular performer on the music scene since he was a teenager and has often been singled out as finding the balance between virtuosity and style. The release of his first solo fiddle album, therefore, eight years since his duet with piper Seán McKeon, is a significant event.
The Loom is an independent release, with support from the Arts Council, and contains 15 tracks. Five are entirely unaccompanied. He is joined by John Blake on guitar for seven and on piano for one; by Paddy McEvoy on piano for three tracks; and by his father, flute-player Mick O'Connor, on the last track, 'Lucky in Love / The Indian on the Rock'.
The album has a striking opening, and if you only catch this first track you will be compelled to listen to more. In the sleevenotes, O'Connor says that the opening is inspired by the first few bars of Sibelius' Violin Concerto in D minor. Such diverse influences are becoming more common in traditional music as the digital age removes any hindrance to accessing 'every song ever', in critic Ben Ratliff's phrase.
It is because of O'Connor's technical ability, however, that the first track is so intriguing. Following an opening with a shimmering multi-fiddle background (á la Sibelius), O'Connor begins the 'Tarbolton' reel in an uncommon key. From there he plays over this multi-tracked background with striking restraint, pulling the rhythm back, weighing down on certain notes, pushing them into the background, allowing the rolling ornamentation push the tune along rather than any forceful bowing. Then, carefully, he slides to the next reel, 'Imelda Roland's'. Guitar quietly enters, joining a second fiddle, O'Connor again, playing an octave below. The fiddler starts to become more assertive, yet softens it by burrowing in the melody, and the transition to the third tune, 'Master Crowley's', is again carefully restrained. Flashes of brilliance light the track up here and there, but in the main O'Connor rows across the lower register, maintaining an air of introspection. Wearing his technical ability so lightly gives this opening track a very special kind of power.
At the end of the first track, the listener will be excited, noting that O'Connor is not only a spectacular fiddle-player, but unpredictable too – an innovator. And yet, for most of the rest of the album, a more familiar O'Connor emerges. This is not a disappointment, but it is a surprise, almost as if we were starting a new album.
An edgier, more uncertain journey
But there is much to draw you in. On the 'Wild Geese' slow air, his bow control comes to the fore, with inspired bobbing, bowed triplets like sharp intakes of breath. This technique provides the punctuation to all of his air playing, but appears in dance music too, and in his contrapuntal arrangements of slower tunes such as 'Moran's Return' and 'The Rights of Man / The Rights of Women'.
He is at his most compelling when he completely relaxes into the tune, almost discarding technical skill for an edgier, more uncertain journey, like in the first track. In his solo version of 'Repeal of the Union', by the time he plays the tune a third and fourth time, we hear O'Connor's uniqueness come through as he pushes right at the architecture of the tune with startling fingerwork. To hear O'Connor do this kind of musical excavation live, as I have on occasion, is exhilarating.
He takes a similar approach in 'The Buncrana Boy' (Johnny Óg Connolly) and 'The Loom' (Tommy Potts). In the former, O'Connor increasingly allows the melody teeter on the edge as the tune progresses, before trapezing down into a bold rendition of the latter, which may well by the highlight of the album. It is interesting that most of the most striking moments of the album are entirely unaccompanied, it bringing something extra from the player.
The Loom is a memorable album, an engaging, thoughtful achievement. O'Connor continues to be an important creator at the heart of Irish fiddle playing.
Liam O'Connor's The Loom will be launched by fiddle-player Seán Keane on Wednesday 19 April at The Chapel, Trinity College, at 7.30pm. Guests include John Blake, Paddy McEvoy, Seán McKeon, Noel Hill and Mick O'Connor. For more, visit http://liamoconnor.ie/
Published on 18 April 2017
Toner Quinn is Editor of the Journal of Music.