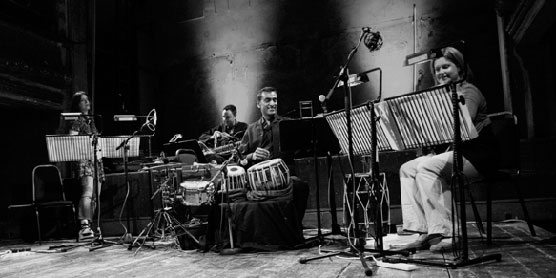 Live Reviews: Folk From Here
Sir Jack Lyons Concert Hall, York, England 7 May 2008
Folk From Here is a programme of music composed for the specially-formed ensemble of Kuljit Bhamra (tabla/percussion) and Jonathan Mayer (sitar), both eminent performers of Indian classical music; Marie Fielding, a fiddler from the Scottish folk tradition; and Kathryn Tickell (Northumbrian pipes/fiddle) and Julian Sutton (melodeon), both well-known exponents of British folk music.
The brainchild of Kuljit Bhamra, current artistic director of the Society for the Promotion of New Music (SPNM) in the UK, Folk From Here was the culmination of a five-month SPNM project in which the members of the ensemble worked with four composers represented by the Society.
What a joy it must have been to compose for this group! It offers a mix of music-making practices, not just a mix of instruments. Precise notation was probably not always the best way for the composers to get what they wanted from the ensemble – a reminder that the notation of the Western art music tradition began as nothing more than a memory aid; a reminder of that continuum between composer and performer.
It's also a reminder that no one tradition of music-making lies untouched by outside influences. It's John Cage: 'interpenetration without obstruction'.
Bhamra and Tickell opened with a tabla–pipes duet, which segued into Bhamra's dexterous ensemble piece, High Tea in D. The ensemble's rich and varied sonic palette became apparent in the numerous solo and duo sections.
A sure hand was also at work in Bhamra's Punjabi Mela, which seemed to weave together procedures from both British folk and Indian classical musics, producing a seamless fabric.
Marie Fielding's Deep C (which Jonathan Mayer sat out) sounded reminiscent of traditional Irish music, with the tabla fulfilling the role of a bodhrán and providing a constant rhythmic ostinato. Fielding found a practice common to two groups of traditions and worked with that.
Neither Punjabi Mela nor Deep C particularly blew my hair back nor did Jonathan Booty's Sankahra. Sankahra came across as well timed and effectively shaped, but I couldn't help feeling that there was an opportunity lost: the opening and closing material, which centered around a sustained double-stop on fiddle, rather than framing the piece, could have been the focus of the piece.
Adam Melvin's Ripples and Bright Sparks seemed diffuse to me. Sutton's dominant, graceful melodeon playing was a pleasure, but the material didn't capture my ears, nor did the form persuade me.
Most successful were Nick Redfern's And on the breeze a song and Laurence Rose's Five Rivers. Redfern mixed the colours of the ensemble with skill and focus within the context of a predominantly static texture. Rose made an individual use of a form that seemed modeled on the unmetred–metred alap/jhala structures found in Indian classical music. I was reminded of Lou Harrison's Double Concerto for violin, cello and Javanese Gamelan.
Tellingly, a set of reels performed by Tickell, Fielding and Sutton didn't make the rest of the concert sound like ill-conceived dilution or mis-directed experimentalism. It was simply music in the British folk tradition performed by expert practitioners with great commitment.
The end was as well-judged as the beginning: Tickell's Sparty Lea finished the evening with another alap/jhala-like form with melodic materials derived from English folk music.
Published on 1 July 2008
Garrett Sholdice is a composer and a director of the record label and music production company Ergodos.