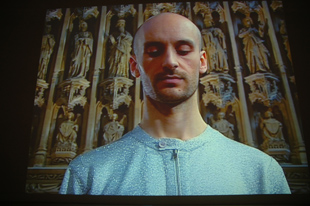 Live Reviews: For You, Only You
Alamire – Mikhail Karikis / Various venues, Sligo 1–2 November 2008
Alamire, Mikhail Karikis
Various venues, Sligo
 1–2 November 2008
For you, only you is a music project conceived by British artist Sonia Boyce. It lasts about forty-five minutes and was performed over two days in three different venues around Sligo town by the early-music choir Alamire and performance artist Mikhail Karikis. A sizeable and enthusiastic audience in Markree Castle's Chapel heard this programme, which alternates choral works by Renaissance composer Josquin des Prez with pieces for choir and solo voice by Karikis, Karikis singing the solo parts himself. Actually, 'singing' is not necessarily the correct word, for Karikis used a range of extended vocal techniques including growling, coughing and stuttering to flavour his performance – nothing new to anyone familiar with contemporary music practice from the last fifty years, but as this Sligo audience was largely made up of the curious, they possibly felt they were hearing something radical.
Sonia Boyce's idea behind bringing these two disparate performance practices together was to create a dialogue between the 'voice of an old master and a contemporary, troubled voice', with the aim of reaching some kind of détente between the two. As a purely musical experience the concert was not unsuccessful – certainly Alamire, directed with authority by David Skinner, is a wonderfully polished group whose performances of the des Prez works were first-rate, with magical tone and thrilling ensemble. Karikis' own pieces were less successful, but harmless enough, rather like his padded hoodie and oversize sneakers – but their roots seemed to be more in pop than modern classical, and the effect was that of listening to recycled Philip Glass offcuts in the choir, over which he did his boy-brought-up-by-wolves-trying-to-communicate thing. As a concept however, the programme was far from a triumph, and that is Boyce's fault rather than Karikis', who was only doing what he (presumably) normally does.
The main problem was that, rather than Karikis' contributions sounding contemporary and radical, their anodyne, four-square and harmonically-naïve nature actually emphasised the sophistication and daring of the des Prez works, thus undermining Boyce's whole concept. There was little attempt at synthesis in the final work on the programme, a supposed collaboration between Karikis and des Prez, where Karikis opted to simply juxtapose his music with that of des Prez. Truth be told, he showed no real ability to create anything like a coherent structure in any of his works, resulting in a number of bite-sized pieces on the programme; producing a cogent nine-minute work to finish was technically too much to ask of him. Boyce's hoped-for 'troubled' character of Karikis' singing was also diluted by the simplicity and unimaginativeness of his choral writing, so that in the end his participation was little more than a distraction from what the choir was doing. I did get the impression that he had more to offer as a performer – we heard only five seconds of overtone singing for instance, and more would have been interesting – but anyone familiar with the vocal writing of Berio, Aperghis or Sciarrino would not have found Karikis terribly inventive. His favourite device was to introduce his sung phrases with a little growl, which sounded rather like what Björk does in some of her songs – no surprise to find he has worked with her. Much of the rest of his singing was in a light falsetto, more Jimmy Somerville than Andreas Scholl, but possibly all the more endearing for that.
The Model and Niland's Offsite programme is to be congratulated for its enthusiastic promotion of the event; it's just a pity that Sonia Boyce's notions about what constitutes contemporary, troubled music are so wide of the mark.
Published on 1 January 2009
Ian Wilson is a composer