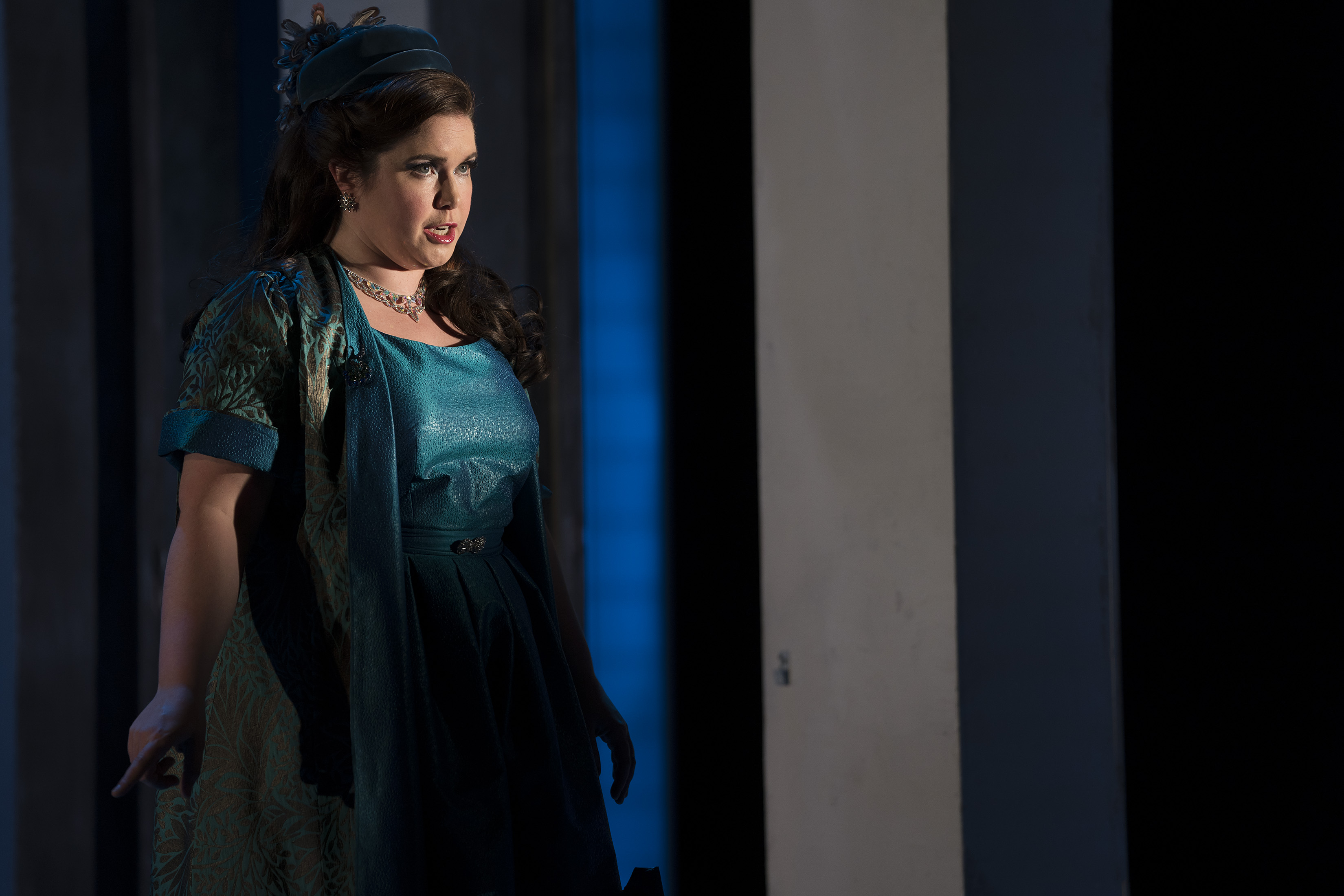 Misunderstandings, Trickery and Guile
Irish National Opera's production of The Marriage of Figaro was fresh, visually arresting and cartoonish, writes Brendan Finan. But why does opera still rely on women's stories as told by men?
Irish National Opera seems determined to make a splash with its opening season, with six major productions spanning four centuries of music. Most recently, Mozart's The Marriage of Figaro played to full houses over four nights in the National Opera House and the Gaiety Theatre, between the 17th and the 21st of April. Jonathan Lemalu and Tara Erraught starred as Figaro and his bride-to-be, Susanna, with Ben McAteer and Máire Flavin as the scheming Count and his suffering Countess, accompanied by the Irish Chamber Orchestra.
Lorenzo da Ponte's libretto is a supreme balancing act of misunderstandings, misfortunes, trickery, deceit and guile. Figaro and Susanna, servants to the Count and Countess, have been moved to the room next to the Count's, allowing him to more easily make advances on Susanna – an implication unapparent to Figaro until Susanna points it out. This triggers a series of schemes and counterschemes, all further complicated by the presence of Cherubino (played by Aoife Miskelly), a hormonal teenager always in the wrong place at the wrong time, and Bartolo and Marcellina (Graeme Danby and Suzanne Murphy), both of whom have designs on Figaro – one for revenge, the other for marriage – until they discover that they are his parents.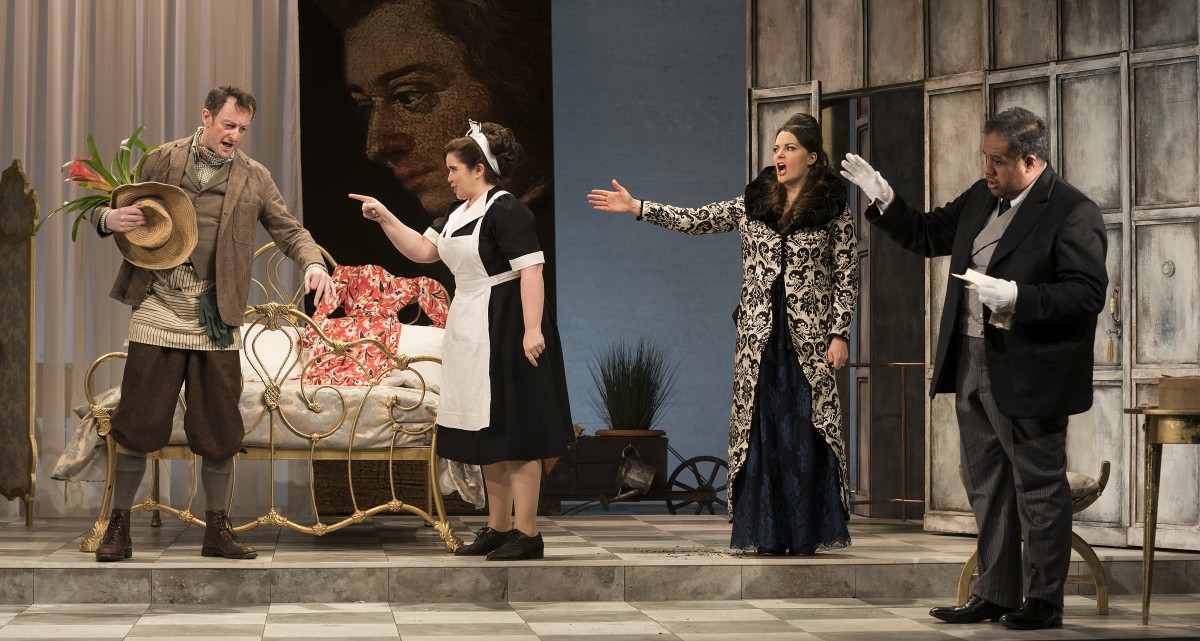 A bustling pace
Leading the Irish Chamber Orchestra, Peter Whelan took the famous overture at a bustling pace, matching the busy scene of wedding preparations on stage. In the opera proper, the orchestra generally kept to its accompaniment role, allowing the singers to lead. At times it shone through, an oboe countermelody flowing over a sung phrase, or the violins reaching up from the pit to join in the final embrace.
Director Patrick Mason updated the eighteenth-century Seville setting with visually arresting influences from the 1930s upper classes and 1970s hippy culture. This created a delightful incongruity in the third act; a stageful of performers throwing disco shapes to Mozart's graceful dance. The stage itself was designed with a pair of rotating walls creating the settings, and a model house acting as a stand-in for the Count's mansion in the distant background.
Cartoonish humour
When a play or an opera aims for cartoonish humour, it needs to go all-in. Mason and the cast were happy to do so, with the characters employing exaggerated expressions and gesticulations. The artifice of the stage itself became a vehicle for laughter, with Figaro diving behind the model house for a not-very-effective hiding place in Act IV.
Erraught and Lemalu were a delightful pair, exchanging chaste kisses and loving glances as often as frustrated huffs and glowers. Their voices danced around the trickier passages so readily it was easy to miss the virtuosity.
The Count was a suitably dominating physical and vocal presence, booming out clearly even in larger ensembles. Sweet-voiced Cherubino was cheeky in confidence but anxious in public. Marcellina was aptly dotty, and Bartolo was the most of cartoonish of all, hopping in rage like Yosemite Sam, until the plot twist, when he morphed into Elmer Fudd.
Despite the plentiful laughs in the production, the opera's heart is the Countess' aria, 'Dove sono i bei momenti', in Act III, lamenting her misfortune in a faithless husband. When performed right, time freezes, and the song speaks directly to every member of the audience. Máire Flavin performed it beautifully, pinned to the left side of the stage, her voice and face aching with vulnerability and tenderness.
#MeToo
The programme notes mention the relevance of the #MeToo movement to the plot of The Marriage of Figaro, in its telling of a female victim of male sexual aggression. Adrian Smith, in his review for this publication of INO's previous production, Thomas Adès' Powder Her Face, noted the same relevance. It may also weigh on a third production: Bartók's Bluebeard's Castle. But while that speaks to the potency of this political moment, these are all, to some degree, women's stories as told by men.
It's sad that there are no operas by women in the popular repertoire. It's not for a lack of potential material: the website Women's Philharmonic Advocacy lists some 500. Irish National Opera are making a powerful impact on the Irish cultural scene, selling out performances and gaining deserved plaudits from all corners. How wonderful it would be to turn some of that goodwill and success into finding or funding major work by female composers.
Until that time comes, it is still wonderful to see such dynamic, fresh and popular performances of opera in Ireland.
All photos by Pat Redmond.
Published on 25 April 2018
Brendan Finan is a teacher and writer. Visit www.brendanfinan.net.