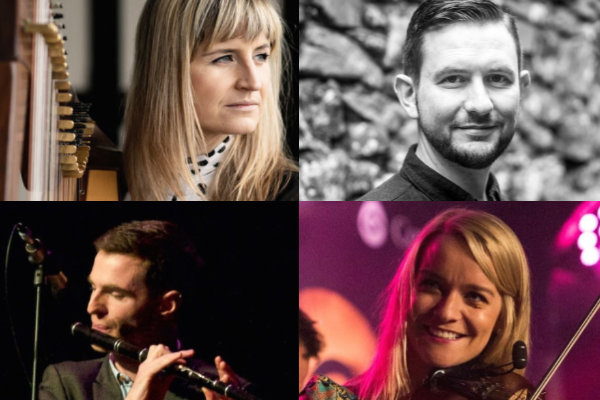 A New Tune Tapestry
In the first review from our new Traditional Music Writer Mentoring Scheme, supported by the Arts Council's Deis scheme, Kevin McCullagh reviews a performance at the Ulster Folk Museum by the traditional music quartet of Elaine Hogan, Pádraig Rynne, Tara Breen and Conor Crimmins.
CúlTRAD, a weekend event organised by An Droichead in Cultra, just outside Belfast, was an intimate affair. Candlelight and paraffin lamps illuminated the tiny eighteenth-century church, which was moved from Drumcree, Co. Armagh, and rebuilt, stone by stone, in the Cultra Ulster Folk Museum in 1990. On 16 November at the venue, thirty or so audience members attended an evening of contemporary traditional music with a strong Clare influence.
Pádraig Rynne, Conor Crimmins, Elaine Hogan and Tara Breen are all from Clare and champion the performance of newly composed tunes in various ways. They have recently released an album, Avalla. Concertina player Rynne is well known as an innovator, as a member of groups such as Notify and Atlantic Arc. Flute player Crimmins plays with the experimental folk group Arum and teaches at the Irish World Academy of Music and Dance, where harper Hogan, who has recorded with John Dwyer and Sheila Garry in addition to various solo projects, has studied. Fiddle-player Breen leads the Tara Breen Band, also featuring Cimmins, focusing on the presentation of contemporary material, as well as performing with Stockton's Wing, Carlos Núñez and the Chieftains amongst others.
The evening's set was mostly made up of tunes penned by the various members of the group, augmented by compositions such as Liz Carroll's 'The Chandelier' and Dónal Lunny's 'Dan-Ti Dan-Dan', along with some familiar session tunes. Compositions by the great South Armagh composer Josephine Keegan also featured and brought an appropriate Northern flavour, her signature sparse use of repetition creating melodies that unfurl over the eight bars. 
A highlight of the evening was a set of hop jigs by Rynne, titled 'Advanced Knowledge', 'The Elms' and 'Maspeth Summer' and dubbed by Crimmins 'the most advanced hop jigs ever!'  The hop jig form lends itself to rhythmic exploitation and Rynne explores a range of rhythmic possibilities with creativity and confidence, continuously varying the phrase length and employing subtle and not so subtle use of syncopation. The effect keeps the listener on their toes, never sure where the down beat would land, with melodies that seem to collapse inwards before allowing a fleeting glimpse of what sounded like the opening notes of the 'Silver Slipper' only to shoot off in entirely unexpected directions. 
A set of jigs, 'Escape from Balto', 'Glaun' and 'Kilshanny Thunder', by Hogan, Rynne and Crimmins respectively, showcased the group's tight, structured approach to phrasing, articulation and ornamentation, particularly Breen and Rynne, who when playing together in unison almost sound like a single instrument, and this then provides an opportunity for subtle variations in texture and handbrake-turn transitions between tunes. Another highlight was a solo O'Carolan piece played by Hogan, a masterclass in light and shade, the first part played against a hypnotic asymmetric left-hand groove.
Splintering
An interesting aspect of the ensemble dynamic is how each player brings their own distinctive musical personality to the table. Rynne weaving between foreground and background, one moment playing the melody the next tracing out the shape of a chord progression, Breen augmenting the melody with tight parallel and counter harmonies, while Crimmins brings a certain swagger, picking out polyrhythmic motifs. It was Hogan's harp, however, that perhaps defined the group's sound most significantly, whether playing the melody or providing a chordal accompaniment that precisely mirrored the rhythmic complexity of the tunes, peppered with catchy bass lines and riffs, wonderfully exemplified in the opening passages of 'Crush's Coaster'. 
This evening's concert very much placed the tunes front and centre, possibly at the expense of some of the more unstructured ambient sections which appear on the album, such as on the looping run-out groove of 'The Hollow Moon'. The playing also seemed more fluid than the recording and the musicians were relaxed and in playful form, particularly during the encore, an energetic set of reels, 'The Crosses of Annagh', 'The Floating Crowbar' and 'The Yellow Tinker'. The unison playing was impressive, an effective contrast to when individual members would deviate from the tune. They could go even further though: when all four members deviated at the same time the melodies seemed to splinter and bifurcate into a rich tapestry of sound that, combined with the rhythmic and melodic complexity of the tunes, could be as enjoyable as it was disorientating. 
Given the wide range of projects that each member of the group is involved in, it will be interesting to see if this quartet is an occasional affair or a more permanent arrangement. I hope the latter is true; this was an ensemble performance of the highest order.  
A CD of Avalla can be purchased here. Pádraig Rynne and Tara Breen will perform at Temple Bar TradFest on 22 January.
This is the first review published as part of our new Traditional Music Writer Mentoring Scheme supported by the Arts Council's Deis traditional arts scheme. Over a number of months the editorial team of the Journal of Music will work with five new writers – Kevin McCullagh, Miceál Mullen, Ciara O'Leary Fitzpatrick, Sadhbh O'Sullivan and Moya Sweeney – and publish their reviews of traditional music around Ireland. 
Read more about our previous Music Writer Mentoring Schemes here.
Published on 19 December 2019
Kevin McCullagh is a fiddle-player, DJ and sound artist from Belfast His compositions, released under the pseudonym Jan Jeffer, have featured on RTÉ Lyric FM, NTS Radio and at many Irish festivals including the Sonorities Festival of Contemporary Music, Cathedral Quarter Arts Festival, Hilltown Contemporary Music Festival and Electric Picnic amongst others.