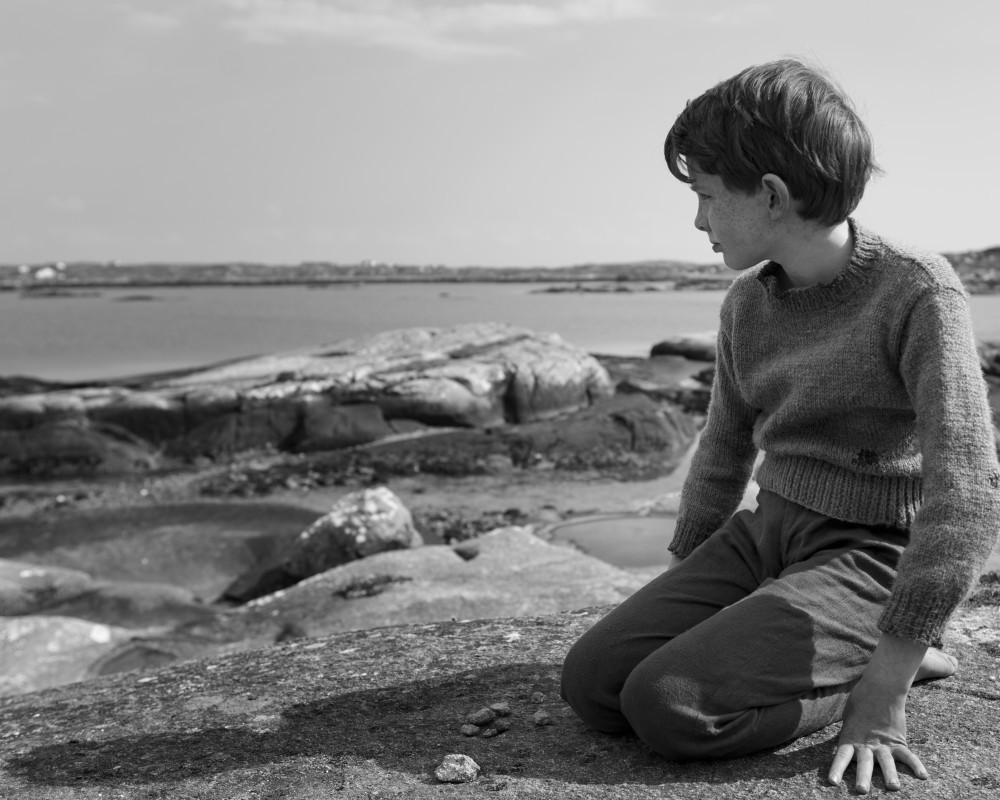 Recalling Joe Heaney
Far from a standard musical biopic, Pat Collins's film on sean-nós singer Joe Heaney, 'Song of Granite', explores the world of the wandering artist through sound and place, writes Anna Murray.
The films of Pat Collins frequently focus on the work of individual artists, such as writer Frank O'Connor or poet Nuala Ní Dhomhnaill, but his best-known work, 2012's Silence, is the story of a sound engineer in pursuit of soundlessness. In his biographical drama about Joe Heaney, Song of Granite, Collins returns to this exploration of sound and place.
Currently screening at the Light House, the film turns what might have been a cliché – the 'granite-voiced singer from Connemara' – into an extended audiovisual metaphor. Song of Granite is a mixture of narrative, documentary and archive footage, far from a standard musical biopic. Exploring the relationship between music and its environment, it follows Heaney (played by Colm Seoighe as a child and Mícheál Ó Confhaola as an adult) from his childhood growing up in the small village of Carna through his early adulthood in Glasgow and London, and later life as a doorman in New York. 
Moving postcards
The film is exceptionally slow moving, its peculiar lack of narrative making for a startling experience. It is best described as a series of moving postcards; snapshots by cinematographer Richard Kendrick rendered in a textured monochrome that alludes to stone. It opens with panoramas of Connemara that are stunning in their impact and fine detail. Images of Carna create a sense of place and time and establish a slow pace that allows the camera to linger on, for example, the simple act of someone walking across the screen (contrasted later with the quick movements from the city). Although these images are intended to create a sense of Heaney's connection to this area, something in the colour and texture makes it feel cold and remote. It's beauty stripped of feeling.
The film is a portrait, but not necessarily a sympathetic one. Heaney is seen as a tragic figure, unrecognised in his time, a talent who ended up in a less-than-illustrious job in New York. Through statements from his children ('the one thing that's lacking from my memories as a kid is memories of my father – there were times when he decided for whatever reason that he wanted to be on the move'), or extracts of interviews with Heaney himself, Song of Granite implies that this exile may have been of his own making. He wanders constantly, avoiding responsibility, searching for the connection he had with his world at Carna though unwilling to return. Collins does not obsess over the details, or psychological analysis, but presents Heaney and the environment – both social and natural – that shaped him.
Music in a natural setting
For a film focussed on music, there is little in the way of ambient music. For much of the work we are confronted with silence. But in it we hear wind through the grass, birds, insects, footsteps: a beautiful soundtrack, and not an incidental one – the true song of the granite. 
Exceptions appear. Bubbling under the scenes of Heaney in Glasgow and New York is a low drone that increases the sense of disquiet: loud and reverb-laden, it is utterly different to the presentation of music in the rest of the film.
More often, music is presented in its 'natural setting', in performances given by the characters, whether it is Heaney's father (played by Pól Ó Ceannabháin) singing 'Úna Bhán' in their living room, or in a Glasgow pub with cameos from Séamus Begley, Radie Peat, Damien Dempsey and Lisa O'Neill, who gives an emotional performance of 'The Galway Shawl'. These scenes are as radical as the rest of the film, sometimes exceptionally long, a single shot from a single angle, the audio little processed. The musical performances are the only instances when we have any insight into the emotional world of the film's characters.  
In that same pub, Heaney sings a tightly-wound rendition of 'An Tiarna Randal' in a five-minute, almost completely still single shot – eyes closed, holding the hand of another musician, and singing as if completely alone. Ó Confhaola's voice is hard-edged but its clarity and precision make it all the more absorbing for that. The focus is not on recreating Heaney, but recalling him.
The real achievement of the film is that it does not romanticise this music; it shows it as a function of society, later colliding with the realities of the modern world. Heaney is not placed as a lone genius, but a participant in a tradition that belongs to everyone, across the ages.
Song of Granite is a visually and aurally stirring film, though emotionally distant. It leaves the watcher feeling little towards Heaney, but much towards Connemara, music and sound. 
Song of Granite is showing at the Light House Cinema in Smithfield, Dublin until 31 January 2018. 
Published on 24 January 2018
Anna Murray is a composer and writer. Her website is www.annamurraymusic.com.