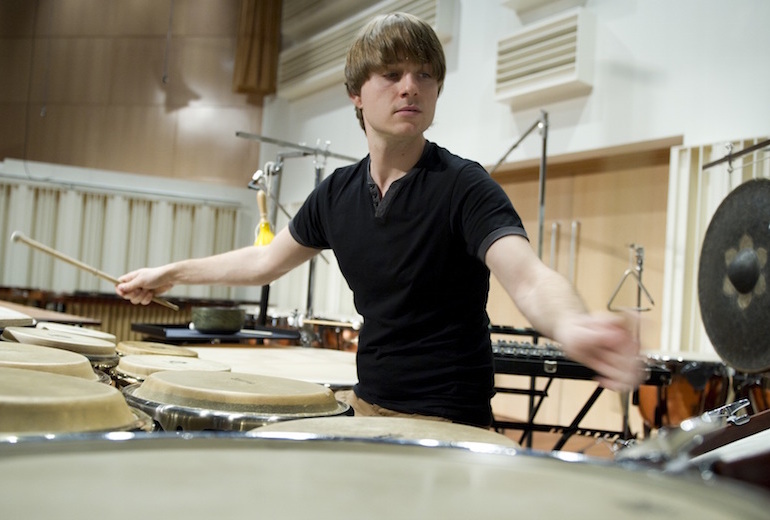 Wide World of Petcu
The eclecticism on percussionist Alex Petcu's debut recording works very much in its favour, writes Adrian Smith.
Cork percussionist Alex Petcu has been steadily building a strong reputation for himself since reaching the semi-finals of the Tromp International Percussion Competition back in 2012. He has worked with nearly all of the top ensembles and orchestras in the country and has performed as soloist with both the RTÉ National Symphony Orchestra and the RTÉ Concert Orchestra. Much of Petcu's success has to do with his versatility as a performer specialising in solo and chamber percussion repertoire in addition to the steady stream of ensemble and orchestral assignments. It is music from the former categories that is the focus of In Time, his debut release on the RTÉ Lyric FM label.
In his liner notes, Petcu writes that rather than concentrating on a particular theme for this album, his aim was to present a wide range of pieces that best captures the variety of his regular recital repertoire. Thus the items featured here range from transcriptions of pieces by classical composers (Debussy and Bach), some staples from the contemporary percussion repertoire and a number of pieces by less well-known names, many of whom are friends and colleagues. He is also joined by his sister, Ioana, on violin for two of the pieces while the pianist Michael McHale appears on a further track. This eclecticism tends to work very much in the album's favour resulting in a varied listening experience not just in style but also in tone; lighthearted entertaining numbers such as Alexej Gerassimez's Piazonore – based on Astor Piazzolla's famous theme from Libertango – are heard alongside more serious but accessible pieces by Steve Reich and Donnacha Dennehy.
While this diversity makes the album likely to appeal to a wide audience of different tastes, if there's one possible weakness it's that some of the lighter fare – A Little Prayer by Scottish percussionist Evelyne Glennie and the arrangement of the Armenian folk song 'Yerkinkn' for marimba and violin, for instance – are perhaps a little too light, to the point of being a tad insipid.
Nonetheless, whatever he's playing, it's hard to fault Petcu's musicianship and the album largely achieves what it sets out to do giving a rounded picture of the performer himself, his eclectic repertoire and his impressive technique, the full range of which is on display here from the rhythmic complexities of Dennehy's Paddy to the delicate nuances of phrasing in the transcription of Debussy's Arabesque No. 1 for the vibraphone. 
For more, visit www.alexpetcu.com. RTÉ Lyric FM releases are available to purchase here.
Published on 15 May 2017
Adrian Smith is Lecturer in Musicology at TU Dublin Conservatoire.