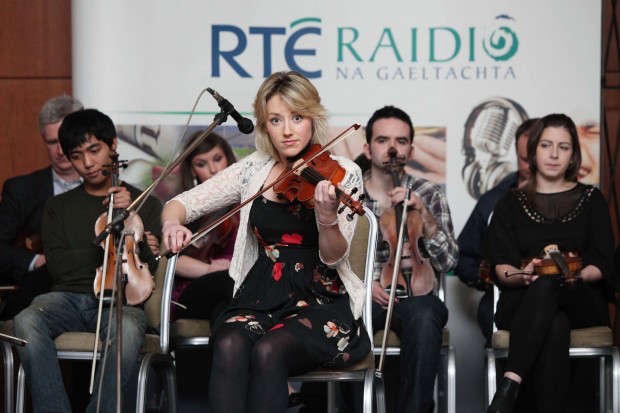 From 2RN to International Meta-Community: Irish National Radio and Traditional Music
Selecting from such a rich body of music and song, and imposing an order on what is by nature chaotic, broadcasters of traditional music have always presented a varied cavalcade of programmes and performers.
Irish traditional music has been an important component of Irish radio broadcasting for every week of the last seventy-nine years, since the opening of national radio in the Republic, and for even longer if Irish-American commercial broadcasting and regional broadcasting by BBC Northern Ireland is taken into account.
But the story of this music on radio is not a simple one. Irish traditional music exists in many different forms, vocal and instrumental, solo and group, ancient and modern, local and national, popular and esoteric, and so on, until an apparent simplicity becomes on examination a bewilderingly rich and layered patchwork. Add to this musical complexity, traditional music's radio companions of cultural and political ideology, of nation-building and educational provision, of rural and urban division, of stresses arising from social class, paternalism, underfunding, and more recently from competition and ratings chasing, add these and the picture becomes very complicated indeed.
A station in the shape of a harp…
Even at the planning stages for Irish national radio, from 1923, traditional music was on the agenda. Colonel Fritz Brase, conductor of the No 1 Army Band, and Seamus Clandillon, the future director of the new station, almost came to blows at an advisory meeting over disparaging remarks that Brase had made about bad music masquerading as traditional music. And then there was the proposal made to the planners that the new station should be built in the shape of a harp with five strings broadcasting to the five continents.
Irish traditional music, in several of its many forms, was very much to the fore on the actual opening night of Radio 2RN in Dublin on 1 January 1926, Year Four of the new Irish state. An agenda and a working method for traditional music on radio was in evidence there which would be in place for decades to come.
The programme for the night, which ran for just over two hours, seemed to deal generously with traditional music. In his opening address, Dr Douglas Hyde, former president of the Gaelic League, spoke about the importance of the country's music and song (which he considered second in cultural importance only to the Irish language). The new director of radio Seamus Clandillon, a civil servant from Co. Galway, was a singer of traditional songs and a concert and feis organiser, as was his wife Mairéad Ní Annagáin from Co. Waterford, and both sang on the night. Two Dublin uilleann pipers, James Ennis and William Andrews, played dance tunes and airs. Along with classical pieces, a variety of national melodies and songs in both official languages were performed by a variety of singers and instrumentalists, including the No 1 Army Band, and the night was adjudged a great success.
But considered only as a reflection of traditional music as it actually existed in the country in 1926, the opening night has to be judged more coolly, although not, I hope, less sympathetically. It was really a Gaelic League night out, not surprisingly given that the League's Irish-Ireland ideology was informing every aspect of the new nation-state's cultural and educational life in 1926. The performers were all experienced concert-hall performers, semi-professionals, as contrasted with the non-professionals who formed the body of traditional performers throughout the country – they could be relied on to project and to give polished performances. A certain solemn formality was part of such a manner of presentation in contrast with the everyday informality which is the norm in traditional performance. And if not all Dubliners, the performers were all at least Dublin-based, while the tradition itself existed with its multiple identities in every corner of the island.
In the vase of radio
As 1926 and the rest of the 1920s unfolded, the pattern of 2RN's opening night was repeated many times, and a rhythm developed whereby every second or third night primarily featured traditional music, of the approved types, and the other nights featured international popular and classical music.
A basic problem was one with which Irish radio has struggled ever since: how to represent the totality of traditional performance when essential elements of that totality are necessarily absent. When you listen to a traditional piper, say, on radio, the normal human social interaction which is rooted in place and history is missing; there is no visual dimension as there would be in real life; you are listening to disembodied sound. The song or the melody is like a flower unrooted from its soil and presented in the vase of radio.
In time the problem of missing performance contexts was avoided, if not solved, by the evolution of a new radio mode of experiencing traditional music, one in which essential elements are accepted as being missing but in which the listener makes a greater imaginative contribution to the performance than if he were actually present. Aided by the print media which have published photographs of and articles on traditional radio performers since the 1920s, the pictures became better on the radio.
New performers were introduced by degrees – usually on short 15-minute programmes – and singers and musicians began to appear on the schedules who would become familiar over the next two decades: violinists Arthur Darley and Cormac McGinley, singers Gerard Crofts and Michael Gallagher, May Mortell and Máire Ní Scolaidhe, pipers Leo Rowsome – and James Ennis and William Andrews of the opening night, accordion player Michael Grogan, piccolo player Tom Breen, dancer Lily Comerford, and many more.
Less frequent were pipe bands such as the Laurence O'Toole and the Fintan Lalor Pipe Bands of Dublin, or musical sketches, such as 'The Four Provinces at a Cross-Roads', which featured a variety of performers, and illustrated lectures by authorities such as the pianist and arranger Carl Hardebeck and the music historian and organist W.H. Grattan Flood.
They all broadcast live – prerecording was only introduced, on a small scale and on disc, in the late 1930s. Efforts were made to vary the studio-bound nature of the performances by outside relays from Gaelic League ceilis in places as far-flung as Dundalk and Sligo. In the Gaelic League manner, many of the early performers of traditional material on radio made deliberate concessions to modernity, singing with piano accompaniment rather than not, or playing for instance with a classical violin technique and tone rather than in one of the older Irish fiddle styles.
The total pool of available performers was relatively small, and proximity to the Dublin studio was of more importance than musical authenticity. The valiant cash-strapped director had to fall back too frequently on the same people, and often appear himself, and his wife Mairéad Ní Annagáin was given the bitter soubriquet of 'Mairéad Ní On-Again' by hostile listeners. A celebrated libel case of 1928 centering on Mr and Mrs Clandillon's song collection Londubh an Chairn drew further unwelcome attention to the director's enthusiasm for traditional music.
An interest in this music seemed, however, to be no disadvantage in appointments to the new service: in 1927 the Belfast singer in Irish Seán Neeson, secretary to Carl Hardebeck, was made head of the short-lived Cork station Radio 6CK, and in the same year the singer Kathleen Roddy, the first to record songs in Irish for the HMV gramophone company, took charge of women's and children's programmes for 2RN.
Symbiosis
From its earliest days, Irish radio has been locked in a close symbiotic relationship with its older cousin the record industry, and has acted as a kind of megaphone for the industry. Records were always available to fill unexpected gaps in the schedules, and from the 1920s down to the present day, as the volume of new commercial issues of traditional music has grown, they have increasingly formed the content of entire programmes, especially after the appointment of a Gramophone Librarian in the late 1930s. Performers who became popular on live radio soon appeared on the more permanent commercial discs (which were often recorded in the radio studios), the discs were played and replayed on the radio, and the performers generally became even more popular and were often launched on professional careers. Such broadcasting has influenced the living tradition by promoting an approved playlist of styles and repertory. Also highly influential has been the popularisation by Irish radio of gramophone recordings made in Irish-America, from the fiddle player Michael Coleman in the 1920s to the singing group the Clancy Brothers and Tommy Makem in the 1960s.
The opening of the centrally positioned high-powered station Radio Athlone in 1933 brought radio, and traditional music, to much wider audiences than those in the range of the earlier Dublin and Cork stations. Its new emphasis on sponsored programmes brought many complaints about their promotion of crooners and jazz, so-called, which they favoured at the expense of indigenous Irish music. On the other hand Westmeath traditional performers such as the piper Willie Reynolds or whistle player Peter Guinan began to be heard on radio for the first time.
Seamus Clandillon left radio soon after the opening of Radio Athlone. It is frequently said that his legacy included the invention of the ensemble of the ceili band for radio use in the 1920s, but this this not the case — the ensemble simply came to prominence during his period in office. The ceili dance-band had actually been in evolution since the late nineteenth century, as part of the movement of traditional music out of the home and into public dancehalls. The 'Ceili Trio', a violin, piccolo and piano group, were regulars on radio from early 1926, but larger ceili groups only began to appear towards the end of the 1920s, and the term 'ceili band' dates from this same period. By the time of Clandillon's retirement in 1934, when there were some 50,000 radio licenses held in the State, bands such as the Ballinakill from Galway, the Tara from London, the Moate from Westmeath and the Garda Ceili Band from Dublin were the latest thing in traditional music.
Hurdles of incomprehension
Clandillon's successor as director of radio, Dr T.J. Kiernan, a Dubliner and a professional diplomat appointed in 1935, was not seemingly an enthusiast for traditional music, even though he was married to the famous Mayo ballad-singer Delia Murphy. In a lecture given at the end of his first year in office he referred slightingly to 'jigs and reels and hornpipes, played on a bad instrument after a few years of untaught or badly taught desultory playing'. Kiernan's situation has been a common one for directors of radio down through the years. With some exceptions, such as Séamus Ó Braonáin, a Dubliner who was appointed director in 1941, and who was an expert Irish stepdancer, most directors have found traditional music to be culturally alien to themselves personally, even though for reasons of state policy and even more because of listener demand they have been compelled to cater for it to some degree. Charles E. Kelly, appointed in 1948, a time when traditional music was widely played throughout the country, considered that 'really good exponents of this music are few and far between'. Maurice Gorham, appointed in 1953, felt that one of the difficulties about popularising traditional music on the air was its intrinsic nature, its performance by unaccompanied singers and other solo performers on the fiddle or the pipes, and its lack of ensembles other than the ceili band whose main function anyway was to play for dancers rather than for listeners.
This disjunction between perception and reality has been even more crucial in the case of Irish radio's musical directors. From Vincent O'Brien, 2RN's first musical director and conductor of the Dublin Pro-Cathedral Palestrina Choir, the national radio's directors of music have come from the relatively recent world of western European classical music and its well-tempered scale. Again with exceptions, they have not had an understanding of the older world of traditional music as a closed musical system with its own self-referential standards, especially in the areas of musical intonation and finish. In trying to force the older music into the procrustean bed of classical music, they have mostly found it wanting, and at best have seen it as a reservoir of beautiful melodies which might reach their apotheosis if properly arranged for choir or orchestra. Most would have agreed with Erskine Childers, a 1950s Minister for Posts and Telegraphs and in political charge of radio, that a symphony orchestra is the apex of culture in any country.
In the early decades, through Radio Éireann's establishment in 1937 and indeed even into the 1950s and 1960s, traditional musicians ambitious enough to put themselves forward for audition by radio's musical directors faced hurdles of incomprehension. Martin Talty of Miltown Malbay, County Clare, used tell with glee of his subversion of this system. A piper who, in his own estimation, was not at all the equal of his fellow piper and townsman Willie Clancy, he succeeded in getting his 15 minutes of fame on the radio by appearing for his audition with a pianist in tow, while Clancy made the mistake of coming solo and was rejected.
In spite of such basic difficulties, there was always some kind of traditional music on the radio. As the 1930s progressed and as Radio Athlone was heard more widely, a greater variety of performers was brought to the microphone, and a pattern was established, which would last into the 1960s, of ceili-band recitals alternating with recitals by solo instrumentalists and interspersed with programmes of traditional songs by formally trained singers and melodies arranged for classical ensembles large and small. An occasional sean-nós singer would be heard in the context of Irish-language programmes, but the country's rich tradition of English-language unaccompanied song was rarely featured in the early decades.
The pattern was of course sometimes varied. As the 1930s became the 1940s, programmes such as Donagh McDonagh's ballad series 'Ireland is Singing' became popular, and variety shows like 'Round the Fire' which featured songs and music as might be heard in a country farmhouse. The music historian Donal O'Sullivan lectured on aspects of the music. Seán Óg Ó Tuama led his Irish-language choral group An Claisceadal in programmes of his own arrangements. Young traditional performers sometimes popped up on programmes like 'Children at the Microphone', and occasionally, and usually around St Patrick's Day, well received orchestral programmes of 'Irish folk music', as it was called, were recorded for transmission by stations on the Continent. The raw bar was however still being held at arm's length. The Listowel writer and teacher Bryan MacMahon has recalled that he was employed by Radio Éireann in the 1940s to make wire recordings of Kerry country singers who would then be imitated for radio performance by professional actors.
The year 1947 must be reckoned as pivotal in the treatment of traditional music on Irish radio. Under the director Robert Brennan, two Outside Broadcast Officers, Séamus Ennis and Seán Mac Réamoinn, were appointed, and they were provided with a Mobile Recording Unit, which was housed first in a car and then in a van. This was primarily intended to go to Gaeltacht and other rural areas, and to record life and traditional music there as it really was, and not as filtered through the prejudices of radio officials. This evidence of a new attitude seems to have been part of an emerging post-war interest in traditional music found in the western world generally and increasingly among urban audiences in Britain and America. From fields and cottages and farms and pubs Ennis and Mac Réamoinn began sending back to Dublin location recordings on acetate disc, a technology which had actually been introduced in the station in 1937 for the pre-recording of broadcasts. These new recordings were woven into realistic programmes by sympathetic scriptwriters such as the newly appointed Proinsias Ó Conluain, who would himself later go on the road and record for posterity native traditions which are now no more. The gains from extensive pre-recording for enthusiasts were immense. Through radio they could be in Donegal and in Cork, and listen to the living and the dead, all in the same few minutes. Throughout the country, listeners were being introduced to hitherto unknown forms and performers and being transfixed by them, and an invisible national network of interested individuals came into being in country, town and city.
The tape era
The introduction of tape recording in 1949 further facilitated the documentary process, and tape was the medium used from 1954 by Ciarán Mac Mathúna, the broadcaster who is now most associated with Radio Éireann's field recording of traditional music, and who is still broadcasting regularly. In long-running series such as 'Ceolta Tíre' and 'A Job of Journeywork' he brought a host of performers to the air, recorded at specially convened sessions and concerts, and in studio, and he later recorded among emigrant communities in Britain and the United States. As traditional music of this kind gained new audiences and national attention through the growth of Comhaltas Ceoltóirí Éireann in the 1950s, and especially through the popularity of its fleadhanna ceoil, radio was at hand to record the performers at the fleadhs and to cater for the audiences who thronged to them. Obscure local musicians became well-known national figures.
The result of the work of all these pioneers, and of the many others who came after them, is that now, a half a century later, RTÉ Radio holds a most important archive of Irish traditional music which is of permanent national value.
Another strand of traditional-music programming of the 1950s began with the 1953 commissioning from the composer Redmond Friel of orchestral arrangements of melodies drawn from the collections of the Folklore Commission. These were intended for the Radio Éireann Symphony and Light Orchestras, which were then recent creations, and they led to the establishment of a long tradition of weekly programmes of orchestral arrangements by composers such as A.J. Potter, Éamonn Ó Gallchobhair and Seóirse Bodley, as well as choral arrangements performed by the Radio Éireann Singers.
Audience research showed that there was a stubborn preference for ceili music and ballads among urban listeners as well as among the expected rural audiences, and in the early 1950s programmes catering for these tastes were the variety programmes 'A Balladmaker's Saturday Night', 'The Rambling House', the long-running Walton's sponsored programme, and, most popular of all, 'Take the Floor' which was launched in 1953 with ceili bands, singers, musicians and dancers, and jokes, and ran for some 20 years. 1953 was also the year that Seán Ó Murchú joined Radio Éireann as an announcer; from the late 1950s his name would become synonymous with that of 'Ceili House', a programme which is still running strongly more than 50 years later. Seán Ó Riada's brief period as deputy director of music in the early 1950s was reflected in his distinctive orchestral arrangements of native melodies, and later in programmes which, for almost the first time on radio, talked about traditional music as an art form in its own right. These included his contribution to a 1960 Thomas Davis Lecture series on Irish music, and culminated in his provocative 1962 series 'Our Musical Heritage'.
The opening of Telefís Éireann, Irish national television, at the beginning of 1962, a time when there were more than 500,000 radio licenses in the Republic, and the amalgamation of radio and television as RTÉ, Radió Telefís Éireann, did not adversely affect traditional music on radio. Television programmes featuring the music were relatively infrequent and crudely made – the pictures were still better on the radio – and traditional music continued to figure prominently in the radio schedules: favourites like 'Ceolta Tíre' and 'A Job of Journeywork', and new programmes like Seán Ó Riada's 'Reacaireacht an Riadaigh' and 'Fleadh Cheoil an Radió', and an avalanche of ballad programmes like 'Come All Ye Loyal Heroes' to cater for the 1960s vogue for traditional songs accompanied in the American style on guitar and banjo. One casualty of the 1960s was field recording, which declined as an increasing volume of commercial recordings provided a cheaper and easier way of filling programme time, and a more immediately appealing way of attracting new audiences.
The 1970s saw the beginning of the diversification of Irish national radio into separate channels and stations, and consequent changes in the choices available to traditional music listeners. RTÉ's Irish-language national station Raidió na Gaeltachta opened in 1972. Based in Galway, Kerry and Donegal, from the beginning it has placed a heavy emphasis on traditional music, and especially on the hitherto neglected sean-nós singing styles of the gaeltachtaí. Some aspects of traditional music were considered sufficiently young and buzzy to be represented on the early years of Radio 2 (later 2FM), RTÉ's pop channel which opened in 1979, but programmes such as 'The Green Groves', produced by Julian Vignoles, soon disappeared (RTÉ Lyric FM, the classical radio station which opened in 1999, likewise began with a separate traditional-music element but soon only incorporated the music in programmes of 'world music'; recently the station has recommenced specialist traditional-music programming). Although not part of our subject, local commercial radio stations around the country form part of its context. Beginning in the late 1980s, they have regularly carried traditional music in specialist programmes with a local slant – followed by community radio stations from the 1990s – and constituted the first challenge to national radio in this field.
As the song-centred ballad revival of the 1960s evolved into a period of instrumental experimentation in the 1970s, an innovative magazine programme, 'The Long Note', was devised for RTÉ Radio 1 in 1974 by the producer Tony Mac Mahon. A flagship for the younger sort, the programme drew together all the strands that interested followers of traditional music at the time and it reflected, as its subtitle said, 'the wide world of traditional music'. Quirky and unpredictable, and sometimes polemical, the programme featured in a modern kaleidescopic fashion and under a quick succession of presenters, live music, reviews and previews, debates, and selections from the latest records. From the end of the 1970s to the beginning of the '90s, under a new producer, Harry Bradshaw, it redeveloped the old radio strength of field recording while taking advantage of new and less intimidating recording technology. Fast editing brought reports rapidly from music events in all parts of the country and contributed to an up-to-date current awareness among followers of the music.
In contrasting style, another long-running programme of the 1970s and '80s called variously 'Sunday Folk', 'Tuesday Folk', and so on, under its producer Fiach Ó Broin, usually featured relaxed interviews with a single performer. The 1980s also saw the introduction of other specialist radio programmes on Radio 1 such as producer Pat Feeley's 'The Singer and the Song'.
The rising economic tide of the over-mediaed 1990s produced a torrent of commercial recordings of the music, and a succession of television series, which have replaced radio as the main access point for recorded traditional music. Radio's importance in this regard was also undermined by a generalist management philosophy of the early 1990s on RTÉ Radio 1, which replaced specialist traditional-music programmes with occasional tracks on general music programmes. This alienated loyal listeners, and the move was quickly reversed. Under the direction of producer Peter Browne, a variety of old programmes such as 'Ceili House' continued through the decade and new programmes such as 'Sounds Traditional' and 'The Late Session' were introduced.
As is the common experience, my own early memories of life and music – in Drogheda, County Louth, in the 1950s – are mixed in with memories of radio. Like most people then, we didn't take a daily newspaper, and the only people we knew were the people we met every day. My parents acquired a Pye valve radio sometime around 1950, and radio was our one window, so to speak, on the outside contemporary world. Delia Murphy was a great favourite then and my mother sang her songs around the house – I still know the 'Boston Burglar' and 'If I were a Blackbird', and more, since those days. My father, who was a good stepdancer, often danced to ceili music when it came on the radio, just as, a few decades earlier, his family had danced halfsets in their kitchen to the music of the gramophone. Early personal memories of running back to school after dinner because I'd stayed too long listening to the Gallowglass Ceili Band on the Mitchelstown Cheese sponsored programme, or of not doing my Latin exercise in the front room because I was actually listening to Willie Clancy on 'Ceolta Tíre' there, or of the Sunday-night school-is-imminent depression brought on by 'Music of the Nation', these memories merge with the high excitement of traditional music on radio in the 1960s and 1970s: electrifying moments with Ceoltóirí Chualann and Seán Ó Sé, or with the Dubliners and Luke Kelly, or with Planxty or the Bothy Band, and hundreds more. And the puzzlement, which would eventually mature into a better understanding and liking, of hearing sean-nós singers like Seosamh Ó hÉanaí on the Gael-Linn sponsored programme, or regional musicians such as the Kerry fiddle player Denis Murphy on the Comhaltas Ceoltóirí Éireann sponsored programme. Listening to traditional music on radio, in all its variety, from the 1950s to the present day has been an ever-varying source of pleasure and exhilaration and a long slow-paced education, and it's one I'll always be grateful for. Being able to participate in the 1980s in the making of the traditional-music archival series 'The Irish Phonograph', produced by Harry Bradshaw, was a valued opportunity for me to take a place in a personal pantheon of radio scriptwriters and presenters.
And today?
Nowadays, the position of Irish national public-service radio is being continuously eroded by the on-going establishment of commercial niche-market music stations, which do not make provision for traditional-music listeners, and by other entertainment-media choices. RTÉ Radio 1 nowadays confines traditional music to the weekends, and, during the weekdays at least, the station of choice has to be RTÉ Raidió na Gaeltachta with its rich variety of programmes from producer-presenters such as Mattie Joe Shéamais Ó Fatharta and Áine Hensey. Whether it's specialisation or ghettoisation is debatable, but where else can you hear two programmes of traditional music every morning before breakfast? Traditional programmes on both stations are now digitally archived and routinely made available on RTÉ's website. Twenty-four-hour broadcasting repeats traditional programmes during the night, and these are listened to internationally and discussed on the internet, in America especially. Ceolnet, a segment of the RTÉ website which was set up in 2000 to give online access to thousands of remastered performances from RTÉ Radio Archives, has been temporarily withdrawn as the Archives prepare for an enhanced website provision. An RTÉ programme of commercial publishing of traditional-music cassettes and CDs from its archive holdings has been on-going since 1987.
Listeners have been grumbling about this or that aspect of traditional-music presentation, or lack of presentation, since Radio 2RN's first night in 1926. Given the contrariness of human nature, how could it be otherwise? Selecting from such a rich and varied body of material and imposing an order, for broadcasting purposes, on what is by nature chaotic, the broadcasters could not please everybody at any time, but they have, over almost eight decades, generally served their audiences well, and, often with the slenderest of resources, presented a varied cavalcade of fine programmes and performers, the remembered and the forgotten. The recent enlargement of Irish national radio's audience area to include the entire world, through satellite and the internet, is now bringing Irish traditional music to the international meta-community that exists for this music. Since the onset of the digital revolution, access and control is now in the hands of the individual listener to a degree that would have been unimaginable to those pioneers who provided the narrow state-controlled broadcasting window of more than 75 years ago with which it all began.

This is the updated text of a radio lecture broadcast on RTÉ Radio 1 on 9 April 2001 and produced by Michael Littleton as part of the Thomas Davis Lectures series 'Radio in Ireland' which commemorated the 75th anniversary of the founding of Irish national radio in 1926. The Thomas Davis Lectures, on historical, literary, social and cultural topics, have been broadcast since 1953 under Davis's rubric 'Educate that you may be free'.
Published on 1 January 2005
Nicholas Carolan is Director Emeritus of the Irish Traditional Music Archive.