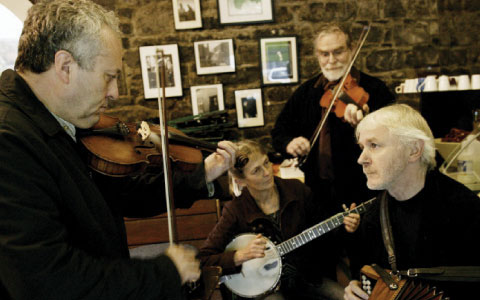 Around the World for Sport
Ciaran Carson remembers how we was driven by music when he had no car...
What I want to write about begins in Montreal, but maybe it goes further back than that. I'm trying to remember the year I was in Montreal reading my poetry as part of a tour of North America, and after perusing the fog-bound memory banks with little tangible success I began to delve into the various drawers, boxes, shelves and oubliettes of my ostensible filing system in search of written evidence which might corroborate my suspicions. I know there's a cache of diaries somewhere. By 'diary' I don't mean a comprehensive Pepys-like record of events and observations, but one of those slim pocketbook week-per-page items which give a minimal outline of one's appointments for the future (and hence become a record of the past). As it happens, the cache remains cached, and all I can turn up is an orphan for the year 1979, which is far removed from the period I had in mind, since I'm guessing the late 1990s.
Still, the year 1979 is not without interest. I had been working in the Arts Council of Northern Ireland for some three years as its Traditional Arts Officer, and skimming through the diary now, I'm surprised at the extent of my commitments, if that's the right word for a ramble around the world of Ireland for musical sport or research. Among the places I visited that year were Derry, Belturbet, Enniskillen, Drogheda, Derrygonnelly, Dublin, Ederney, Portrush, Cushendall, Carna, Belleek, Dungannnon, Portaferry, Newtowncrommelin, Portglenone, and Ennis. Driven by music, I could not drive a car, and had to rely on the goodwill of fellow musicians who were inclined to go where I was going. Often, my chauffeurs were the fiddle player Andy Dickson and his partner Anne Bailie, and in April 1979 Andy, Anne, Deirdre Shannon and I embarked on a crazy expedition which in five days, from the 12th to the 16th, brought us from Belfast to Dublin to Cork, Kenmare, Kilnamartyra, Keadue and Donegal town. These were the days before mobile phones, and most of our journey involved following rumours of possible musical encounters: a trail of happenstance, correspondences, palimpsests of tunes shimmering in the memory from the night before. We met some musicians we hoped to meet, and others who were new to us, once foreign bodies drawn inexorably and serendipitously together by the web of music.
So, to return to Montreal. I think it's March 1997, and the sidewalks are lined with mounds of snow. I've just booked into my hotel, and I venture out. There's a cosy-looking little bar on the other side of the street. I go in and order a beer and I'm standing drinking it when a stranger comes up to me and asks if I'm Ciaran Carson. I am, and how might he know? It turns out he has read my book or musical ramble Last Night's Fun, which bears a photograph of me, and his name is David Papazian – I play the fiddle a bit, he says, and we're having a party tonight in my place, if you'd like to come along, you'll get to hear some music. Readers of this column will be familiar with my idée fixe of the small back room, the ideal space for playing music and for conversation and crack. Papazian's place, an upstairs apartment in Boulevard Saint Laurent, turns out to be just that. And it turns out that Papazian, besides playing French-Canadian music, is fully conversant with Irish traditional music, particularly that of the Sligo-Leitrim-Roscommon triangle. Our touchstones – the playing of  Fred Finn and Peter Horan, for example – are the same. We're caught in the same web.
Among the great musicians I met in Montreal were the accordion-player Sylvain Rondeau and the mandolin player Mario Coté, and I promised them, Papazian and myself that I would see if there was a way to get them over to Ireland. So it was that in the autumn of 1997 I was able to organise a tour of Northern Ireland for them and a fine singer and player of guitar and 'feet', Paul Marchand, under the auspices of the Arts Council. We had spoken about linking up with Irish musicians, and it occurred to me that the Belfast flute player Desi Wilkinson would be the ideal person to accompany them. Their perception of music was the same: rooted in their own traditions, they were eager to explore, listen to and learn from others and find interesting nexuses of comparison between them. A master of the concert flute, Desi was also a great singer and could make a good fist of several other instruments – fiddle, pipes, guitar and clarinet. Resident for some years in Brittany, a student of its music, he had fluent French; I knew he played some French-Canadian tunes. It wasn't a difficult decision to invite him on the tour. What emerged from that conjunction was pure joy.
There's a lot of room for joy in traditional music. And it's the word that sprang to my mind when I first heard Desi's recording, Buffalo in the Castle, made recently in conjunction with Máirtín O'Connor on accordion and American old-timey musicians Frank Hall on fiddle and Lena Ullman on banjo and mandolin. The title bears an echo of 'bull in a china shop', but it's very far from that. In fact it's a marriage of two tune names, the old-timey 'Buffalo Hunting' and the Irish 'Castle Kelly'. Whether the buffalo is in the castle or the castle in the buffalo is a moot point; as it happens, the two tunes complement one another, moving easily from one neck of the woods into another. It's all done with wit, panache, and a deal of fun: to take another example, the American 'Big-eyed Rabbit' is paired with the Irish 'Hare's Paw' – the similarity of the tune names is only happy coincidence, yet they seem to have been made to go together once you hear them. There have been several attempts to wed Irish and American traditional music, but none of them, to my mind, succeeds like this. For one thing, the American music is, more often than not, bluegrass, and not the more dynamic old-timey. Usually the result is an ersatz, Paddy-meets-Hillbilly exercise. Buffalo in the Castle avoids the sentimental, folksy connotations of all that because the musicians are completely at ease with both idioms, and adept at gauging how the specific gravity of a tune from one tradition might go with a tune from another. It's a sure-footed exploration of the micro-dimensions of music, perfectly pitched and weighted. Listening to it, you know the musicians have enjoyed themselves, and you can imagine the conversation and the crack that surrounded its making. Commercial recording it might be, but it is absolutely true to the spirit of the music, of the self-created joy that can be had in small back rooms.
Some people play tunes for the sheer fun of it, renegotiating the tunes they play together under different circumstances each time round. The tunes can bear different moods at different times. If the musicians play in a public or semi-public session, their primary aim is to entertain themselves; that they might entertain others is a not unwelcome bonus. Payment might or might not be involved in these exchanges. The next instalment of this column will be called 'Sixpenny Money'.
Published on 1 August 2009
Ciaran Carson (1948–2019) was a poet, prose writer, translator and flute-player. He was the author of Last Night's Fun – A Book about Irish Traditional Music, The Pocket Guide to Traditional Irish Music, The Star Factory, and the poetry collections The Irish for No, Belfast Confetti and First Language: Poems. He was Professor of Poetry at Queen's University Belfast. Between 2008 and 2010 Ciaran wrote a series of linked columns for the Journal of Music, beginning with 'The Bag of Spuds' and ending with 'The Raw Bar'.