Bringing Composing Into Schools
Peter Moran recounts how composing music with school children builds their confidence, self-awareness and ability to express themselves. Recent projects in schools have shown him we need to be more ambitious about what children can achieve.
It was on Culture Night in September 2008 when I visited the Arts Council offices on Merrion Square in Dublin. I had come for the informal presentation on arts funding in Ireland; I stayed for the free coffee and chocolates. While finishing off the Milk Tray, I picked up a document which had caught my attention on the display table. It was an Arts Council report entitled Sounds New: Review of Supports to Contemporary Music in Ireland. I will admit with some bookish embarrassment that this was actually quite an engaging read. Most interestingly however, the report found that our education system was lacking in its representation of contemporary music in schools. The Summary Findings concluded that:
…the contemporary music sector could work with government to improve the status of music education in schools… [and] encourage education bodies and local authorities to develop further schemes for composers and musicians in schools.
This extract had a special resonance. I had just recently been appointed to run a new music education project in Dublin's disadvantaged primary schools. The project was called New Music Alive! It was commissioned by Dublin City Council and the Contemporary Music Centre, and the brief was to run a series of composition workshops in schools and to produce a set of workbooks with lesson plans and other resources for teachers. 
Here was a document published in 2006, and now only two years later, we were already seeing how 'the contemporary music sector could work with government… and local authorities' to improve and update the provision for music education.
Feeling that our project was part of a larger solution was a key moment for me, and my music education work went from being a job to being a mission. I set about with some fairly lofty ideals: these primary school workshops would begin with nothing less than a class discussion on the philosophy of music.
What counts as music? Can noise be music? Can talking be singing? To stir up the debate we would listen to some specially-prepared recordings: Luciano Berio, Captain Beefheart, Jennifer Walshe. The children would add their own examples, from rap to rock music. They did not shy away from forming their own ideas, disagreeing with each other and proving each other wrong.
In one class, the children were engaged in such a lively debate that I was left out of the discussion altogether: just as one child had convinced himself that talking and singing couldn't be the same thing, another pointed out how he had actually sung the words 'good morning' when he walked in the door earlier. They each found their own path through all these arguments. Then, when there were a dozen different conflicting opinions on what even counted as music, that's when we started composing.
How Much Have they Learnt?
The benefits of music education are profound and well-documented, but there are also other, more specific benefits to be gained from composing in the classroom which pertain to a child's personal development and growth: creating an original work and performing it before your peers builds confidence and self-expression; collaborating with class mates and exchanging abstract ideas builds social and communication skills; and tackling problems to which there are no right or wrong answers builds an open-mind and an aptitude for creative problem-solving, which will stand to each child whatever path they choose in life.
In times of economic uncertainty, when arts education can quickly come under fire for its financial viability, we would do well to remember the core human values and the quality of individuals' lives that it defends.
I see children in the workshops engaging with their environments in new and creative ways, making sense of the world around them on their own terms. In one class, the students were struggling to find a suitably quiet ending for a composition when one child held her maths book up to her ear and started flicking the pages. That delicate fluttering sound became the final coda to the piece.
As a series of workshops progresses, children begin to structure these sounds, rehearsing and refining their ideas, until they have a finished composition which they can perform, record and take home on CD. For twelve-year-olds to take home an album of their own original work is a huge achievement. And the skills they acquire along the way are substantial: developing and structuring their own ideas; composing, performing and recording their work; exploring ways of notating their music. Some even organise their own rehearsal process, dividing the class into groups and bringing people in and out at different times. The composer and influential author on music education John Paynter has observed about such creative workshops that 'they will not have been taught anything, but how much will they have learnt?'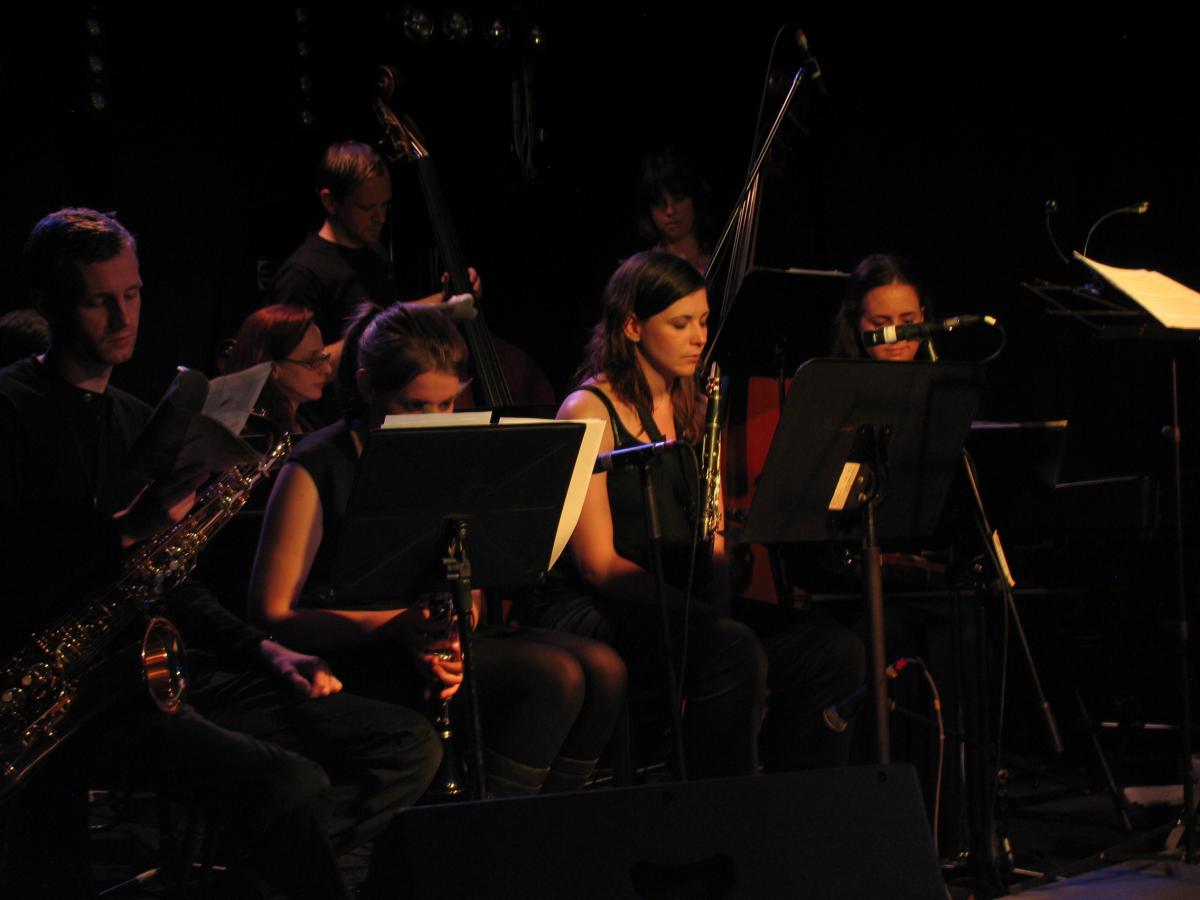 Teacher, Teacher
Last year, I was invited to direct the new Music Educators Orchestra in Dublin. This unique ensemble is made up of musicians of any ability on any instrument and it includes school teachers, instrumental teachers, music therapists and others. Some come to practise a new instrument; others come to re-familiarise themselves with an old one.
The orchestra performs music from the twentieth century and today. Unlike regular orchestras, the performers explore improvisatory approaches to classical works, and even compose their own original music as a group. Our most recent performance at Dublin's Twisted Pepper venue, as part of the national Love:Live Music Day, featured music by John Cage, Steve Reich, improvisations on Erik Satie and the premiere of the orchestra's own composition.
One key aspect of the orchestra's repertoire is that it is as well-suited to the classroom as the concert hall, especially when performing pieces that use, for example, a newspaper instead of an instrument, or a stopwatch instead of a conductor. Through the orchestra's activities, members are already bringing creative contemporary ideas into the classroom. Some take what they have learned about composition and improvisation and use it in their own lessons, while others draw on our library of scores and parts to have their students perform this music for themselves.
The dedication among the players is heartening. Despite the growing number of challenges facing teachers today, our members still meet in Dublin every month, some travelling from as far away as Wexford to attend rehearsals and help with the running of the orchestra. They do this to keep their artistic practice current, to maintain their musicianship and to bring contemporary ideas to their teaching.
A Whole New Challenge
Initiatives from government and local authorities in recent years reflect a national dedication to the importance of arts and music education. Under the Per Cent for Arts Commission this year, I am now writing a set of three new works which are to be premiered by school children. The brief is to compose a new work each school term in 2012-2013 for the children of Caragh National School, Kildare, with regular rehearsals in the school. While learning how to perform this music, the children also compose their own short pieces using the same compositional techniques. This is intended to help them to better understand the commissioned work while also developing their own creative skills. At the end of each term then, the children will perform the commissioned work alongside their own original compositions.
Now only half-way through the first term of the residency, progress on the first commissioned work has been going well. The first composition is for the oldest students, and in writing this piece I set myself a particular challenge to find out what level of musical complexity primary school children are capable of mastering. This was done by combining certain compositional techniques and workshop techniques to disguise from the children the difficulty of the music they were learning. The result is that students have had no problems wrapping their heads around complex structures, additive rhythms and multiple changes of time signature (from 5/4 to 7/8 and 5/8).
The works commissioned over the next two school terms will be written for the middle classes and for the very youngest children in the school, which is sure to pose a whole new set of challenges.
If this project is to leave a legacy, I hope it is to raise our expectations of what school children are capable of, and to remove some of the limitations and presumptions we have about how we compose music for children and amateur musicians.
Peter Moran's New Music Alive! workbooks and their accompanying notes, handouts, recordings and other web resources are all available for free download here. The Music Educators Orchestra will be performing alongside the Fidelio Trio in John Cage's Musicircus on Sunday, 9December, at 2pm, in St Patrick's College, Drumcondra. For more information on the visit irishmusiceducation.ie or follow the MEO on Facebook at facebook.com/MusicEducatorsOrchestra. Rehearsals are once a month. New members are always welcome.
Published on 16 November 2012