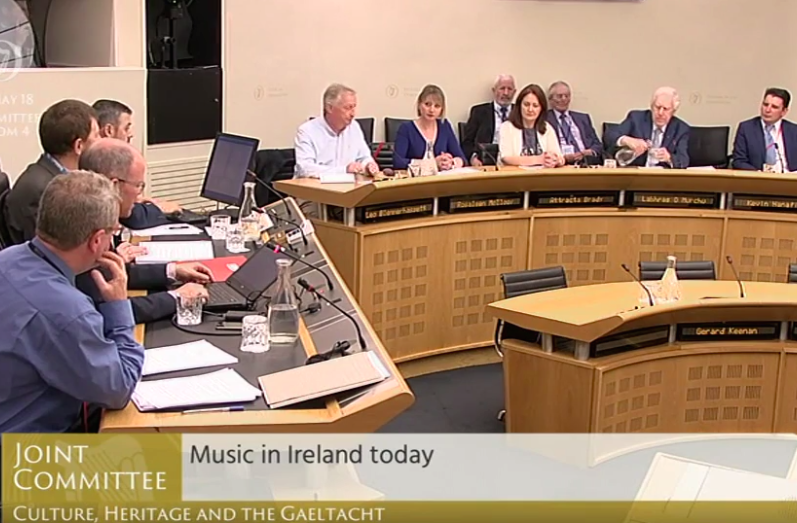 Calls for National Music Policy at Oireachtas Meeting
Representatives of DIT, Music Generation, the Irish Chamber Orchestra and Comhaltas call for legislation to address issues in music education.
At an Oireachtas committee meeting yesterday (23 May), music organisations called for a national music policy to address the provision of music education in Ireland.
The meeting, on the topic of 'Music in Ireland Today', was one of a number of planned committee meetings focussed on the arts. Presentations were given by Dr Orla McDonagh of DIT Conservatory of Music and Drama, Labhrás Ó Murchú and Attracta Brady of Comhaltas Ceoltóirí Éireann, Rosaleen Molloy and Leo Blennerhassett of Music Generation, and Gerard Keenan of the Irish Chamber Orchestra. The meeting was chaired by Peadar Tóibín of Sinn Féin.
Musical literacy
In Dr McDonagh's presentation, she presented a challenging picture of the issues facing music in Ireland:
No matter what socio-economic group we come from, an education in music is the one aspect of education – allied to literacy – that can add value to the whole of our lives. … in Ireland, most children are not literate in music when they leave primary school. 

This has a knock-on effect in post-primary schools where the standard of music education must begin with the assumption that students have no background in music and all progress is hampered by this reality. Furthermore, Irish university music departments and performing arts conservatories have recognised for some time that a large number of incoming music students possess a remedial standard of fundamental music education as they begin their third-level studies.

It is critical that all primary school children in Ireland are exposed to the diversity of musical traditions in this country and that they finish primary school with a basic standard of literacy in music.
She also focussed on the lack of regulation in music education.
Another serious issue that needs to be addressed is that a large portion of music education is delivered in Ireland without regulation of any kind. It is important to say that there is a long history of private music teaching throughout the country and there are many dedicated and excellent teachers who do phenomenal work in this area. However, there is no quality assurance or regulation of the profession.

This means that parents often have little idea whether or not the education they are paying for (and that their child is spending hours practising on) is of an appropriate standard. Unlike the teachers in primary or post-primary education, a private music teacher in Ireland is not required to have any qualification.
Dr McDonagh, Head of DIT Conservatory and a pianist who studied at the Julliard School for the Performing Arts and spent 18 years performing and lecturing in the United States before returning to Ireland, also referenced the importance of a music education for the economy: 
Research from the University of Kansas in 2007 revealed that students in US primary schools with superior music education programmes scored approximately 22% higher in English and 20% higher in maths on standardized tests compared to schools with low-quality music programmes, regardless of socio-economic differences between schools … 
With regard to support for music and arts organisations, she cited the US tax system in which private citizens can choose to support organisations through their taxes, and she recommended that a similar system be developed in Ireland.
Musical citizens
Rosaleen Molloy, Director of Music Generation, said that 'a central issue for [the committee] is the right of every Irish child and young person to have access to music tuition as an essential part of their cultural entitlement.'
Music Generation is currently in 12 areas and is about to expand to 7 more. The programme's research shows that the music participation rates among children in the 12 areas have increased from less than 1% to over 13%. Under the Creative Ireland programme, the Government has committed to expanding the programme to all areas by 2022.
With regard to a national policy on music, Ms Molloy said:
The fundamental gap in music education in Ireland – which is not something that is new, it has been here for decades – is the absence of some kind of a music policy which is underpinned by a very strong policy around music education. 
Pride and self-confidence
Gerard Keenan, Chief Executive of the Irish Chamber Orchestra, spoke about Irish Chamber Orchestra's Sing Out With Strings educational initiative which is now in its tenth year working with primary schools in disadvantaged areas in Limerick. It provides 100 teaching hours per week to 300 students.  
Mr Keenan quoted primary school teachers who were interviewed in an evaluation of the scheme. They said that the students experienced
a multitude of positive outcomes, such as individual cognitive and physical progress, e.g. motor skills and musical literacy, behavioural development, discipline, experiencing respect and tolerance, pride and self-confidence, patience, team work, learning the value of active public and civic engagement, and a sense of calm.
He also questioned how Creative Ireland would achieve its aim of providing music tuition for every child in the country without a clear budget, and he expressed concern about the implications of the development of Creative Ireland for the funding of the Arts Council. He also supported the idea of a national music policy.
Direct discussion
Labhrás Ó Murchú, Ardstiúrthóir of Comhaltas Ceoltóirí Éireann, said that we are now beyond the stage of more reports and it is time for a direct discussion with the Department of Education on the future of music in Ireland.
Everyone today has made the point of the necessity for a policy – without a policy, you don't have a road map. If you don't time-table… music, you're going to be on the backburner all the time. It's only the policy that can dictate that time allocation. These are fundamental issues. Hopefully from today's meeting this could be brought forward for a direct discussion with the Department. 
Watch the full meeting here. It begins at 38'10". 
Published on 24 May 2018