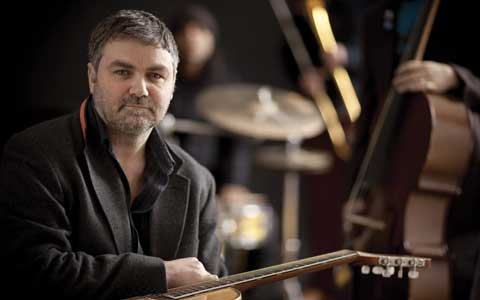 Chris Wood
Albion: An Anthology (Navigator 29)
Chris Wood has had several identities in the near three decades of his career: as one of many in the English Acoustic Collective; as one of four in the Two Duos Quartet (alongside Karen Tweed, Ian Carr and Andy Cutting); one of three in Wood, Wilson and Carthy (where he shares the limelight with Roger Wilson and Martin Carthy); as one half, with Andy Cutting, of the duo Wood and Cutting; and, not least, as a solo artist.
Lurking within every guise has been a onetime church choirboy turned staunch defender of English folk music and deft assimilator of colours and sounds, accents and attitudes from other and notionally foreign (at last in terms of brute geography) musical traditions. While the title of this new anthology roots Wood solidly in Great Britain, Albion also offers a pointed portrait of a singer-songwriter with a markedly more liberal perspective than the restrictively local.
Incorporating twenty-one tracks collated from 10 of the 11 albums previously released on his own R.U.F. Records and from 2007's ground-breaking Simon Emmerson-curated Imagined Village, Albion arrives at a moment when Wood's profile has never been higher, prompted in no small part by success earlier this year in the Best Album and Best Singer categories of the BBC Radio 2-sponsored Folk Awards.
In part, the anthology echoes Emmerson's provocative assertion that 'Englishness is the final frontier of world music', one that Wood clearly regards as intrinsically porous. So the cover of Eliza Carthy's imaginative arrangement of the traditional 'Cold Hard Rainy Night' begins with a silvery glissando on sitar before employing the full resources of World Music innovators Trans Global Underground. No less exotic (or satisfying) is the bittersweet otherworldliness of the flugelhorn on 'The Land: when the land is white with snow' or the seamless blending of Easter songs from Lancashire and the Auvergne with Frenchman Jean François Vrod on 'Pace Egging / Ribatz'.
Despite such accommodations, and other references to and borrowings from Norwegian, French and Québécois idioms, Wood's stance, solid and insoluble, on English soil is never in doubt. The anthology's title track, a harrowing account of Wood finding a young man hanging from a tree while out walking with his son, has deservedly become his signature song. A caustic attack on the mores of the Thatcher era in which it was written, it's not merely the loss of innocence that is being lamented here, but the poisonous and casual sacrificing of community and wilful abandonment of responsibility.
Wood's complaints (and there are many) and compassion find expressive release in passionate, granite-edged performances shot through with austere beauty, redemptive warmth and an abiding concern for continuity and inter-connectedness. What Albion magnificently underlines is that Wood is the fierce conscience of contemporary English folk music.
Published on 1 December 2009
Michael Quinn is a freelance music and theatre journalist based in Co. Down.