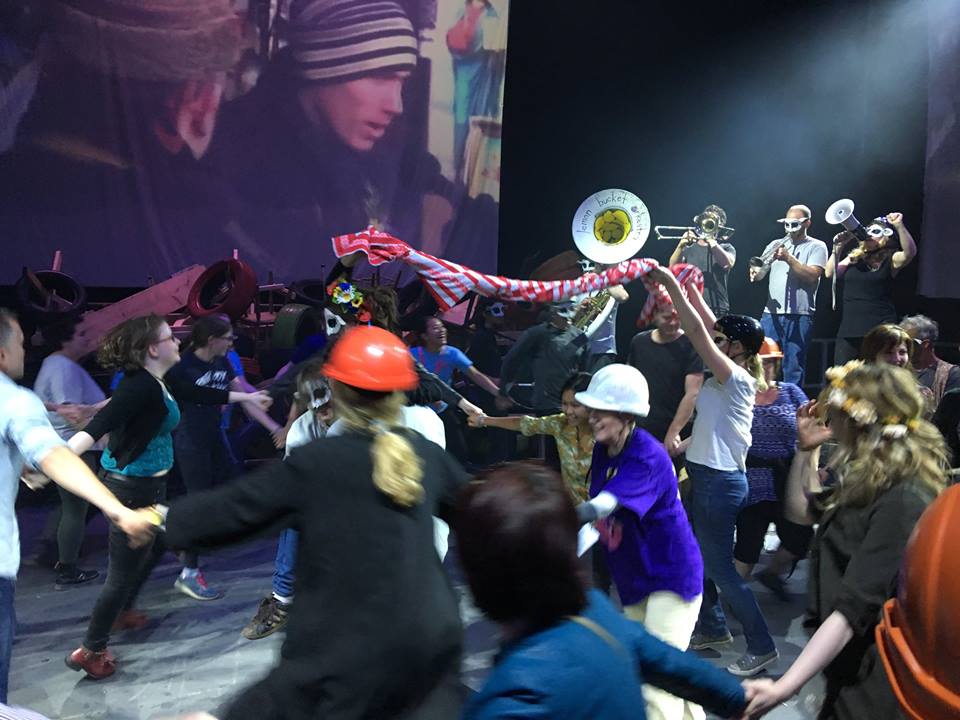 The Edges of Revolt
What makes a political folk opera work? Do traditional musicians go far enough in their experimentations? And what is the 'social side' of classical music? Toner Quinn reflects on a range of questions raised by the musical riches at this year's Kilkenny Arts Festival.
I'm picking up fragments of a conversation at the next table in Kilkenny's Marble City Bar. It's initially good humoured but then starts to heat up. 'The EU is a German project, not a European project!… What Ireland should do is… What we need is… no, no, no… listen, that won't happen…". The accents are Irish, British, Eastern European. Nothing special about a chat like that in Ireland these days? If you were at Kilkenny Arts Festival this year, it certainly felt different.
The previous night I had attended Counting Sheep, a folk opera by musicians Mark and Marichka Marczyk and featuring the Lemon Bucket Orkestra. There was something about the way Festival Director Eugene Downes spoke about it as he introduced a different concert on the Monday night that compelled me to go. 'It's about freedom,' he said, pausing, still obviously dwelling on the performance he'd seen that night.
Immersive
There are two ways of attending Counting Sheep, 'viewing' and 'immersive'. Immersive enter first. Marichka sits at the piano playing accompaniment to Mark Marczyk's fiddle. We sit at, or around, a table (the viewing audience are seated further back) and a cast of perhaps ten begin to serve food and drink – bread, broth and bright-coloured drinks. Moments later, the Ukrainian special police – the Berkut – will appear and forcefully charge down the table. The audience scatter. What was festive turns into horror – with the audience at the centre.
How do you convince a large group of typically self-conscious Irish people to wholly participate in a piece of theatre about a revolution they knew very little about five minutes earlier? Counting Sheep is based on the true story of the 'Revolution of Dignity' of 2014, in which Ukrainian citizens stood up to their Government in the freezing February cold over five days in Kiev and were brutally oppressed, in particular by snipers picking off protestors.
Revolt!
The method by which Counting Sheep drew the audience in was a masterclass: they began with that most primal of bond creators: cuisine; it lasted no more than a few minutes; then plates are removed, loudly, casually, and the police appear; the audience, led by the performers, are standing and engaging in call-and-response chants – it is all in Ukrainian but the meaning is clear: revolt! We are urged to carry pieces of the barricade and start building – there's a deep sense of teamwork. Then we are celebrating, clapping and engaging in dance to wild music on accordion and brass; the audience's comfort with this dynamic grows so quickly, it's remarkable to watch. The centrality of removing the audience's 'resistance' becomes a sub-motif to the momentum of the evening. 
Suddenly, we are in a whirling dervish of dance; people – adults and teenagers – are losing themselves in the moment; I wonder how the cast are navigating all of this, but they never seem to lose focus and can suddenly switch the narrative; there is beautifully absorbing singing as a signal (in a style reminiscent of Le Mystère des Voix Bulgares), or shouting to coordinate us as they build this moving folk-opera of oppression and resistance.
Roses on the body
One moment stands out for me: the story takes a tragic turn and one of the revolutionaries is killed by a sniper; a man sings – a naked, forlorn lament – and begins handing out single red roses to everyone near him. When the cast lift the body to carry him out, suddenly, with only the faintest of suggestions – if any – the audience collectively start to throw their roses on to the body. It is the climax of a hurtling, thrilling hour of drama up to that point. 
In a world of armchair activism and comfortable cynicism, it was stirring to feel a sense of what real oppression and revolt can actually feel like. It is frightening. The audience left with not only a cutting insight into a tragedy we probably all flicked over from on the TV in 2014, but just as importantly, a sense of the democracy and peace that we so easily take for granted. The applause was long and heart-felt. Counting Sheep is a vibrant, musical, political and very beautiful slap in the face.
Hug You Like a Mountain
Two nights after Counting Sheep, I experienced English folk singer and fiddler Eliza Carthy and her 11-piece Wayward Band at St Canice's Cathedral. The large band was there to provide sheer power – a necessity on the international festival circuit today – but Carthy and the band used their collective abilities to create intricate, exciting arrangements that could match this artist's force of personality. Carthy has been gigging professionally since she was a teenager; she is a fascinating artist in English folk, seeing it thrive in our time, and batting off a range of cultural pincers, from cultural snobbery to narrow nationalism along the way. 
Her energy and creativity in Kilkenny were potent. The modulations of 'Devil in the Woman', the rhythmic slight of hand of 'Hug You Like a Mountain', the fine melodic line, bold then fragile, of 'Dick Turpin'; she drew a crowd diverse in age who were surprised at some of the stage devices – arching her body and holding instruments aloft as if in duel – to a standing ovation at the end. She also gave us a significant political moment before 'You Know Me', a song about immigration: 'I would like to apologise for the state of my country at the moment', Carthy sadly said, and it was clear she felt it; as a patriot in a country eating and beating itself up, she is hurting. Her voice, as beguiling as ever, sounds like tears falling.
Piper's connection
Although he has featured in the international Masters of Tradition tour with Martin Hayes, uilleann piper David Power is still a relatively hidden player of real brilliance in Irish traditional music, uncommon in his control over the instrument. Witness the virtuosity under his fingers, yet he stares off into the distance, listening for something else almost. When he plays, he lets a note sit in the air, tending to it, waiting for the moment when there is a real connection in the room before developing the melody more. It is an innate musicality, similar to Carthy. He is renowned as a slow-air player, but his music has developed in many exciting new ways in recent years – next year he will perform a new concerto for pipes and orchestra by Kevin Volans. In the Kilkenny multimedia project Antartica, Power collaborated with electronic composer and singer Linda Buckley, a performance in a vast concrete warehouse, with rubble on the ground, elements of ice adventuring cast around the space, and lighting and design by John Comiskey. Power composed several of the tunes himself, for not only pipes but fiddle and whistle too (which he also plays), and when Buckley responded with vocals and electronics, the pieces were at their most intense. 
Jolts forward
Edges of Light, a Music Network-originated project featuring Power and fiddler Tola Custy, harper Maeve Gilchrist and dancer Colin Dunne, was even more adventurous, combining everything from the subtle sound of the air when Dunne swung his legs, and his jolts forward from the chest, to the delicate introspection that Gilchrist has developed on harp – her solo, so crafted and original, was one of the highlights of the performance. 
The quartet moved through a range of formats and styles, exploring ideas of time and geography, even incorporating Gilchrist playing classic Irish tenor John McCormack singing 'Dawning of the Day' on an old record player. Dunne was always trying to stretch the boundaries, reimagining the tunes with a physicality that I had not seen before. It was a rich experience, the skill of Power and Custy gelling the whole project together, yet my sense is that traditional music adventures like this, and Antartica, however original the concept, sit within certain walls and this jars with their clear, adventurous spirit. In theory, anything can happen, but in reality the music is tied to the structure of the traditional tune, or the set of tunes, or the archetypal rise and fall of traditional music, and that brings certain limitations. It is not that I necessarily want traditional musicians to go further than that, but it feels like they do
Social side
Franz Schubert was a strong musical theme throughout the festival, comprising several lunchtime and evening concerts, plus talks. On the hard seats of a full St John's Priory, I enjoyed the concert with the Fidelio Trio (the 'Trout Quintet' with Rachel Roberts, viola, and Paul Kimber, double bass, and more) and baritone Roderick Williams with Iain Burnside (the song cycle Die schöne Müllerin).
It was striking how the artists captured what could be called the 'social side' of classical music. In a performance tradition that has become overwhelmingly austere at times, the Fidelio (driven by a cracking performance from Mary Dullea on piano) captured the spirit of openness and, yes, fun in this chamber music that was often originally written for social circles (the Quintet was commissioned by the cellist Sylvester Paumgartner specifically for the players to hand, hence the unusual instrumentation of violin, viola, cello, double bass and piano).
Schubert spirit
Williams too seemed to try to break out of this modern performance straitjacket. He told us that had always considered Schubert lieder as something for an older singer, but as he worked on Die schöne Müllerin he realised these are the outcries of a teenager in love, and he related it to the lives of his own teenage and young adult children. A performer openly thinking about a Schubert song cycle in this way releases something into the performance, and Williams maintained this spirit for much of the song cycle, but the work's length naturally worked against sustaining it. 
The singer also highlighted a sad irony: there were no more than a teenager or two in the entire packed priory of older listeners. These latter audiences are essential in sustaining classical music performance, but the spirit of Williams and Fidelio needs to be carried so much further in reimagining classical repertoire for the next generation
Vulnerabilities
Finally, I can still hear notes from Liam Byrne's viola da gamba, heard late in the evening upstairs in the early seventeenth century Rothe House performing early and new repertoire, and again with Nadia Sirota (viola) at the Set Theatre performing a range of contemporary works including the European premiere of Donnacha Dennehy's Tessellatum. 
Somewhat like Power, Byrne allows the instrument's vulnerabilities and sorrow, and its sonic messages from the past, breathe in the evening atmosphere; his hands fly across the finger-board, subtle, stretching and arching with the lightest of touches. Works by Nico Muhly (Keep in Touch) and David Lang (Broken) appeared in these concerts, and I worry that Ireland is caught in a world of programming where these composers are seen as essential, but his performance of English composer Edmund Finnis' Lines Covered Rivers Mirrored had such weight that it seemed to really move the Set Theatre audience. 
Tessellatum is a lengthy work at 30 minutes. It presents a range of jagged motifs that would be recognised as Dennehy-like, combined with long drones and double-stops underneath, the viola and viola da gamba dialoguing with recorded tracks. On the night, it felt like there was little development of the ideas, and when there was, it wasn't too different in mood or tonality to what went before, meaning it became a little repetitive – apart from a passage towards the end where the instruments entangle themselves at pace in some intriguing string writing. Listening more on Spotify (in a recording by the duo on the Bedroom Community label) did not exactly change my mind, though it revealed some very evocative moments.
Adventurous
Kilkenny Arts Festival is remarkable for the richness of its music line-up. Festival Director Eugene Downes studied singing with Veronica Dunne and his musical interests and expertise permeates deep into the programming. A 240-page Music Notes publication, produced by the festival, is available to accompany you on your listening. With Martin Hayes as co-curator of the Marble City Sessions, combined with a city of real history and atmosphere, Kilkenny should be a long stop for the adventurous music listener next summer.
Published on 4 October 2017
Toner Quinn is Editor of the Journal of Music.