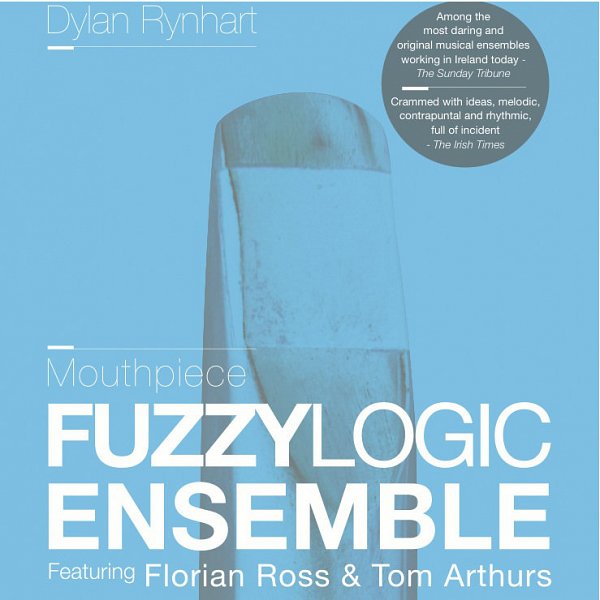 Fuzzy Logic Ensemble
Mouthpiece, Diatribe (DIACD009)
Fuzzy Logic is Ireland's largest and longest-running big band – or 'contemporary improvising ensemble' as composer and founder Dylan Rynhart prefers to describe the group. This distinction is important. 'Big band' can connote music of the swing era or a conventional reeds-and-brass, riffs-and-solos approach that is far from Fuzzy Logic's sound range and musical vocabulary. Yet the band is very much part of a jazz tradition that goes back to Duke Ellington, using extended forms and varied instrumentation to create a broad range of sonorities and textures. Like Gil Evans and Bob Brookmeyer, Rynhart writes music with a compelling balance of highly arranged orchestral passages and carefully chosen solos. And like Brookmeyer's protégé Maria Schneider, he searches out non-traditional rhythmic and ethnic influences to create twenty-first-century music that is both sharply executed and expressively open-ended.
Mouthpiece is the ensemble's second recording, and its flowing lines and tight sound are evidence of the band's longevity and its success in articulating its founder's vision. Much credit is due to Rynhart, who continues to drive the group with hard work and good-natured advocacy. Credit must also go to Florian Ross, conductor and musical director of the pieces on this album, and of course to the musicians, whose collective dedication is matched by inspired execution and inventive soloing.
The album's centrepiece is the title track, which takes as its point of departure a fragment of a speech recording of Rynhart's mother, Justine, in which she speaks of a painting done by her stepmother. Her words carries themes of family, creativity and legacy into the piece, but they also allow Rynhart, who transcribed his mother's voice musically and arranged the tune's melodies around its rhythms, to explore the dimension the spoken word brings to music – hardly a new concept, but one you don't often encounter in the big-band tradition.
The shifting, multi-textured density of 'Mouthpiece' is very satisfying and characterises the album as a whole, especially 'Flip Shuffle', with its lilting melody and intriguing rhythms; the Zappaesque 'There Is So Much to Smile About', featuring Joe O'Callaghan's fluid guitar and Sue Rynhart's airy vocals; and the quirky 'Dusty Time', which surprises at every turn. Rynhart sticks mostly to Fender Rhodes on this outing, and it would have been good to hear more of his swirling Hammond organ, which enlivens tenor saxophonist Brian Wynne's piece 'Order Later'. Nick Roth's composition 'pliARS', with Roth's ferocious alto sax weaving through the tune's Middle Eastern rhythms, is also a highlight. The musicianship is brilliant throughout, particularly Roth and guest soloist Tom Arthurs on trumpet.
Fuzzy Logic has been a prominent feature of the local Dublin scene for over six years, so it is appropriate that the album has been so handsomely packaged and presented by Diatribe Recordings and the Improvised Music Company, who have both done so much to document this very productive period in Irish jazz.
Published on 1 October 2009
Kevin Stevens is is a Dublin-based novelist and writer on history, literature, and jazz.