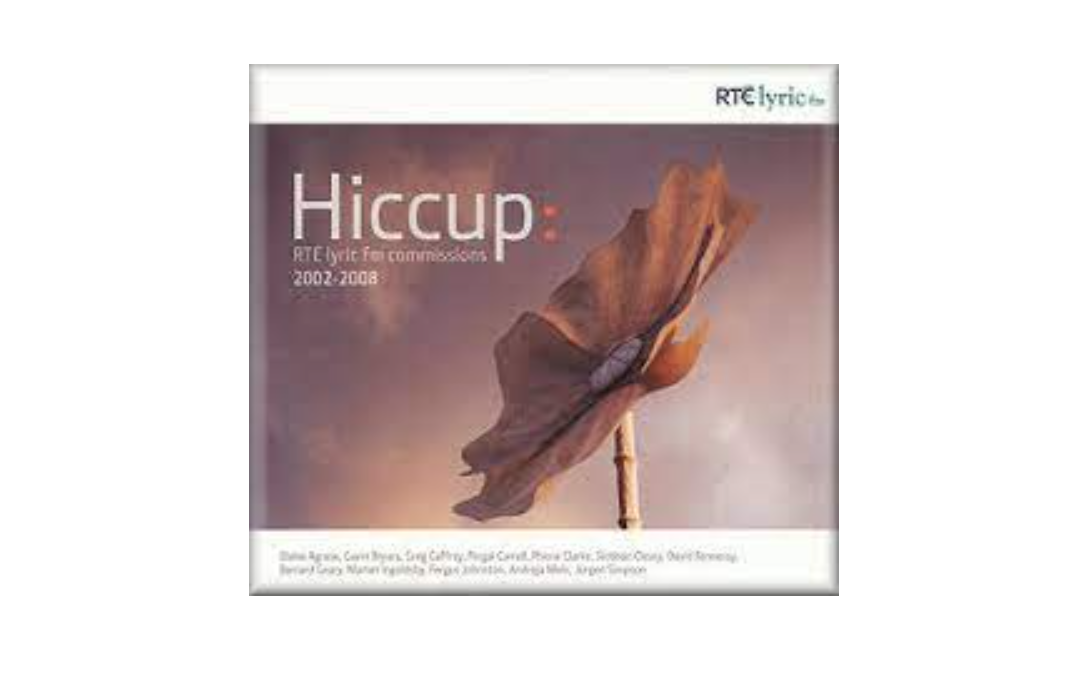 Hiccup
Various
Hiccup
RTÉ lyric fm CD123
Hiccup makes a timely appearance as newspaper headlines sound alarm bells about the financial difficulties facing RTÉ. This satisfyingly varied compendium of works commissioned by the broadcaster's music and arts radio station, RTÉ Lyric FM, between 2002 and 2008 should offer reassuring ballast at a turbulent moment.
The range on offer – in every way – is wide; so don't expect a wholly coherent experience. What matters more, however, is that it provides a vital platform for a dozen living composers who, individually and collectively, vividly illustrate the vitality of contemporary Irish music.
The collection takes its title from Elaine Agnew's crisply spry reworking of themes from Handel's Water Music, performed with dancing poise by Trio Quattro. Opening the disc, the Carducci String Quartet's evocatively liquescent reading of Bernard Geary's Chasing the Tide perfectly captures the music's shifting ebb and flow depiction of the Atlantic-edged beaches of West Cork.
Greg Caffrey's Pluck, Bow II (The Return) makes virtuosic demands of flute and guitar with its aerated but rhythmically intricate interplay ably realised by Aisling Agnew and Matthew McAllister.
Fergus Johnston's Three Bulgarian Dances blends the intimacy of chamber music with the immediacy of Bulgarian folk music; it's outer movements full of life, colour and noise, and at its core a spellbindingly beautiful slow air.
Just as haunting is Siobhán Cleary's compellingly bleak, Berg-out-of-Britten setting of Oscar Wilde's disturbingly dark The Dole of the King's Daughter. Soprano Kathleen Tynan anchors the piece with dislocating conviction; all hushed horror and keening despair amidst coruscating pre-taped material and the RTÉ Vanbrugh Quartet as sharp and slicing as a master butcher's blade.
Lighter – but no less recommendable – fare comes courtesy of Fergal Carroll's The Rescue (Into the Hedge). Originally created as a radio series for children, it is a magical tale full of pretty melodies, stirring themes and graphic orchestral detail, with Louis Lovett an inviting narrator of Máighréad Medbh's engaging text.
Fantasy of a different kind informs Rhona Clarke's Tread Softly for solo piano. Maria McGarry's delivery of the drifting, dream-like sonorities is all the more compelling for its quiet reserve.
Andreja Malir's He Wishes for the Cloths of Heaven (inspired, like Clarke, by Yeats) is an exquisitely brittle duet for plaintive soprano and plangent harp, to which Jürgen Simpson's Sigilum, an electroacoustic treatment of a gong being struck, provides palette-cleansing contrast.
Written for vocalist Iarla Ó Lionáird, Gavin Bryars' Anáil Dé II is just as sparse, trembling contributions from members of the Crash Ensemble falling like broken shards of moonlight on the night sea.
Marion Ingoldsby's mysterious This is the Key, for chamber quintet and children's choir (here RTÉ's own Cór na nÓg), Elaine Agnew's Curoo Curoo, a pretty re-working of the traditional Carol of the Birds, and David Fennessy's deceptively playful chOirland – a tongue-twisting exploration and exploitation of the rapid technique prominent in some Irish folk music, all point to a healthy diversity in new vocal writing.
Published on 1 August 2009
Michael Quinn is a freelance music and theatre journalist based in Co. Down.