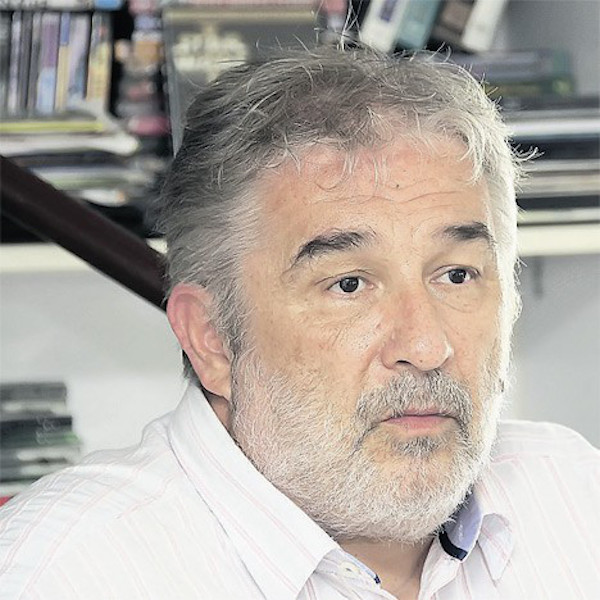 How to Survive a Murder: An Introduction to Music and Artistic Life in Yugoslavia
A former musicology student of the Belgrade Faculty of Music, and now living in Co. Leitrim, Daniela Kulezich provides a tour of the new music scene in Belgrade, Zagreb and Ljubjana.
I know Yugoslavia is infamous because of all the nasty things that happened there during the last decade, so naturally the first question that follows is: is there any art of value there and, if so, how did it survive the wars, crimes, isolation, poverty, corruption, bombing, anger and despair?
This story starts at the time when the term Yugoslav music signified a number of different aesthetic beliefs, styles, compositional techniques, personal attitudes, affections and animosities coming from three big music centres – Belgrade, Zagreb and Ljubljana (Serbia, Croatia and Slovenia) – with colourful if not particularly strong support from the capitals of the other Yugoslav republics: Bosnia and Herzegovina, Macedonia and Montenegro. These days Yugoslav music basically means music from Serbia, with a few Montenegrin composers keeping a very low profile.
The Eighties: The Golden Age
During the eighties, while I was studying musicology at the Belgrade Faculty of Music, the event we all looked forward to the most was an excursion to a little town at the Croatian seaside called Opatija, where the Rostrum of Yugoslav Contemporary Music took place annually. During those extended November weekends, heavily ornate hotels were converted into concert halls and from early morning deep into the night, the best Yugoslav musicians and orchestras played practically everything that had a recent date on the score and looked even remotely worthy of attention.
The audience was strictly professional and hard to please and everyone knew what to expect: composers from Croatia, who were about to step into post-modernism, still had roots deep in German modernism; Slovenian composers were circling close to the same orbit, with a slightly heavier burden of neo-classicism on their shoulders, and Serbian music had a bit of both plus something that Croatian musicologists liked to describe as an 'impressionistic mire' and other similar terms, which bring to mind how Hanslick felt about (and smelled) the music of Tchaikovsky.
On the other hand, my composition-student collegues and I thought that, apart from a few young Croatian composers still studying at the Music Academy in Zagreb, the music coming from Belgrade (although not all, of course) was the only breath of fresh air coming into the old cupboard of Yugoslav music, which kept very smart, but at the same time very old and dusty clothes.
Until the beginning of the eighties, Serbian music didn't have much to offer in the way of an original sound. As opposed to composers from Slovenia and Croatia for whom the word of God came from Darmstadt, Serbian composers who were not still secretly worshipping Russian pagan deities abandoned long ago even by the high priest Stravinsky himself, were likely to be 'children of the revolution' brought by the Polish school and Ligeti. Suddenly, a few composers in their early thirties and earning their bread at the Belgrade Faculty of Music managed to break through their fear of sounding too musical as opposed to serious, and shook off the complex of eternal epigones. Among the first to liberate themselves were Vuk Kulenovic, Zoran Eric and Vlastimir Trajkovic.
At that time, if you needed artistic challenges and creative charging, Belgrade was a good place to be. A strong new-wave scene ignited a flame of intensive urban living. Rock-concerts and parties were happening daily, small theatre groups from Croatia and Slovenia were visiting regularly with exciting experiments in physical theatre and those were followed by video-art exhibitions, book promotions and film retrospectives. And I'm talking only about the fringe art-scene.
Art with a capital 'A' had an excellent international theatre festival (BITEF), a rather old-fashioned music festival (BEMUS), an unglamorous film festival (FEST) and a hunger for much more. So, when one of the sources of that tremendous energy in urban culture was found in the most unlikely of places – the isolated ghetto of contemporary music – it felt like the city was spinning under the spell of some wildly powerful and exciting creativity. The right alignment of planets above the city made sure that Belgrade's best professional ensemble at the time – The Belgrade Strings – had a conductor with a great interest in contemporary music.
Aleksandar Pavlovic and the Belgrade Strings inspired unusual compositional eagerness for this medium and are responsible for premiering over seventy pieces dedicated to them. However, not having a music publishing house – like Ireland – but only having scores randomly produced by the Association of Composers, was one of the reasons that most of that exciting work stayed safely 'at home', bathing in local acclaim.
What happened in the eighties, musicologists would later call the 'beginning of postmodernism in Serbian music'. But more important than that, it was the beginning of a newly acquired self-confidence among composers and a belief that startling technique and clever concepts were not worth much without an honest ear, open heart and pure musicality. Not lacking technique themselves, they applied it in the way it was meant before it became an end in itself – they used it as a device to reach deep, to bare what is most hidden and acknowledge the almost forgotten hedonistic aspects of music – its joy, physicality and sensuality.
Arion, Le Nuove Musiche per chitarra ed archi was one of the first pieces that marked the beginning of the aesthetic conversion in Serbian music and it was written in 1979 by Vlastimir Trajkovic. Minimalist and shockingly diatonic for its time, this piece also showed that impeccable skill and care for detail were the only reliable constants of Trajkovic's work. His luxuriously eclectic musical vocabulary enabled him to explore various genres and compositional approaches and pursue an interest in diverse, even controversial ideas.
Being the total opposite to Trajkovic in every personal, as well as musical, sense, Vuk Kulenovic was the one who brought fireworks to the exhilarating eighties. Kulenovic's temperament expressed itself in outbursts of dense, ostinato-based sound blocks rising through repetition and expansion into melodically spare but rhythmically and timbrally orgiastic eruptions. His Raskovnik caused quite a fuss in 1981 (think Gerald Barry and Chevaux-de-frise at the BBC Proms in 1988!) and indicated the power of a robust talent that didn't lack inspiration and creative drive, but somehow the composer failed to notice the significance of its development and by the end of the eighties it was hard to distinguish one of his pieces from another.
The only name that Irish audiences might recognise is Zoran Eric, because his piece Cartoon for 13 strings and harpsichord was performed by the Irish Chamber Orchestra on their Irish tour this Spring. Written in 1984, Cartoon gained its status as the cult-piece of Serbian contemporary music, not only by being one of the most popular and performed pieces from the eighties throughout the nineties, but also as one of the most influential in terms of musical vocabulary, genre and style – and it's not even his best piece!
A personal taste for short motives employed as riffs, motoric rhythmic drive and ostinato-based developments showed Eric to be the composer most intuitively connected with the urban sensibility and subculture of his time (think Donnacha Dennehy). At the same time, his superior technique, inquisitive imagination and mastery of all the traps involved in the organisation of musical time made sure that all his juicy ideas were legitimised as 'high' as well as passionate art.
The musical world of Milan Mihajlovic was too lyrical and melancholy to find itself at the heart of the big post-modernist bang, but his well-crafted personal style with a taste for arch-forms, the octatonic scale based on the alternation of whole tones and semi tones, and a talent for great musical build-ups, made sure that Mihajlovic secured his place among the leading composers of the last two decades.
This aesthetic conversion was readily accepted by the new generation of composers just emerging from the Faculty of Music [1] and followed by other composers with such enthusiasm that it often pulled Serbian music all the way back to pure tonality, over-simplicity and emotional over-reaction (hence the 'mire'). I suppose such a strong regression was probably never so obvious in Irish music simply because Ireland never had as strong an influence of modernism in the first place to contend with (although it happened with John Kinsella, didn't it?)
The Nineties: Fall from Grace
However, balance was soon established at the beginning of the nineties, with Zoran Eric dictating trends again. In his cycle Images of Chaos I-V, particularly the first two 'images' for different instruments and live electronics, Eric explored the use of the computer in the process of work as well as in live performance, redefining both. Srdjan Hofman promptly followed the trend as a natural pursuit of his interest in electro-acoustic music, which was central to his work throughout the eighties (think Roger Doyle in contemplative mood).
Never feeling comfortable enough in the overpowering post-modern emotionality of the eighties, Hofman found in computers the perfect playground for clever games with pre-existing acoustic materials used as samples, original material composed for different ensembles and the use of live electronics (think Fergus Johnston in five years time). His work also marks a new turn towards modernism in Serbian music, this time much more relaxed and mature – modernism with 'greater inner calm'.[2]
At the same time, another kind of chaos was taking over Yugoslavia. The ugly corpse of nationalism was resurrected from the unresolved traumas of the Second World War in most Yugoslav republics. Power-hungry politicians stirred forgotten hatreds and fears and very soon people were expelled from their homes, besieged without food, water and electricity, dying at the hands of their neighbours or fleeing the country in order to escape orders to kill.
Nationalistic indoctrination, poverty, isolation, degeneration and the disappearance of moral values in Serbian public life resulted in the submission of urban culture and the rise of primitivism. A monstrous fusion of folk and dance music called turbo-folk became the symbol of the 'new cultural order' in the country, while more sophisticated war-profiteers 'discovered' art in the new music genre: sleazy, badly-written choir music suitably coated with Christian-Orthodox reverence, hence 'sublime' (think John Tavener without craft).
Composers tried to protect themselves not only by civil actions [3], but also by artistic activities, which were often sabotaged black of money and the ignorance of those who had it. However, it was at that time that the International Festival of Contemporary Music was established in Belgrade, soon followed by the founding of the Ensemble for New Music. The Festival was often held in impossible conditions, desperate to keep its international status, to be informative as well as encouraging for those who hadn't given up composing. At the same time, first-rate musicians who held down two or more jobs to survive, while often performing contemporary music for free, gradually joined the exodus of the young clever and educated who couldn't take any more humiliation and despair, and left the country.
Before leaving for good himself, Vuk Kulenovic wrote [War] Boogie for piano and orchestra – a musical parable of mortal power taking over the world. Milan Mihajlovic's lyric realm overflowed with anger and despair in his pieces Eine kleine Trauermusik for small ensemble and Memento for orchestra. As if left speechless by the madness of his surroundings, Zoran Eric turned to theatre music, emerging after four years of silence with the fourth and unusually melancholic Image of Chaos called I Have not Spoken, for alto-saxophone, bass, mouth harmonica, actor-narrator and mixed choir.[4] Possibly one of the strongest testaments to those hopeless times full of fear and sadness was manifested in the Concerto for Viola and Orchestra in G Minor by Vlastimir Trajkovic. However, for me the most moving piece of music dedicated to the Belgrade of the end of the nineties was written by an Irish composer – the fourth movement of Ian Wilson's first violin concerto Messenger, as devastatingly beautiful as it is austere.
In 1999 the Association of Composers was preparing the seventh Festival of Contemporary Music and Zoran Eric as selector decided to present a considerable number of Irish scores sent to the festival by the Contemporary Music Centre (Raymond Deane, Ian Wilson, Donnacha Dennehy and Grainne Mulvey, among others).
The seventh Festival never happened because that spring the only music the people of Serbia got was that of air-raid sirens, exploding bombs and the terrifying silence in between. That particular silence, heavy with anxiety and anticipation, became the recorded part of the piece that opened last year's Festival – Srdjan Hofman's Nocturne of Belgrade Spring 1999 for ensemble, live electronics and tape.
I hope in a few years' time this article will be considered as the end of one very difficult and painful chapter in the Yugoslav history of music. In the meantime, with 'old stars' back in the game again and the young generation emerging with new and cheeky ideas[5], it's good to know that it's still kicking.
Notes
1. At that time it looked as if it was quite possible to change the world and the status of art in it, so seven young composers (Igor Gostuski, Isidora Zebeljan, Ana Mihajlovic, Natasa Bogojevic, Ognjen Bogdanovic, Srdjan Jacimovic and Vladimir Jovanovic) studying with Eric, Trajkovic and Hofman, founded the group The Magnificent Seven, which introduced an unusual media-buzz and sold-out tickets into the world of contemporary music.
2. Dr Mirjana Veselinovic-Hofman, 'Electro-acoustic Music of Srdjan Hofman: From Sample to Rebus', liner notes to SOKOJ CD 203 (1995), 7.
3. At the beginning of the Bosnian war the Association of Composers organised a public protest through its members who literally went on their knees in front of the Republic Assembly Building, 'begging' President Milosevic to resign.
4. The cycle Images of Chaos was concluded by the epicurean Oberon Concerto for flute and instrumental ensemble in 1997 – at the time when it looked like the war troubles were over.
5. As I hear, the pieces that received the biggest acclaim at this year's Festival were written by composers who recently graduated or are still studying with Eric and Hofman: Jasna Velickovic, Bozidar Obradinovic and Vladimir Pejkovic.
Published on 1 September 2001