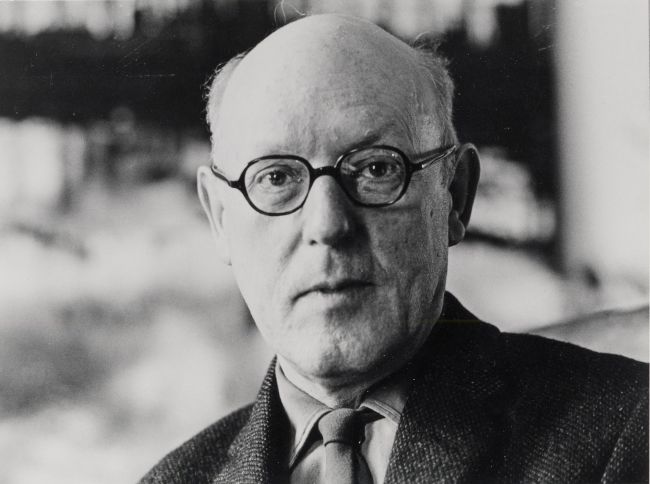 Howard Ferguson (1908-1999)
The life and work of an Irish composer.
This article is a brief examination of the life and work of the Irish composer Howard Ferguson. If his name is less familiar than that of such contemporaries as Aloys Fleischmann (1910-1992) and Frederick May (1911-1985), this is perhaps due to the fact that his career was based almost exclusively in England and that his relationship with the country of his birth was tempered by this simple fact.
In a useful way, his career exemplifies a long tradition amongst Irish artists of adding to the cultural life of Britain and in this respect he can be linked to such other Irish composers as Charles Villiers Stanford (1852-1924) and Hamilton Harty (1879-1941). And if Ferguson's departure to London from his native Belfast was more the result of serendipity than conscious planning – as we shall see – nonetheless, his commitment to musical life in Britain, once there, proved substantial and enduring in a number of fields.
Howard Ferguson was born in Belfast on 21 October 1908, the last child of Stanley and Frances Ferguson. His father was a banker and though the family was not particularly musical, Howard at a young age was allowed to 'bang the keys … of our ancient Collard and Collard upright piano'[1] and was later sent for lessons with a local piano teacher, Frederick J. Sawyer. He also took lessons on the violin from Winifred Burnett, then leader of the Belfast Philharmonic Orchestra. Playing on both these instruments, he was entered for the Belfast Musical Competition in 1922, in which year the adjudicator was Harold Samuel (1879-1937), a well-known pianist, particularly noted for his interpretations of Bach. This in itself made Samuel a rather unusual figure for the time, but his impact on Ferguson's subsequent career was more marked for, having heard the thirteen year-old's performance and awarded him a prize, he proposed to Ferguson's parents that the boy continue his musical education under his guidance in London. Piano studies with Samuel would then form a prelude to enrolment at the Royal College of Music, on whose staff he was then teaching. As Ferguson later remarked, 'I can never get over the fact that my mother and father immediately agreed to this startling proposition'.[2]
Ferguson initially stayed with an American family in Holland Park and attended Westminster School. When the O'Sullivans returned to California, Samuel invited Ferguson and his Belfast nanny, May Cunningham (known to all as 'Pu', after 'Pussycat'), to live with him, firstly in Ealing and later at a new home also in Holland Park. After two years of secondary education, Ferguson entered the RCM in the summer term of 1924, studying composition with R. O. Morris (1886-1948) and afterwards Ralph Vaughan Williams (1872-1958). Many years later he paid tribute to the quality of Morris' teaching and encouragement in an article entitled 'Early Lessons with R.O.' printed in the RCM Magazine of 1987. Morris' practical but thorough approach to compositional training ensured the presence of the most immediately apparent characteristic of Ferguson's music – its fine craftsmanship. Friendship with Morris and his wife also brought about his first encounter, in 1926, with the composer Gerald Finzi (1901-1956), who was at that time taking lessons in counterpoint with Morris. Their friendship was more properly to stem from an incident at the Royal Albert Hall, as Ferguson relates in his memoir Music, Friends and Places:
Richard Strauss [was] conducting the BBC Orchestra in a concert of his own works, with the Mozart G minor symphony thrown in for luck. The presence of the master himself should have guaranteed our seriousness; but I'm afraid the highlight of the evening had been during the noisiest climax of the Alpine Symphony, when the thunder-machine was seen to topple over and crash unheard into the middle of the startled orchestra. As the audience left the hall, Gerald and I cannoned into one another, both helpless with laughter, and from that moment our friendship was sealed.[3]
As will be gathered from this, the musical life of London proved stimulating and varied!
Compositions
Ferguson also studied conducting at the RCM with Malcolm Sargent and for a time considered this as a career. Gradually, however, composition became the dominant preoccupation and among the works to date from this period are a Cradle Song for voice and piano; an early violin sonata which was performed at a students' concert in the Royal College in 1925; and a Mass for unaccompanied voices. As all of these works were later destroyed, the first pieces about which it is possible to make some comment are the Two Ballads for baritone and orchestra (1928-32) and another violin sonata (1931), this time preserved from the flames of self-criticism and performed at a concert in the Wigmore Hall on 12 October 1932 by Isolde Menges and, on piano, Harold Samuel, to whom it is dedicated. This work, which earned Ferguson considerable acclaim and was later recorded by Jascha Heifetz, displays several features typical of Ferguson's music and this may be an appropriate juncture at which to attempt to describe these.
This – the first of two violin sonatas – opens, Molto moderato, with a chromatic motif for the violin which forms the basis for much of the first movement's material. It encompasses merely a major third and deploys the juxtaposition of D flat/C sharp/D sharp to create an ambiguous tonality above a piano accompaniment solidly based on chords of F major and A minor. The resultant mood is vaguely central European and suggests, to this listener at least, the impact of Maurice Ravel's recently completed violin sonata (1928). The lyrical touch, however, is all Ferguson's own, and the movement seamlessly integrates this first motif with a second, more overtly diatonic theme. A cadenza leads directly to a brief restatement of the first motif and, attacca, the second movement, a scherzo-like Allegro furioso which does not give the violinist a single bar's pause. Lastly a moderately slow Quasi fantasia, and by far the longest movement, provides a counterbalance and a greater variety of mood. The initially stated theme bears a direct resemblance to the second theme of the first movement and echoes of that movement's initial motif also recur as Ferguson introduces several new ideas in a central Poco mosso section and prepares the way for a final restatement of both motifs.
If I have described the first violin sonata in the rather tedious terminology of so many musicological works, it is partly so that I will not have to use this language again, and partly to demonstrate the deep-rooted formal integration of Ferguson's music. This is apparent again and again in even the smallest of occasional pieces. It is also remarkable that once having found his 'voice' as a composer, Ferguson's style and approach to composition did not vary and was seemingly undisturbed by crises of confidence. The step from the violin sonata to the Octet (Opus 4, 1934) is smooth and even the opening motif of that work bears a rhythmic resemblance to the opening of the sonata. A delightful work from start to finish, it also contains in its slow movement music of a passionate intensity which belies the often backhanded compliment of 'well-crafted'.
Throughout the rest of the 1930s, Ferguson completed a number of works which deserve a permanent place in the repertoire. In addition to the Octet, there is the Partita (Opus 5, 1935-36) which exists in two independent versions, for orchestra and for two pianos. A work written in response to a BBC Northern Ireland project, Four Diversions on Ulster Airs, represents the first link between the composer and his native Ireland since the publication in 1928 of some folksong arrangements for cello and piano; and the Piano Sonata in F minor, a dramatic and intense work which reflects both the period of its composition (1938-40) and also the death in 1937 of Ferguson's mentor and friend Harold Samuel. His death necessitated a change in Ferguson's circumstances, so when Gerald Finzi and his wife Joy offered him the use of an unoccupied cottage at the Ashmansworth site where they were building their own home, he eagerly accepted and the entire household – including 'Pu' – moved there for the duration of 1938.
Letters
Finzi and Ferguson had grown increasingly close throughout the 1930s and they formed – in a manner strikingly reminiscent of Holst and their revered Vaughan Williams a generation earlier – ideal judges of one another's music. It is probably fair to say that a factor in the success of this mutual criticism was the essential difference in their musical styles: Finzi's predominantly pastoral (even ruminative), deeply diatonic and vocal in inspiration; Ferguson's more chromatic and astringent, less avowedly 'English' in tone and, if one can make the distinction, instrumental rather than vocal in attitude. Nonetheless they shared an unshakeable belief in the continued possibilites of the tonal system and were sceptical – though certainly open-minded – with regard to serialism and its progeny.
The tone of their exchanges is admirably chronicled in their letters, recently published by the Boydell Press.[4] This invaluable collection – probably one of the last of its kind in this increasingly digital age – marked the final editorial task that Ferguson had undertaken after Finzi's premature death from Hodgkin's disease in 1956. Indeed it is probably no understatement to say that much of the revival of interest in Finzi's music over the last twenty years can be ascribed to the joint work of Ferguson and Finzi's widow Joy. The letters themselves span a thirty-year period and allow a fascinating glimpse into the musical life of the period and the various domestic comforts and tribulations of the two composers as performances, publications, proof-reading and, not least, World War II interpose themselves. Perhaps most usefully the letters allow some gauge of both of their attitudes toward their contemporaries – from the reservedly admired to the outright detested. In the former category one finds someone like the prolific Rubbra, nonetheless victim of Finzi's often ascerbic wit: 'Rubbra stays here Saturday night on his way to Bristol. No doubt he will bring a new Symphony.' Or, regarding Arnold Bax: 'By the way, I was interested to hear Boult say that he conducts all the Bax symphonies and can't remember one from the other – as with all of us.' Not that Ferguson pulls any punches either – though admiring Britten's music in general, he writes to Finzi in 1950: 'Did you hear "St Nicholas" later the same evening? God, what twaddle!'
War years and after
At the outbreak of the Second World War, Ferguson found himself working as assistant to Myra Hess in running the National Gallery concerts. Though he was, in fact, in Belfast when war was declared, he arrived in London in time for the second concert and didn't miss any of the remainder of this remarkable series which did so much to keep music alive in the besieged capital and which managed over a six-year period to offer 1,698 programmes despite air-raids and numbing temperatures. Important and rewarding though the work was, however, the circumstances were hardly conducive to composition and Ferguson related how he was 'kick-started' into his next work:
Getting tired of having written nothing for so many years, I said to a friend one day, 'I'm sure I could write something if only someone would give me a few notes to start on.' 'Here they are', he replied, and scribbled on the back of an envelope the six rather unlikely notes that form the theme of Bagatelle No. 2. The piece was duly written, and proved so agreeable – to me, at least – that I asked for some more notes. These were supplied, and turned out to be the basis of the Bagatelles, and also the reason for their dedication 'to Arnold van Wyk, who kindly contributed twenty-five notes'.[5]
After the war, Ferguson continued to work at composition, though perhaps less actively than in the 1930s; and carved out a highly successful career as a performer in partnership with the pianist Denis Matthews, and, separately, the violinist Yfrah Neaman. He also taught composition ('as far as one can do so'[6]) at the Royal Academy of Music from 1948 to 1963. The partnership with Neaman possibly prompted the production of a second violin sonata, a work Denis Matthews describes as Brahmsian, though he also suggests the influence of Bloch and 'the impact of his First String Quartet, which the Grillers played repeatedly at the National Gallery Concerts [and which] left an indelible mark on most of those who heard it.'[7] The other major work of this time was a ballet based on Chaucer and entitled Chauntecleer, but Ferguson was dissatisfied with the piece and withdrew it without performance.
Commissions and performances
The final phase of compositional activity dates from the early 1950s and resulted from a number of commissions. The first of these was for the Festival of Britain in 1951 and was funded by C.E.M.A. (the Council for the Encouragement of Music and the Arts) for a piano concerto. Moreover, it was requested by the Northern Irish section of C.E.M.A. and so the première of Ferguson's Concerto for piano and strings (Opus 12) took place with the City of Belfast Orchestra and the composer at the keyboard on 22 June 1951. Almost exactly two years later, another commission, this time from BBC Northern Ireland received its first hearing again in Belfast on the occasion of the coronation of Queen Elizabeth II. This was Overture for an Occasion (Opus 16) and it is the work in which Ferguson most clearly demonstrates his versatility as a composer of, literally, occasional music. It is also the work which most markedly resembles the musical style of William Walton (1902-1983), a composer highly regarded by Ferguson.
If Overture for an Occasion could be said to reveal a 'popular' Ferguson, the song-cycle Discovery, settings of poems by Denton Welch (1915-1948), stands at the other extreme in its comparative astringency and dark tone. Though, as I have argued, Ferguson's music is not perhaps intrinsically vocal the songs are nevertheless gratefully written and match the imagery and texture of Welch's somewhat laconic words admirably. Words proved the inspiration too for Ferguson's final two works, both for soloist, chorus and orchestra and both based on anonymous medieval poems: Amore Langueo (Opus 16, 1955-56) and The Dream of the Rood (Opus 19, 1958). Both these works were given their first performances at the Three Choirs Festival – in Gloucester on 6 September 1956 and 10 September 1959 respectively. It is perhaps appropriate that this was so, for Gerald Finzi's last music had been linked to this three-town event and his death in 1956 deprived Ferguson of his most valued critic. Whether this was a factor in Ferguson's decision to cease composing, or whether he simply felt, as he later remarked, that he was merely repeating himself, The Dream of the Rood was his last work and for the remainder of his life he devoted himself as assiduously to other forms of musical activity.
Publications and recordings
As though to mark the fact and also his continued links with Belfast, Queen's University conferred an honorary MusD on him in 1959. The connection with academia proved appropriate for Ferguson now embarked on a series of editing tasks which by the time of his death were to comprise literally dozens of volumes. Initially, early Baroque music was the focus of his activities, but in the early 1970s the Associated Board of the Royal Schools of Music produced his edition of the complete Schubert piano sonatas. These in turn were followed by editions of shorter pieces by Schubert and of works by Beethoven, Brahms, Liszt, Schumann and Mendelssohn. Added to his highly influential Style and Interpretation series, an anthology in six volumes of works covering the whole of the standard piano repertoire, the output was exceptional both in terms of quality and quantity.
Ferguson did not entirely neglect his compositions either. If he composed nothing new, he ensured that most of his music was preserved for posterity in recorded performances on the Hyperion and Chandos labels made during his last decade. And he continued to oversee publication of his friend Finzi's music and letters: the final annotations to the correspondence discussed earlier were made only a few days before his death. For greater peace and quiet, and also to allow access to scholarly collections, Ferguson had moved to Cambridge from London in 1972, and there he died on 1 November 1999, a few days after his ninety-first birthday.
It will probably be apparent that Ferguson's career was an unusual one for an Irish composer in many respects. His output was small, but of a remarkably high standard and as Michael Hurd remarks: 'it involved very few miscalculations and no outright failures'.[8] He was also fortunate in finding a publisher, Boosey and Hawkes, for almost his entire output and being able to oversee its recording in the era of digital recording. Moreover, his presence as a freelance professional musician in London afforded him an opportunity to work with and hear many of the leading performers of the day, several of whom became interpreters of his music – Myra Hess, Jascha Heifetz, Kathleen Ferrier and Denis Matthews to name but a few. Finally, his work as a scholar placed his name in front of several generations of students who may in turn have been stimulated to explore some of his original compositions, particularly those shorter works ideally suited to competition and amateur recitals. If I have not mentioned the Four Short Pieces for clarinet or the Three Sketches for flute it is not due to any lack of quality in the music, simply a desire to do justice in a short space to the breadth of Ferguson's achievements as composer, performer, scholar and Irishman.
Notes
1. Howard Ferguson, Music, Friends and Places: A Memoir, London: Thames, 1997, 7.
2. ibid., 9.
3. ibid., 29.
4. Howard Ferguson and Michael Hurd (eds), Letters of Gerald Finzi and Howard Ferguson, Woodbridge: Boydell & Brewer, 2001.
5. Music, Friends and Places, 54-55.
6. ibid., 63.
7. Denis Matthews, 'Chamber Music' in Alan Ridout (ed.), The Music Of Howard Ferguson, London: Thames, 1989, 33.
8. Michael Hurd, 'Howard Ferguson', New Grove Dictionary of Music and Musicians, 2nd edition, London: Macmillan, 2001.
Howard Ferguson: a checklist
ORCHESTRAL
Partita OP 5A (1935-36/Published: Hawkes & Son, 1937)
Four Diversions on Ulster Airs OP 7 (1939-42/Published: Hawkes & Son, 1948)
Chauntecleer, ballet after Chaucer OP 11 (1948/unpublished) [withdrawn]
Concerto for piano and string orchestra OP 12 (1950-51/Published: Hawkes & Son, 2 piano reduction 1952; full score, 1953)
Two Fanfares [4 B flat trumpets, 3 trombones] OP 15 (1952/Published: Boosey & Hawkes, 1953)
Overture for an Occasion OP 16 (1952-53/ Published: Hawkes & Son, 1955):
CHORAL
Lovely Armoy (Anon.) arr. for SATB chorus (1954/unpublished)
Amore langueo (Anon.) for tenor, chorus and orchestra OP 18 (1955-56/Vocal score published: Boosey & Co., 1956)
The Dream of the Rood (Anon., Anglo-Saxon, trans. Dorothy de Navarro) for soprano (or tenor), chorus and orchestra OP 19 (1958/Vocal score published: Boosey, 1959)
VOCAL
Two Ballads (Anon.) for baritone and orchestra OP 1 (1928-32/Vocal score published: Boosey & Hawkes [Winthrop Rogers Edition], 1934)
Three Medieval Carols for voice and piano OP 3 (1932-33/Published: Curwen, 1934)
Discovery (Denton Welch), song cycle for voice and piano OP 13 (1951/Published: Boosey and Hawkes, 1952)
Five Irish Folksongs for voice and piano OP 17 (1954/Published: Boosey and Hawkes, 1956)
Love and Reason (William Golding) for counter-tenor and piano (originally harp) for the play The Brass Butterfly (1958, revised 1993/Published: Banks Music Publications, 1994)
CHAMBER
Five Irish Folktunes arranged from the Petrie Collection of Ancient Irish Music for cello (or viola) and piano (1927/Published: London: Oxford University Press, 1928; repr. London: Associated Board of the Royal Schools of Music, 1989)
Sonata No. 1 for violin and piano OP 2 (1931/Published: Hawkes & Son, 1933)
Octet [clarinet, bassoon, horn, string quartet, double bass] OP 4 (1933/Published: Hawkes & Son, 1934)
Five Pipe Pieces for treble, alto and tenor bamboo pipes (1934-35/Published: London: J.B. Cramer, 1935); revised for descant, treble and tenor recorders as English Suite (Published: Manchester: Forsyth Brothers, 1989)
Four Short Pieces for B flat clarinet (or viola) and piano OP 6 (1932-36/Published: Boosey and Hawkes, 1937)
Sonata No. 2 for violin and piano OP 10 (1946/Published: Hawkes & Son, 1949)
Three Sketches for flute (or recorder/oboe) and piano OP 14 (1932, revised 1952/Published: Boosey and Hawkes, 1953)
PIANO
Partita, version for two pianos OP 5B (1935-36/Published: Boosey and Hawkes, 1937)
Sonata in F minor OP 8 (1938-40/Published: Boosey and Hawkes, 1940)
Five Bagatelles OP 9 (1944/Published: Boosey and Hawkes, 1945)
OTHER WORKS
with R. O. Morris. Preparatory exercises in score-reading, London, Oxford University Press, 1931.
with Denise Lassimonne (ed.), Myra Hess: by her friends, London: Hamish Hamilton, 1966.
Keyboard interpretation from the 14th to the 19th century: an introduction, London: Oxford University Press, 1975.
Entertaining solo: a cookbook for the single host, Cambridge: H. Ferguson, 1995.
Music, Friends and Places: A Memoir, London: Thames, 1997.
with Michael Hurd (ed.), Letters of Gerald Finzi and Howard Ferguson, Woodbridge: Boydell & Brewer, 2001.
For a complete list of Ferguson's scholarly editions see Alan Ridout (ed.), The Music Of Howard Ferguson, London: Thames, 1989.
Published on 1 May 2003
Garret Cahill works in the Boole Library in University College, Cork.