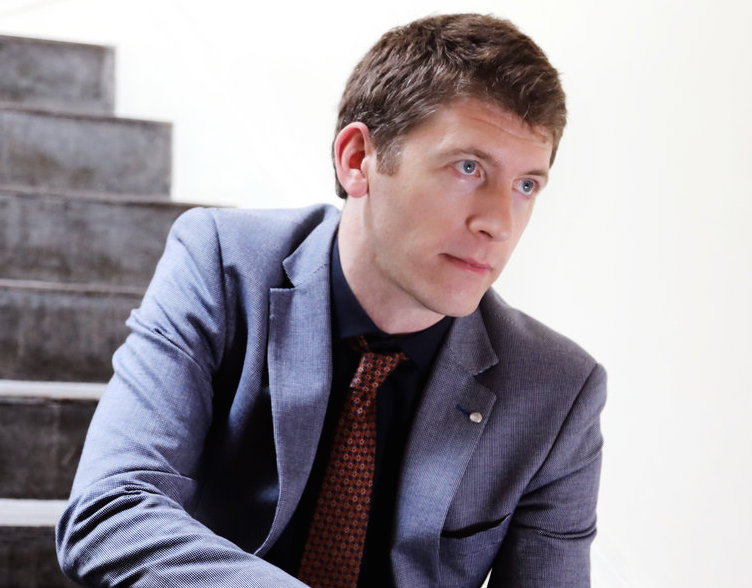 'I'm in this business to be moved, to be communicated with, to be transported': An Interview with Finghin Collins
One of Ireland's best known classical musicians, Finghin Collins is also Artistic Director of the New Ross Piano Festival, which takes place on 25–29 September. He spoke to the Journal of Music about the balance between performing and programming, what he looks for in concerts, and his own musical background.
This September, it will be twenty years since Finghin Collins won the Clara Haskil International Piano Competition in Vevey in Switzerland at the age of 22. It brought his career to a new level, provided a range of concert engagements, brought him further attention internationally, and provided a deal with the label Claves, with which he continues to record.
Collins has since become one of Ireland's best known classical musicians, has performed with orchestras around the world, and last year gave two recitals at the Wigmore Hall in London. Reviewers have often commented on the expressiveness of Collins' playing, and it's a characteristic that is important to him too.
'I'm not in this business to hear cold computer-like playing. I'm in this business to be moved, to be communicated with, to be transported,' he said, speaking to the Journal of Music. The musicians he admires are those 'who have that ability to take you away from the every day, to communicate the essential meaning of the music… who really move you, who make you stop and think.'
This applies to his approach to festival curation also – as well as a pianist, Collins is Artistic Director of the Music for Galway concert season and co-founder and Artistic Director of the New Ross Piano Festival, which is coming up on 25–29 September. 
Classical and jazz
The origins of the New Ross festival lie in the fact that Collins bought a home in County Wexford fifteen years ago. It happened to be five miles from the town and he came to know Connie Tantrum and others who were involved in putting on local concerts. The cost of hiring a piano for a single concert was a topic of discussion and the idea of a weekend festival to make better use of the instrument emerged. Collins has been Artistic Director since and also performs at the festival. In the last three years, it has expanded to include jazz.
We decided to add a jazz day two years ago. I don't know the first thing about jazz. I said to the committee that I'm delighted, and I think it's important that we do it, because if we're doing a piano festival then we want to show different aspects of the piano. Jazz piano is obviously hugely important. But I also said at the outset that it wouldn't be me who would be curating it, so Phil Ware has been our jazz curator for the past three years. Last year, I saw Lars Jansson and it was a beautiful concert, just beautiful.
This year, on Thursday 26 September, the festival will feature a performance by renowned jazz pianist and composer Gwilym Simcock. Currently a member of the Pat Metheny Quartet, the Welsh pianist has just released his second album of completely solo piano, titled Near and Now, on the ACT label. It features a range of newly composed tracks dedicated to musicians such as Billy Childs and Brad Mehldau. The Phil Ware trio will also give a concert the same day.
Apart from the jazz concerts, however, key to the New Ross Piano Festival is the variety of pianists that can be heard in a single evening classical music concert. On Sunday 29th, both Collins and Barry Douglas are going to conduct and play (with the Camerata Ireland orchestra), and Israeli pianist Matan Porat will also perform. 
We're going to have Mozart's F major concerto No. 19, which I am performing, and Barry Douglas will conduct, and then he's going to play Beethoven 2 and I'll conduct that. How often do you get to see pianists alternating like that? I think it's quite unique.
Among the other pianists visiting this year are Sae Yoon Chon, winner of the Dublin International Piano Competition. Collins was actually on the jury when he won: 'He is stand out. I cried in the second round when he played the slow movement of the Brahms Opus 5 F-minor Sonata and I'm not someone who cries easily. He has amazing technique and amazing musicianship.'
Although performance is his main focus, Collins takes particular enjoyment in curating the New Ross festival and the Music for Galway concerts, both because of the flexibility it offers him and the creativity involved. 
It's very creative, coming up with programmes, themes and ideas… It's extremely satisfying to be able to travel and hear people and to be able to invite them over to Ireland, in many cases, people making their debut. … You feel you're creating something every year. … You get great feedback from audiences. It's a public event. It's celebratory. 
He has employed various programmatic themes over the thirteen years of New Ross, but one of his highlights was when they focussed on works for piano duet. 'It was so spectacular visually having the two pianos there,' he says. The performance of Bartók's Sonata for Two Pianos and Percussion by Enrico Pace and Igor Roma with Roger Moffatt and Richard O'Donnell is one that has stayed with him and inspired him to want to learn the work. 
Siblings
One of the musicians making her debut at the festival this year is Clara Siegle, the daughter of Collins' sister, the pianist and teacher Mary Siegle-Collins. 
It was Mary, who now lives in Germany, who first began teaching Finghin at aged three. She also taught Clara, who is now nineteen and studying with the Finnish pianist Antti Siirala at the Hochschule für Musik und Theater in Munich. Clara will perform a programme of Clara and Robert Schumann and Brahms on Friday 27 September.
All four Collins siblings are deeply involved in music. Finghin's elder brother Donagh is Chief Executive of the classical music agency Askonas Holt in London and his sister Dearbhla, as well as being Artistic Director of the Veronica Dunne International Singing Competition, has just been appointed Assistant Head of Music at London's National Opera Studio. 
There was nothing inevitable about the Collins' musical involvement, however. Neither of their parents are musicians, but one by one the children all went to lessons at the Royal Irish Academy of Music. Initially they had no piano and Mary went next door to practise, but gradually their parents had to purchase more than one instrument. Finghin played violin for twelve years too. 'My father must have scratched his head and said what is going on here?'
John O'Conor taught Collins from the age of six until he was 22. 'John formed my entire musical language… my lyrical approach… the attention to melody… the whole idea of communicating with an audience….' O'Conor also encouraged Collins' musical independence. When working on a piece of music, the pianist would encourage his pupil to create his own interpretation around it. 
He would say 'Go home and write a story or a poem… I don't need to see it… Nobody needs to read it' … but it's really useful for developing artists because it brings you into the character of the music, the mood of the music, what state of mind the composer is in. It focuses the performance. … When I was 22, preparing for the Clara Haskil competition, I wrote a poem in German, note by note, for one of the Brahms' late intermezzos which I was playing in the first round, and it really helped me to perform the piece.
Among the other pianists performing at this year's festival are Daria van den Bercken who is going to perform Bach's Brandenburg Concerto No. 5, an early keyboard concerto, and Maurizio Baglini who will perform a programme of Scarlatti, Paganini/Liszt and Schumann. Matan Porat is going to perform a late-night programme called Lux, which explores the idea of light, from dusk to dawn, and features music spanning twelve centuries, and Barry Douglas will perform the Sextet by Penderecki, a composer with whom he is strongly associated, with Elina Vähälä (violin), Bruno Pasquier (viola), Henri Demarquette (cello), John Finucane (clarinet) and Frank Lloyd (horn). 
For Collins, Douglas' playing  is 'individual, it's definite… it's his interpretation… and that's what you want in a musician. It's personal to him… you kind of feel when he is playing that this is what it is… it couldn't be any other way.' 
And yet, for audiences, Collins doesn't believe that you necessarily need to know the music to enjoy it. 
I think if you don't know the music quite as well you can enjoy it more … That's why I enjoy listening to string quartets, opera and lots of other different instrumentation because I don't know the music as well. I'm never going to perform it so I can just enjoy it. I think, obviously, some basic music education is helpful in the enjoyment of music, but I don't think you have to know the pieces or the structure or the actual music to be moved by it. I think the opposite. I think you can be moved by a piece you've never heard before, simply because of its beauty. 
The New Ross Piano Festival takes place on 25–29 September in New Ross, Co. Wexford. Visit www.newrosspianofestival.com. Finghin Collins will also perform at the Westport Festival of Chamber Music which takes place this weekend, 13–15 September. Visit www.westportchambermusic.ie.
Published on 12 September 2019