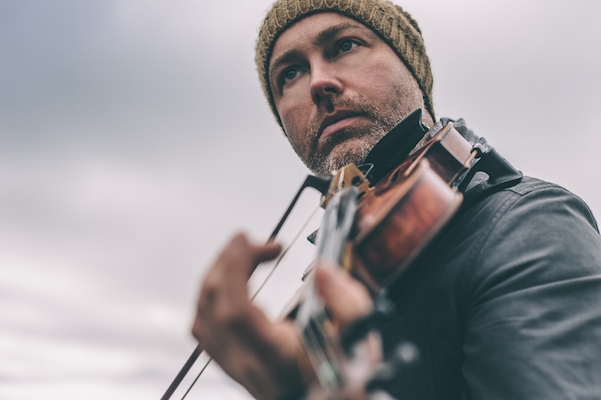 'I wanted them all to be a contribution to the Scottish traditional music canon': An interview with fiddle-player Aidan O'Rourke
Scottish fiddle-player Aidan O'Rourke, a member of the groundbreaking band Lau, has just released his fifth solo album, '365: Volume 2', part of a huge volume of compositions written in response to stories by James Robertson. O'Rourke spoke to the Journal of Music about his music and composing and how his latest project is about 'coming back to traditional music'.
It was in the Christmas of 2015 that fiddle-player Aidan O'Rourke received a copy of Scottish author James Robertson's 365 Stories. Each story was exactly 365 words and yet the subjects and moods were wide-ranging, from tales of mysterious piano music emanating from city flats to the clootie wells of Scottish folklore, and from acts of violence to pub conversations. 
'On the first of January,' says O'Rourke, 'I began to read them, as you should, on each day…. It's a beautiful collection of short stories. The beauty of them is that you can feel the year progress through them. You can feel the seasons…'
The Oban fiddle-player soon found that the ritual of the daily stories and their compact nature inspired him to consider producing a musical response. The stories' short form reminded him of traditional tunes. 'A traditional tune has two or three parts … in that tune you can get across so much. It's the same with these stories.' 
Clear my mind
As well as being a member of the group Lau (and also the four-piece Kan with flute-player Brian Finnegan), O'Rourke has composed a range of instrumental works, for the PRSF New Music Biennial, Royal Scottish National Orchestra and Sage Gateshead among others, but he had no composing commitments at the particular time when he began reading and was 'looking for something to focus [his] writing'. Writing a tune a day in response to the stories became a 'personal writing exercise'.
I tried to just clear my mind, read the story and let it flow…. My only restriction was that it had to make sense as a piece of traditional music … a standard 16-bar tune or a 32-bar tune. … They couldn't be a riff or an idea…. I wanted them all to be a contribution to the Scottish traditional music canon. 
O'Rourke generally finished each tune the same day, sometimes allowing one to spill over until the next morning and then completing it. The result is 365 separate pieces. He released 365: Volume 1, a collection of 22 of the tunes, last year, and this week he releases Volume 2, with another 25 pieces. Supported by funding from Creative Scotland, O'Rourke has almost finished recording the rest of the tunes that he composed, and from next January, he will release one each day, accompanied by the relevant story recorded for spoken voice by a range of contributors, including Robertson. Listeners can sign up to receive them at https://three-six-five.net.
For O'Rourke, who learnt fiddle growing up in Oban in the Highlands, the extensive creative project was a way of 'coming back to traditional music'. Lau are renowned for their adventurous compositions which have stretched the aesthetics of folk music, pieces such as 'Torsa' and 'Hinba', and for the social commentary of singer Kris Drever, in songs such as 'Ghosts', but O'Rourke was attracted to the challenge of a more minimalist approach. When he began writing the pieces, in 2016, he was struck by the political and environmental turmoil in the world and the 'quiet meditation' of writing more pared-back traditional tunes appealed to him.
Musical telepathy
A significant part of the project is his collaboration with the jazz pianist Kit Downes, who he met just a couple of years ago but who has already joined him on recording over 170 of the compositions. When they recorded Volume 1, the pair had played just a handful of concerts together but they have since performed dozens of times which means their 'musical telepathy had really developed.' 'I'm really happy with Volume 1,' says O'Rourke, 'but Volume 2 takes this leap somewhere else where you can sense the freedom between us'. Although he doesn't play jazz, O'Rourke has always been drawn to collaborating with jazz musicians.
I think it's their sense of exploration. It's the freedom that exists within jazz…. Every album I've made I've got a jazz collaborator. I love the freedom that exists in the grey area where nothing's right and nothing's wrong. Just go with your emotions and keep your ears open.
The 365 project has, nonetheless, been one of the most solitary projects that O'Rourke has embarked on, between writing the tunes in the first place and then recording many of the tunes solo. The whole project has changed his playing and his approach to composing. 
There's nothing like repetition to realise your character traits or your character faults. It was two or three weeks before I realised my muscle memory was so ingrained. I was super aware of all these stock phrases and stock shapes.

I started working on extended techniques… thinking about harmony rather than melody… finding ways to accompany myself… [using] unusual double stops. I started figuring out new … harmonic sequences that I wasn't using before. My playing changed pretty radically … because I was acutely aware of all of this musical memory. 
O'Rourke moved to Oban from Glasgow when he was one, and as a child he was sent to fiddle lessons with a local musician and butcher named George McHardy. 'He use to chain-smoke… He would play me these strathspeys and the cigarette would burn down and then fall into the f-hole of the fiddle. I was hypnotised.' 
O'Rourke's father is also a musician and was involved in the Glasgow folk scene in the 1960s. His mother is from Donegal. His great-grandfather on his father's side, Edward O'Rourke, was also a fiddle-player and came over to Scotland from Tyrone. Growing up in Oban, O'Rourke was part of the local fiddle orchestra and was also surrounded by pipe bands, but he subsequently went on to study civil engineering at the University of Strathclyde in Glasgow. He can still feel a connection between his studies as an engineer and his life as a musician and composer. 'I can relate to the thrill … when you would finish a dam or bridge – the final structure … that makes sense and is all balanced. There is definitely a connection between that part of my brain and the brain that makes musical notes.'
The 365 project is complex and huge in scale, but, as Brendan Finan writes in his Journal of Music review today, there is 'a lingering ease to the tunes in the collection, a sense of improvisation and open possibility.'  The combination of rigorous daily discipline and free exploration has made for an intriguing collection.
'I write for something,' O'Rourke says. 'I can't write for a blank canvas. I need something, whether it's a mountain, a person, an experience, or a poem, I need a focus. It was almost as if the short stories shouted out to me.' 
Aidan O'Rourke's 365: Volume 2 is released on Reveal Records on 9 August. Read Brendan Finan's full review of 365: Volume 2 here.
O'Rourke, Downes and Robertson will perform at the Edinburgh International Book Festival on 10 August. O'Rourke will perform as part of Sounds Like Freedom at the Kilkenny Arts Festival on 15 August.
To sign up and receive all 365 tunes, with the corresponding spoken story, from 1 January 2020, visit https://three-six-five.net/. 

Published on 7 August 2019