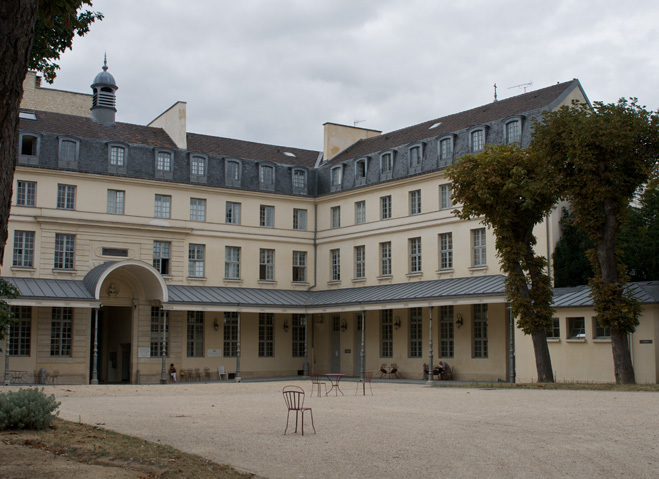 Irish Composers in Paris
Raymond Deane recounts a weekend on which music from Ireland flooded the French capital at the Centre Culturel Irlandais.
A centre of Irish culture in the heart of Paris since the eighteenth century, it was only in 2002 that the Collège des Irlandais officially became the Centre Culturel Irlandais (CCI). During that evolution, Irish composers could only look on in envy as Irish poets, novelists, painters and sculptors presented their work in the gracious old building to large and appreciative audiences — once again we were the Cinderellas of the arts. There were occasional concerts of course, but they were barely advertised. Indeed an exciting 1999 concert by the Hibernia String Trio with Oonagh Keogh was filed under 'jazz' in the events guide Pariscope, but failed even to attract hoodwinked jazz fans.
Since Sheila Pratschke took over the directorship of the CCI in 2007, however, things musical have steadily improved. The culmination of this process was the mini-festival NewSoundWorlds in Paris curated by composer Siobhán Cleary. Taking place between 25-27 October, these three packed-out concerts constituted a worthy celebration of the CCI's first decade and was undoubtedly the most exciting celebration of Irish music in France since 1996's L'imaginaire irlandais.
Held in the centre's exquisite church, the first concert was performed by the RTÉ Vanbrugh Quartet, which has established itself as one of Europe's best string quartets and is a colossal asset for Irish composers. The longest works both came from the 1930s — Frederick May's String Quartet in C minor and Aloys Fleischmann's Piano Quintet. The latter, in which the Vanbrughs were joined by pianist Hugh Tinney, is something of a showpiece and brought the concert to a rousing if stylistically conservative conclusion. Donnacha Dennehy's Pluck, Stroke and Hammer, also for quintet, had not been heard for some years, but has lost none of its rhythmic punch.
The May Quartet is now regarded as a milestone in the history of Irish music, yet the more often I hear it the less it convinces me. While it boasts some extraordinary moments — the brashly Beethovenian opening, several later passages of shimmering calm — there is a great deal of padding and the single-movement structure might have been better split into at least two parts. Nonetheless, the Vanbrughs have courageously made it a part of their regular repertoire and are its most dedicated advocates — a dedication and advocacy passionately evident in every moment of this performance.
For me, the highlight of the programme (I'll modestly omit to mention my own Embers from 1973, save to acknowledge that it was beautifully played) was Dave Flynn's Quartet No. 2 (The Cranning). This wild and wonderful piece incorporates Irish traditional elements without a hint of nostalgia or plastic shamrockery, often transforming the ensemble into a set of bowed uilleann pipes. As it proceeded I watched several highly dignified people, obviously born far from the smell of whiskey and peat fires, begin to sway from side to side and even tap their feet. I've heard the Vanbrughs play it before and look forward to the next time — it's a piece that really needs to be heard live.
Siobhán Cleary's own Scenes from a Dongba Script also uses traditional materials and ingeniously emulates the sounds of traditional instruments — but the tradition in this case is Central Chinese, testimony to the confident internationalism of the new breed of Irish composer.
The second of the concerts took place in the spectacularly elegant Irish Embassy, and was a recital by the violinist Catherine Leonard, with Hugh Tinney. According to the Department of Foreign Affairs' website, 'Mr Deane was heard to say that in forty years composing, he had never heard one of his compositions more beautifully interpreted.' The piece concerned was Parthenia Violata, and the quotation was accurate. Had he been present, Ian Wilson might well have said the same of their loving performance of his From the Book of Longing; and I know that Siobhán Cleary was thrilled by the depth they instilled into her grief-stricken The Whitening.
These Irish pieces were balanced by two familiar Ravel works, Ondine for solo piano, and the late Sonata No. 2. Tinney played the former with subtle virtuosity, while Leonard's chuckle as she ended the Blues movement of the sonata with an exceptionally smoky 'bent' note seemed entirely appropriate.
The final concert took place in the CCI's art gallery, and featured an ad hoc ensemble consisting of William Dowdall (flute), Paul Roe (clarinet), Nick Roth (saxophone), Izumi Kimura (piano), Joanne Quigley (violin), Cora Venus Lunny (viola) and Kate Ellis (cello), with Enda Bates as sound engineer.
Bates's own Duo and Tape entertainingly evoked the film Psycho, but without the psychosis which I couldn't help missing. Gráinne Mulvey's Shifting Colours, Garrett Sholdice's After Thomas Tallis and David Fennessy's The room is the resonator were predominantly reflective, to which Gerald Barry's In the asylum, Jennifer Walshe's AND JUMP FROM THE GOLDEN GATE BRIDGE, Andrew Hamilton's music for losers and Elaine Agnew's hmmm provided varying degrees of hectic contrast. The expressionistic directness of Benjamin Dwyer's Tiento for saxophone and piano stood somewhat apart from the otherwise predominant feel of postmodernism. It was appropriate that the concert, and the festival, should end with Siobhán Cleary's short and explosive Psychopomp, featuring the entire marvellous ensemble.
Covering a wide range of music composed over three-quarters of a century, NewSoundWorlds in Paris established as never before the existence of a confident living tradition of new 'classical' music in Ireland. It was a highly sociable event, the positive atmosphere of which contrasted drastically with the gloom and doom back home, somehow symbolised by the fact that neither RTÉ nor any Irish newspaper thought it worth covering.
Praise and gratitude are due to Siobhán Cleary and Sheila Pratschke, and to the Contemporary Music Centre and Culture Ireland, both of which institutions contributed immeasurably to making it happen. Let us hope that the success of this event will encourage an ongoing commitment on the part of the Centre Culturel Irlandais to new Irish music.
Published on 9 November 2012
Raymond Deane is a composer, pianist, author and activist. Together with the violinist Nigel Kennedy, he is a cultural ambassador of Music Harvest, an organisation seeking to create 'a platform for cultural events and dialogue between internationals and Palestinians...'.