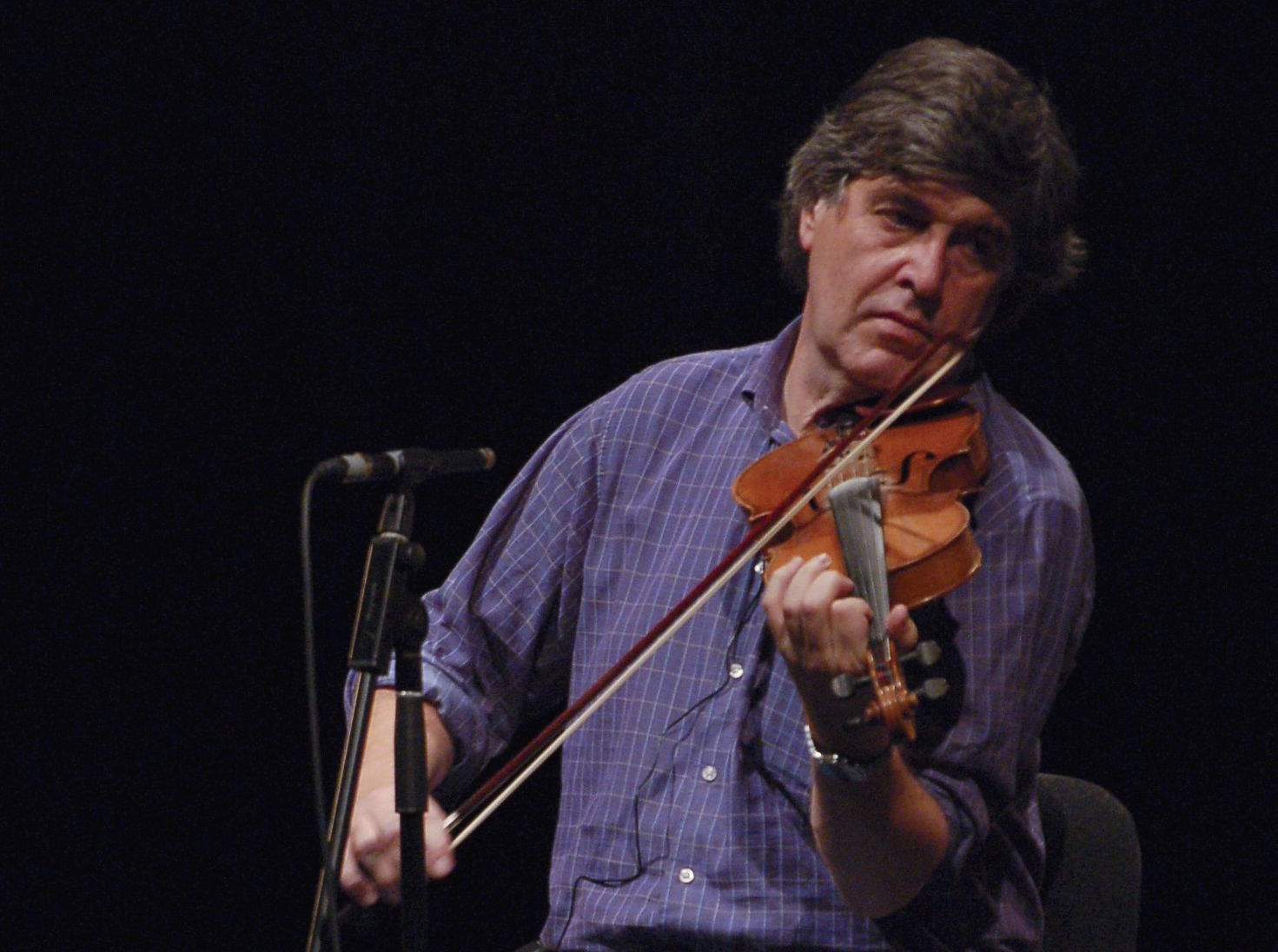 'It's a line I'm conscious of': Paddy Glackin on the Art of Balancing Experimentation with the Solo Tradition
Ahead of a rare duo performance with uilleann piper Paddy Keenan in Armagh this November, fiddle-player Paddy Glackin speaks to The Journal of Music about solo playing, experimentation and how the Irish traditional music scene has changed radically in the digital age.
Forty years after they recorded the seminal album Doublin', fiddle player Paddy Glackin and uilleann piper Paddy Keenan will perform together at the William Kennedy Piping Festival in Armagh this November.
It is the 25th anniversary of the festival, and also the 250th anniversary of the blind piper William Kennedy after whom the festival is named. Glackin and Keenan will perform at the Market Place Theatre on Saturday 17 November.
Centred scene
The two musicians last played together five years ago at a Na Píobairí Uilleann concert, but it was 25 years previously when they performed as a duo. Glackin's recollections of the recording of the album in 1978 rekindle a time when the Irish traditional music scene was smaller and very different.
It was quite an intense scene but it wasn't as big in terms of numbers. The music was a little bit more centred, with less global influences. There weren't as many people playing, but the benefit of that was that there was a big audience for it.

Paddy [Keenan] and myself had been playing together for a couple of years, and in the Bothy Band as well. There was a coterie of us around Dublin and we were all playing with each other in different folk clubs.
Doublin', which also features Dónal Lunny on bodhrán and blarge (a type of bouzouki) and Noel Kenny on concertina, is characterised by fast, note-for-note ensemble playing and incredible vigour, with highlights including the opening set of 'Mountain Road' and the 'Congress Reel', Keenan's 'Bunch of Keys' solo and Glackin's 'Jenny's Welcome to Charlie' solo. The album was also one of the first to introduce the idea of the slow reel with the track 'Castlekelly'.
We did it in Keystone Studios at the bottom of Harcourt Street. P.J. Curtis was the producer and Brian Masterson was the engineer. We recorded it over a period of two or three weeks perhaps. I always remember it was night-time recording. We didn't do any daytime recording. We'd maybe start at 10 or 11 at night and work through till 3, 4 or 5 in the morning. Paddy preferred to play later in the evening. It was good fun."
Liam O'Flynn and Tommy Peoples
The traditional music scene that emerged in Dublin in the 70s, and of which Glackin and Keenan were such a part, lost two of its most influential artists in 2018, Liam O'Flynn and Tommy Peoples. Glackin gave the eulogy at both funerals.
He knew O'Flynn from the 1960s and they had shared stages all over the world. 'Liam and I go back a terribly long way. I've known him all my life. We shared so many different interests aside from the music. We've been on some great musical journeys together, such as the John Cage.' Both performed Cage's 1979 work Roaratorio, which featured six traditional musicians. 
Glackin also chaired the tribute to Tommy Peoples that took place at the Willie Clancy Summer School this year just before the Donegal fiddle-player died. 'It was lovely to be able to be involved in something like that, and pay him the honour that he deserved.'
Solo and experimental
As a musician, Glackin returns often to the idea of experimentation in traditional music, and getting the balance right with the solo tradition. 'It's a line I'm conscious of', he says. He believes the solo tradition is paramount, but it is important 'that you are not seen to be killing innovation. There's a danger when you retreat into this thing that you become very narrow focussed, become too exclusive.' At the same time, he abhors the use of the word purist. 'I've been branded a purist. It's a term I absolutely hate. It's something I shared with Liam. I have no problem with experimentation.' Glackin is currently involved with a range of projects, including a new work written for him by the harper Úna Monaghan.
The traditional music scene in the digital age, however, says Glackin, has become detached from the idea of getting to know traditional musicians in person, with learners finding it easy to access the music and pick up tunes, but not going deeper into it.
In my time, you sat into the car and you visited the person, and you got to know them, their personality, and you build that relationship over a long time. I got to know [Donegal fiddle-player] John Doherty at the age of 9 or 10 and I would go back and go back again.
One of the results of the global, digital scene is that the audience for the completely solo musician is being under-developed, and this is an issue that Glackin, who is a member of the Arts Council, would like to see addressed.  
Where are the audiences? The emphasis is on ensemble. The music is about the people that play, but somebody has to receive it. Somebody has to receive this music, and that's a concern for me. It's a concern that I have expressed at the Arts Council. One of the things I would love to see is the ability to support small venues that prioritise the solo performer. It's something that I'd be very keen to have the Arts Council take a look at. The big stuff looks after itself.'
Hidden Ground
Glackin is a master of solo traditional fiddle but has also been involved in many innovative experiments, particularly his album Hidden Ground with Jolyon Jackson in 1980. 'Older musicians would have criticised me. When I did the album … there was an avalanche of criticism.' 
The day he brought it home to his father, Tom Glackin, also a fiddle-player, he tried to prepare his father for what he was about to hear:
This is not straight down the line traditional music, I would say. 'Ah never mind, put it on', he said. I'd say about a minute and a half into listening to it, he just looked up and said, 'Ah Jaysus'. He listened to it all though and would have heard it several times again at home, but didn't comment. I respected him for that. I'm sure he probably didn't like it. To his credit, that is all he said.
Asked if he feels his playing has changed over the years, Glackin says he hopes his music has become more sensitive, and he 'doesn't feel the need to be pushing things as much' as he would have 'maybe twenty, twenty-five years ago.'
I find myself more curious about the music, looking for older stuff. There's a huge emphasis on composition now which is interesting in itself, but my go-to places are still John Doherty and others such as Denis Murphy – that's what lights the fuse for me.
Paddy Glackin and Paddy Keenan perform at the William Kennedy Piping Festival in Armagh on 17 November. The festival runs from 15 to 18 November. For more, visit http://www.armaghpipers.com/wkpf/
Published on 31 October 2018