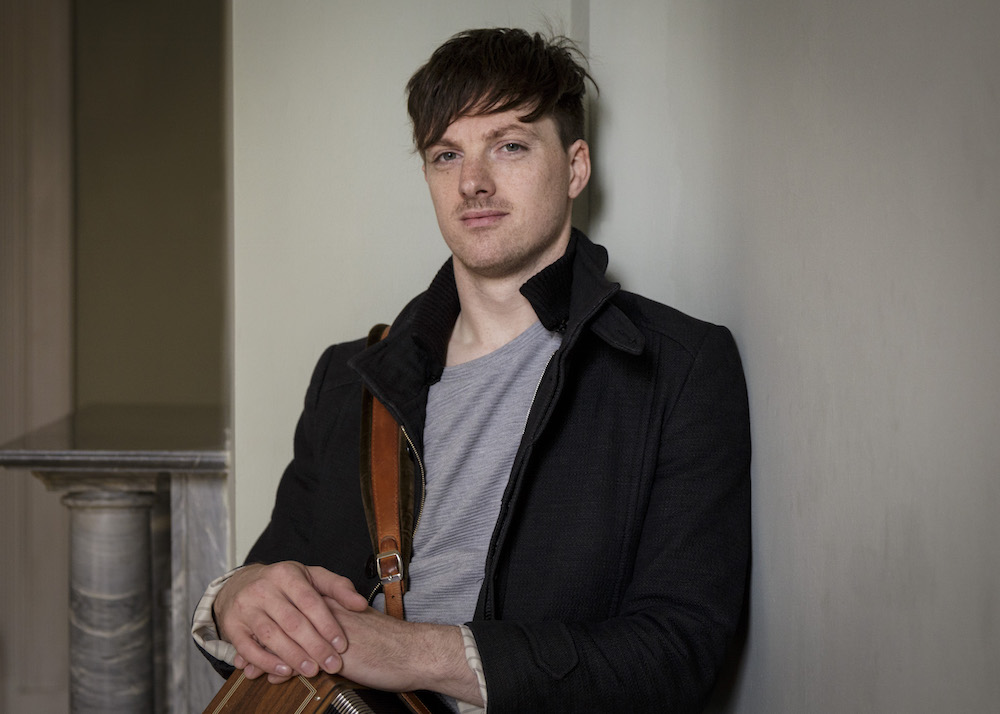 'It's just not everything I am': An Interview with Damien Mullane
Ahead of his upcoming Music Network tour with Muireann Nic Amhlaoibh, Siobhan Miller and Anna Massie, accordionist Damien Mullane speaks to The Journal of Music about his career to date, including working with De Dannan and Sting, and finding his own sound within traditional Irish music.
When Damien Mullane was just 19, he joined the band De Dannan. He had recently moved to Ireland from London, where he grew up, and was now playing with the group that inspired him as a child.
Many great accordion players have come through the band since the 1970s, from Jackie Daly and Máirtín O'Connor to Aidan Coffey and Derek Hickey, but now, in the mid-2000s, Mullane found himself in the role and his playing reached a new level.
De Dannan were always one of the bands that I would have looked to… Máirtín O'Connor was the one who really inspired me. To get to play with Frankie Gavin was an amazing experience – I learned so many different things from playing with him.
Playing at the speed of Gavin meant a 'step up' for the accordion player: 'I love playing fast. Usually you'd have your own level of speed, and your own technique to match that, but when you're playing with Frankie you see that that's not going to work! It's so fast. You learn to play differently, to adapt in different ways. I always enjoyed playing with him though – it was magical.'
The call from Sting
After five years with the band, he started to focus on his solo career, releasing his album, titled 13, in 2013, and embarking on a range of projects and collaborations, one of which was with Sting.
'He saw a video clip of me on YouTube. He was looking for an accordion player at the time and his manager contacted me.' The project involved Sting's own music with a 30-piece orchestra of which Mullane was a part. When Mullane got the call and heard 'Hi, this is Sting's manager', he thought it was a joke, but he ended up doing several gigs with the singer and played at Sting's Christmas party in December. 
But continuing to build a career in today's music scene requires a shift in thinking, Mullane finds. He enjoys exploring new sounds and his second album, which he is currently working on, is called Evoke, because it tries to 'evoke an emotion' rather than conform to any musical practice. He also has been working recently with singer Gavin James and appears on his new album, Only Ticket Home. 
Musically, Mullane says he tries to see himself as simply an 'accordionist' rather than a 'traditional Irish accordion player'. He finds that there can be criticism in Irish traditional music for not playing a certain way, in a 'traditional' style, but these perimeters are imposed on musicians rather than having a basis in their playing.
A lot of it comes down to putting a label on people. I see it happen to a lot of young musicians today. The musicians themselves never claim to be anything. They just are, they do their thing and that's just what they enjoy. Then people say 'That's not traditional music', but for a young musician, they were never saying, 'I'm a traditional Irish musician.' 
Mullane sees his music in a different way: 'I play the accordion. My grounding is one hundred per cent traditional Irish music. I'm not denying it. It's just not everything I am.'
Learning and Liveline
Mullane's parents are both from Cork and he began learning traditional Irish music in London from the concertina player Marian Gill. He really appreciated her open approach, he recalls.
She never told me what to do – she just showed me what you could do. It was a great way of teaching. She also brought me to my first ever concert, which was what really inspired me. It was Máirtín O'Connor, Cathal Haydn and Steve Cooney – it was a pretty golden first concert to go to.
Mullane went on to win all-Ireland competitions at the Fleadh Cheoil on accordion and melodeon, and was subsequently asked to appear on a Comhaltas tour of the United States as a teenager. He does not recommend the experience for young musicians
Last year, he came to prominence when he appeared on the RTÉ Radio 1 show Liveline. He had heard that the payments for musicians on Comhaltas tours was still extremely low and posted about it on his Facebook page. It received a huge response. Liveline called him and asked him to appear. He is still critical of the payment and conditions of musicians on Comhaltas tours, and he has received support from the music community on the issue, but he's concerned that things are not changing fast enough. 
Scottish-Irish mix
On the upcoming Music Network tour, Siobhan Miller and Anne Massie are both from Scotland and so the mix of Irish-Scottish repertoire will form part of the performances. Muireann Nic Amhlaoibh has often played with Scottish singer and whistle-player Julie Fowlis and so she has a number of Scottish tunes, some of which have similar versions in the Irish tradition, and the four are experimenting with combining them. Nic Amhlaoibh, Miller and Massie will also all sing on the 10-date tour.
In Mullane's first album, he included several of his own compositions, but on his second release, he says over eighty per cent of the tunes will be his own work, and some will appear on the upcoming tour.
I love collaborating. I had never met Siobhan Miller and Anna Massie before. I knew Muireann from living in Dingle and listening to her with the group Danú. For me, the tour is not about bringing my tunes forward to them and getting them to re-create how I want them to sound. It's a case of 'I have this, let's see what we can make with it.'
Damien Mullane, Muireann Nic Amhlaoibh, Siobhan Miller and Anna Massie begin their Music Network tour on Monday 16 January at the Sugar Club in Dublin, then visit Carrick-On-Shannon, Drogheda, Letterkenny, Dún Laoghaire, Wexford, Clifden, Listowel, Baile Mhúirne and Birr. For full details, visit www.musicnetwork.ie.
Published on 8 January 2019