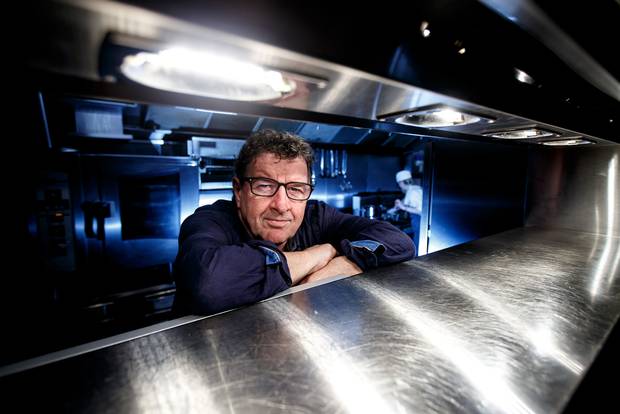 Life on a Wing
Singer-songwriter Mike Hanrahan's book, 'Beautiful Affair: A Journey in Music, Food and Friendship', mixes anecdotes from his musical career, including his time with Stockton's Wing and Ronnie Drew, with his life in cookery. Ian Bascombe reviews.
Mike Hanrahan, born in Ennis in 1958, spent fifteen years with the ballad/trad/soft rock band Stockton's Wing, and ten years playing alongside The Dubliners' balladeer Ronnie Drew. At the centre of much of Ireland's  music scene since the late seventies, with numerous other collaborations and a solo career to boot, a life recounted offers the possibility of intriguing behind-the-scenes insights of a vibrant era. There is an added twist, too, for Hanrahan also trained and worked as a chef, cherishing a love of food throughout his years on the road and beyond.
The book has no introduction or preface: we are immediately presented with a pleasant series of country childhood reminiscences (in the vein of Alice Taylor's To School Through The Fields). Though such scenes were typical of 1960s rural Ireland, the author emphatically draws our attention to County Clare as his birthplace and heartland, a theme to which he returns throughout the work. Included too are recollections of family meals, leading to the first recipe to feature; in this case, his grandmother Aggie's griddle bread. This opening chapter is wide-ranging: we learn of Hanrahan's first guitar (on which he taught himself Leonard Cohen songs), and we learn too of his introduction (by his adored father) to the popular music of the dance hall. Hanrahan's early Catholic faith is described, counterpoised with a powerful testimony of clerical abuse and ensuing trauma, later exorcised in his song 'Garden of Roses'. Thus the scene is set for most of the ensuing material – a series of linked vignettes with occasional recipes interspersed; recipes recalled and inspired by events and acquaintances.
It is the second chapter that marks the start of the Beautiful Affair – through a series of reminiscences brought about by a visit to McGann's pub in Doolin. Hanrahan was there in the late 70s and 80s – when Doolin life exploded in an extraordinary meeting of counter-culture and rural traditional musicking. Loosening the shackles of his youthful Catholic faith, he discovered a global village there in west Clare, encountering Herman Hesse and reefers alongside Micho Russell and Christy Barry. One senses that he adopted the middle ground, head in the newly discovered stars but feet firmly planted on native earth.  

Stockton's Wing in the Burren, Co. Clare, in 1982.
As Hanrahan's career takes off, firstly with Maura O'Connell, then with Stockton's Wing, and thereafter with solo and collaborative projects, we are treated to an absolute wealth of music industry names, places and anecdotes. They come so thick and fast that I started to lose track, and it seems possible that he may have been writing, in part, for family and industry friends: the music itself often takes to the back stage whilst a parade of personalities take brief turns in the spotlight. There are, however, two stand-out sections providing much more than snapshots: The chapter on Finbar Furey provides a strong sense of the man, his integrity and musical legacy, whilst that devoted to Ronnie Drew (and his wife Deirdre) touchingly describes a deep friendship with 'the greatest I ever met'. It is here too that Hanrahan gives a rare insight into his personal musical evolution, Drew's demands calling for solos to be 'practised, practised, practised'.
But what of Stockton's Wing itself? Hanrahan describes his role therein as 'strictly rhythm and accompaniment', and the book touches (only) relatively briefly upon the band's musical development. A notable exception is a detailed account of the genesis of the 1981 single 'Beautiful Affair', a creative process that drew on both Gregorian Chant and an emerging awareness of 'world music'. In the main, though, there is more in the way of band and tour yarns, imparting a strong impression of the far-reaching role that Stockton's Wing played in popularising the Irish sound both at home and abroad – a feel-good band, not strictly for the traditional purist, but one that could grace any festival and generate the craic. Hanrahan was, in addition, the band's songwriter, and his material enhanced this patina; musically and emotionally accessible, genre-crossing and, at times, like the hit 'Walk Away', even sing-along.
The final sections of Hanrahan's book account for his mid-life career change: his studentship (and later teaching) at the Ballymaloe Cookery School, his time as head chef at Pat Shortt's Bar in Castlemartyr, and at the Artisan Parlour in Ringsend. Again, mini sketches of friends and colleagues abound, but by now we are well hooked on Hanrahan's odyssey, seeing more of the inner man as he travels far out of his comfort zone.
Hanrahan's densely packed and varied  life has brought challenges to autobiography, resulting in an unusual book, which, like the music of Stockton's Wing itself, is a little difficult to pigeonhole. It is not an in-depth autobiography either, although there are a number of direct and honest personal moments. Rather, through a sequence of picture postcards, Beautiful Affair coalesces to provide a pleasing montage of one man's life-journey, the sociality of his musical world and the coming-of-age of Ireland as a musical nation within a globalised world… And, of course, there are the recipes too.
Beautiful Affair: A Journey in Music, Food and Friendship by Mike Hanrahan is published by HarperCollins. Visit www.harpercollins.com.
Published on 9 January 2020
Ian Bascombe is a tin whistle and bouzouki player, teacher and writer based in County Clare. His recently completed PhD, funded by the Irish Research Council, investigated the nineteenth-century origins of the mass-produced tin whistle, and he is the author of 'The Official Handbook for the Clarke Tin Whistle'.