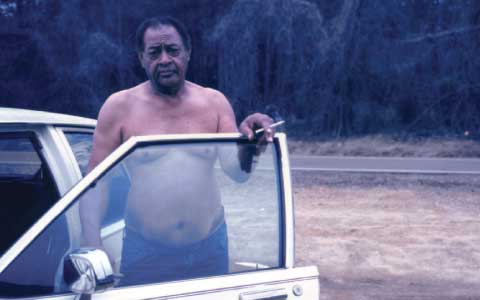 Mississippi Goddam
Driving through Mississippi in search of the blues, Garth Cartwright finds it dying out
I'm soon on Route 82, past a car repair shop whose sign reads 'Want Money? Try Working', past a church whose sign reads 'Tired Of Church? Hell Has Lots Of Space', certain Greenville's most famous citizen, T-Model Ford, could incorporate these into his songs. Ford is undeniably the most famous blues primitive working today, a man whose music and life combine a harshness, the kind of brute ugliness, that appears almost comical in its telling.
Born James Lewis Carter Ford in the late-1920s, 'T-Model' grew up illiterate ('can't read, can't write, aint never been t' school a day in my life,' he likes to boast), taking such beatings from his father he lost a testicle as a child. Working for a lumber company, the violence continued until he was sentenced to ten years on a chain gang for murder. When interviewers ask Ford about this he typically states that it was good to be brought up the hard way because that meant he could handle anything. And murder? 'I could really stomp some ass back then, stomp it good. I was a sure-enough dangerous man.' Ford's interviews might find him declaring how 'niggers aint good fo' nothin'. I wouldn't trust no nigger to be no pilot o' doctor.' He boasts how his fame has given him access to white women: 'niggers around here done told me that white women don't know how to love on a man,' he told journalist Richard Grant, 'but I found out that these niggers be lyin' they black asses off.'
That he delivers these declarations with such devilish good cheer means the whole thing might just be a ploy at winding up liberals. Yet somehow I doubt this. Anyway, Ford's droll approach to life has given him a wider audience – he currently handles an ironic Dear Abby-style Q&A column in hip alt-culture monthly Arthur – than his music which is just about the most coarse, elementary sound ever created. I've seen Ford in concert various times and have heard him play everything from a semblance of country blues to one gig where he created a wall of distortion, scraping out the 'Hi-Heel Sneakers' riff over and over through the night. Believe me, the Velvet Underground and all those New York No Wave art rock pussies have nothing on ole T-Model. Today, well he's off touring, driving himself and drummer Spam in his 1974 Lincoln Continental, or playing dates in Europe or Japan. Ford had never been outside of Mississippi until he hit his mid-seventies, was seventy-five when his first recordings were made and makes a music so primitive even diehard Delta blues fans find it hard to listen to – he seems a strange candidate for international cult stardom. But this discredits his label, Fat Possum Records, who are nothing if not ingenious at gifting the state's most ruined musicians with careers that often end up outdrawing more established artists. 
The most celebrated of these Delta primitives was R.L. Burnside. Burnside died only weeks before I landed in the US, although he'd been ill for several years so I hadn't expected to encounter him. Still, his story's worth telling. Born in 1926 into a family of Mississippi sharecroppers, Burnside was picking cotton on plantations from a young age. He moved to Chicago in the late 1940s but did not find it to his liking – his father, two brothers and an uncle were murdered in separate incidents in Chicago during his two-year sojourn – so he returned to Mississippi but was soon being bullied by a man who wanted to run him off his land. Burnside retaliated by shooting the man. The judge asked Burnside if he intended to kill the man. He replied 'It was between him and the Lord, him dyin'. I just shot him in the head.' Convicted of murder, Burnside was sent to Parchman, the notorious Mississippi prison. Life at Parchman was not that different from life on the plantation: inmates served on work gangs, chopping and picking cotton. 'We had to pick two hundred pounds a day,' Burnside recalled. After serving six months he was released through the influence of a white plantation foreman who requested the hard working Burnside for the cotton harvest.
Free, Burnside began learning blues guitar, keenly observing his guitar-playing neighbour, Mississippi Fred McDowell. McDowell had helped shape the modal, rhythm-based techniques of the north Mississippi blues, and Burnside spent the ensuing years doing farm-work by day and playing juke joints and house parties at weekends. He was recorded by the folklorist George Mitchell in 1967, which lead to the release of Mississippi Delta Blues – an album that hinted at Burnside's possibilities as an alt.rock icon – the young Don Van Vilet tried to model the sound of his 1968 Captain Beefheart album, Absolutely Fresh, on it. The positive response to Mississippi Delta Blues meant Burnside started getting booked for blues festivals. Yet, lacking management or an ambitious record company, Burnside appeared destined to remain a marginal figure, rarely playing outside Mississippi, driving a tractor for a day job and oblivious to the late-1980s blues boom kicked off by Robert Cray and John Lee Hooker.
Burnside's fortunes began to change in 1991 when signed by Matthew Johnson to his fledgling Fat Possum label. Johnson, then a student at Ole Miss University, had befriended the journalist and blues scholar Robert Palmer, and Palmer, intent on recording Burnside, encouraged Johnson to start a label. Fat Possum took the approach of marketing Burnside to an audience who generally favoured punk rock. If the approach seemed eccentric – Burnside's 1991 Fat Possum debut Bad Luck City initially sold only 700 copies – Johnson's vision was to prove itself one of enormous foresight: Burnside's raw blues, bleak wit and nihilistic character soon found a large youth audience. Burnside's notoriety reached new levels when New York noiseniks the Jon Spenser Blues Explosion joined him in the studio to record his 1996 album A Ass Pocket Of Whiskey which went on to sell over 100,000 copies – huge sales for a primitive blues singer whose sound remained extremely uncompromising; an album of Burnside remixes shifted almost double that. A surreal form of celebrity began to envelop Burnside. Championed by the likes of the Beastie Boys and Bono, he became the most chic black man in North America. Richard Gere hired him to play his Manhattan parties, Uma Thurman attended his concerts, Jay McInnery wrote a profile for the New Yorker and Annie Liebowitz took photographs for Vanity Fair – yet Burnside continued to live in a ramshackle, cockroach-infested house.
The crudity of some Fat Possum records becomes like fingernails on an invisible blackboard. But when Junior Kimbrough starts moaning I relax; his shuffling trance-blues sound carries a drone reminiscent of a West African griot. Kimbrough's weird artistry possesses traces of what made the Delta blues recordings of the 1920s and 30s so majestic. I drive on with Kimbrough moaning, 'Yo better run, / don't let him get yo. / If he get yo, / babe, / he gonna rape yo.' The threat implied is made even more horrible by Kimbrough's shifting of narrative perspective, from first to second to third person perspective so seeming to have the victim forget the rapist and turn to Kimbrough and sing 'Junior, I luuuuvvvvv youuuuu.' This is Mississippi music and chaos is one of the few constants. Not that conveying menace is Kimbrough's sole mania; on another song he sings 'I done got old, / can't do what I used.' Then there's a tune called 'Most Things Haven't Worked Out'; Kimbrough's blues are those of despair, dysfunction, entropy, primal crunk.
Kimbrough, Burnside and Mississipi Fred McDowell all played what's called 'Hill Country blues', a rural music, which lived around the Holly Springs region of north east Mississippi. To get to this region from Greenville I head east along Route 82 into the Yazoo River Delta, through land of little beauty or habitation. Much of this terrain was covered in forest even while the Civil War raged, being cleared for cotton in the late nineteenth century. A tough, stark environment surrounds a two-lane highway that appears to go on into the infinite. So many roadside churches, shanty churches with peeling paint and lopsided crosses and misspelled signs suggesting damnation lurks on the 82. Sight a gas station or a church or a Wal-Mart or some burger shack, and relax the eyes against them, their harsh symmetry is at least a change from these killing fields – land dedicated to harvesting cotton and catfish. No wonder those that arose from this country sang with such haunted, mournful voices. And no surprise violence has soaked this land ever since the conquistadors landed: its sticky heat, flatness and unchanging, uncompromising, evasive expansiveness brings blood to a man's eye. 'Mississippi Goddamn' sang Nina Simone when things were very nasty down here.
I drive through leland, where Jim Henson invented Kermit the Frog, that icon of the good natured swamp-dwelling American; Indianola, birthplace of B.B. King and now home to the largest catfish processing company in the world, and Greenwood, where the Yazoo River runs through a town whose nineteenth-century brownstones glint in the morning sun. If memory serves me well then Robert Johnson was murdered somewhere outside of Greenwood. I take the I-55 north and then Route 32. The landscape has lost its extreme flatness and is now slipping, curving, finding some freedom in undulating motion. Even the colours of the land, the greens and browns, appear a little softer, not so washed out. Notice thick tangles of kudzu weed growing on both sides of the road and think how the kudzu resembles crack cocaine, spreading forth across Mississippi with a slow, coiled intensity that no man can properly combat. 
I pull into Water Valley, a spacious small town with neat bungalows, tidy lawns and a barricade of weary buildings yet to fall into the ruin that scours much of the South. Water Valley, I surmise, is a retirement town. Oddly enough, it's also home to Fat Possum Records. Considering the label's artists and marketing (T-Model Ford suggesting 'I DON'T ALLOW NO MOTHERFUCKING PREACHERS AROUND MY GODDAM HOUSE' as poster and postcard) you might expect Fat Possum to reside in some squalid backwater or in the Projects. But that would be overlooking Fat Possum's birth in Oxford, the plush Mississippi university town, by Matthew Johnson, an Ole Miss student. The ranch house Fat Possum occupies sits directly opposite the police station, suggesting that none of the shenanigans Johnson once had a reputation for still go on. Indeed, the man who opens the door is so softly spoken, I immediately calculate that the press reports of his wild lifestyle were fictional creations. Fat Possum has seen its artists die at an amazingly fast rate – most were wrecked from a lifetime at the bottom of America's social order. 
Blues … there's just not the interest there once was. When I first heard R.L. [Burnside] and Junior [Kimbrough] I could relate to those records, and in a naïve way thought other people like me might also enjoy them. The greater black community tends to think of blues as Uncle Tom shit and the white blues fans – if there's any left – are too set in their ways, so I don't think there is any future for it. When Johnny Vincent was running Ace [Records] in Jackson and the Chess brothers were doing Chess [Records] in Chicago, they were cutting popular music for the black community. The Chess philosophy was 'cut it on Tuesday, press it on Thursday, sell it on Friday/Saturday, get the leftovers on Monday, melt 'em down and start again.' Today the independent labels don't count. We're irrelevant, boutique labels. The script is written and we're acting out the last scenes.
But Johnson, who's kept Fat Possum alive through legal battles and distribution problems and all kinds of financial mess, is talking a certain truth here: once you could find blues players in every small Mississippi town. Now few black musicians genuinely play blues. 
'We signed this new guy Charles 'Cadillac' Caldwell and we were real excited about him,' says Johnson. 'Trouble is, he was diagnosed with pancreatic cancer and died within a year of signing. Paul 'Wine' Jones died not long after R.L. T-Model keeps on going. He's incredible. But he lives in Greenville which is a cess pit and he's been robbed there. The eighty-eight-year old white woman who was teaching him to read and write was raped and murdered two years ago. We've tried to get him out but he refuses to leave. Johnny Farmer won't cut any more blues for us – says it's the devil's music and whoever sings it will burn in hell. Blues is doomed.'
This is an edited extract from More Miles than Money by Garth Cartwright, published by Profile Books.
Published on 1 October 2009