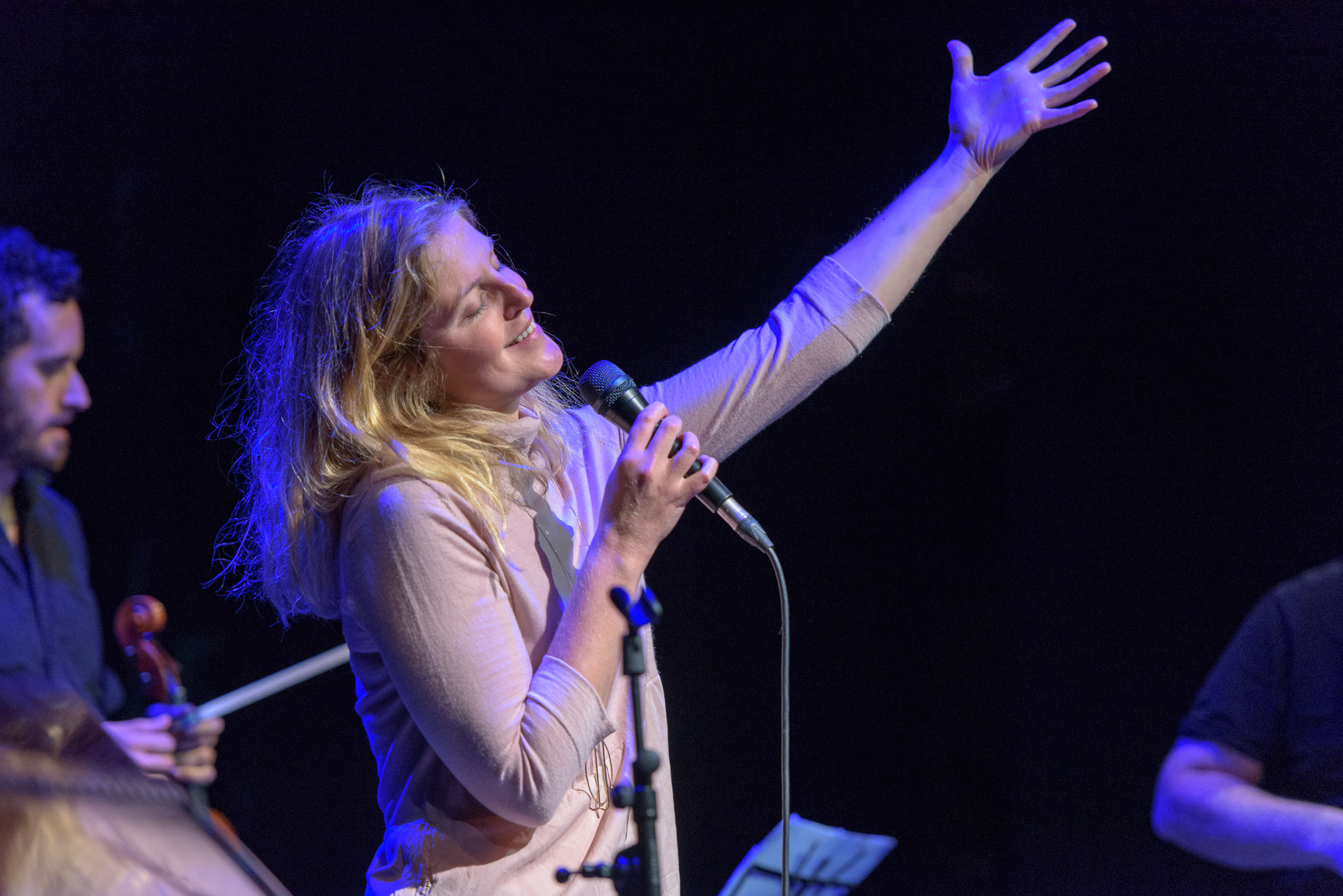 A New Irish Musical Language is Developing
We have entered a new era in Irish music, writes Toner Quinn, in which a language based on traditional music and song is producing extraordinary work across genres, but is it getting the attention it deserves?
Just as the Galway Jazz Festival was beginning last week, a surprising discussion took place on RTÉ Radio 1. The subject was Seán Ó Riada and his legacy on the forty-eighth anniversary of the composer's death. Forty-eight years is a long time and one would expect that we would have a clear understanding of his work at this stage, but the discussion fell back on familiar notions: how he 'changed traditional Irish music' (he did not but he did popularise it) and how he never managed to resolve the 'artistic tensions' in his music between the 'native' and 'European art music' (he absolutely did with his Nomos works). So there were not many new insights in the discussion, and we have to ask for how much longer Ireland will be in the dark about its own music if we can't even have a decent discussion about one of its well-known figures. If we can't get that right, how can we understand what has happened since?
To talk about Ó Riada without considering any music before or after leaves you floating in a vast musical world with no buoy or anchor. Ó Riada was an outlier. His work was an exciting departure. However, musically, his achievements in the group playing of traditional music were soon superseded by Dónal Lunny in the 70s and 80s, and, in terms of composition, several works since could claim to have radically advanced the use of traditional music ideas  – from Dave Flynn's Aontacht to Donnacha Dennehy's Grá agus Bás. This is all normal in music; it's how it develops. An artist has a breakthrough and other talents build on it and produce something just as interesting if not better. Then their artistic breakthroughs feed the next generation. Each successive wave of creation gives us a new perspective and appreciation of what went before. 
But the story of music in Ireland is even more interesting in that. It is coloured by the role that Irish traditional music, song and dance have had over the decades, and continue to have. A once rural pastime on a small, wet island has leapfrogged into the twenty-first century and is inspiring a range of creativity. Its influence now is deeper and broader than it ever was.
In that context, the Ó Riada discussion on RTÉ was bizarre and that's why it has stayed in my mind. I had just attended a number of concerts, and had been listening to some new music, that again left those 'artistic tensions' far in the past. The discussion also seemed incongruous because that evening (3 Oct.), jazz singer Lauren Kinsella would premiere her new project Saoirse, an exploration of sean-nós singing with a cutting-edge British ensemble of piano, viola and sax.
Róisín, don't be sad
Kinsella's Saoirse (meaning 'freedom') – a Galway Jazz Festival commission – was the result of eighteen months' work. With tutoring over Skype from Dublin sean-nós singer Saileog Ní Cheannabháin, Kinsella – also from Dublin but based in London – had learnt a number of sean-nós songs, including major multi-verse pieces such as 'Máire Ní hEidhin'. Some may wonder if it is possible for a jazz singer to learn sean-nós in this way, but one of the things that has changed in traditional music is that contemporary artists, even in these 'specialist' art forms, are able to analyse the components of traditional art forms and find a common language between it and their practice.
Kinsella had brought a formidable ensemble to Galway, including pianist Kit Downes (who was part of fiddler Aidan O'Rourke's major compositional project 365), Tom Challenger on sax, and Benedict Taylor on viola. Kinsella sang each song through in different arrangements and then would begin improvising around it. What was unique was that she was improvising in Irish on fragments of sean-nós songs, not simply tearing it away from its roots. The last time I saw a jazz meets sean-nós project was thirteen years ago when saxophonist Michael Buckley collaborated with singer Éamon Ó Donnchadha. In that concert, the songs remained in tact and so it was never a true integration of styles. Buckley improvised around the sean-nós pieces. But here we were just over a decade later and that boundary was crossed. 
In 'Uileachám Dubh Ó', Kinsella and Challenger began together, sax mirroring her melody. The singer's version was only slightly less ornamented than a typical sean-nós rendition and the Irish was beautifully enunciated. Gradually piano and viola came in, Downes fluttering up and down the keyboard, Taylor scrunching the bow into the strings. The three instrumentalists gradually take over with an increasingly intense improv run, but ending up somehow in the Irish reel 'The Woman of the House'. Then after a pause Kinsella begins a rhythmically free version of 'Róisín Dubh', singing a line, 'A Róisín, ná bíodh brón ort' ('Róisín don't be sad'), then switching to vowel and lips sounds, 'oh, el, hem, ph, ah, tsk, tsk…', before singing more verses, stretching the melody, and sometimes seizing on a vowel and moving it around her mouth before proceeding. 
Kinsella finished with the faster sean-nós song 'Sadhbh Ní Bhruinneallaigh'. Challenger again carefully mirrored her, pausing at the end of each line. The rendition was a relatively straight version compared to the rest of the set, but it's a song with a unique melody and an opportunity to hear the brilliant timbre of her voice. An improvised section followed in which she contributed some soft long notes before singing one last line. At the end, Kinsella said, 'I want to do that all again now'. Perhaps she could sense, as we did, that she had unlocked something new.
What can't be written down
Kinsella may have come from the world of jazz and improvisation, but she has a lot in common with other contemporary Irish artists who are also forming a new Irish musical language. It is a language that draws on precisely those elements of traditional music and song that cannot be written down: the intricate way the music is played and sung; the manner in which time signatures are interpreted; the method of delivering ornamentation such as fiddle triplets or sean-nós variations; the idiosyncratic intonation of pipers, fiddlers, flute-players and singers; and the intense layering and harmonic quality that is created in session playing. Then there is also the history and language that is embedded in the music and which provides further inspiration.
In the same week that I heard Saoirse, I attended Úna Monaghan's concert at the Tradition Now festival at the NCH in Dublin (1 Oct.) in which she performed a number of works for harp and electronics. Monaghan uses electronics to 'sonify' the history and stories behind the tunes. In two pieces, she wore a motion-sensor on her left hand that instructs the laptop to manipulate or feed back fragments of her music to her as she performs, and against which she improvises. In another work, 'An Dearcadh', she created her own version of John Cage's 1979 work Roaratorio which is based on Finnegans Wake. Monaghan used Ciaran Carson's The Star Factory and sonified the sounds in his book, from recordings of boats at midnight in Belfast Lough to kettles whistling to kids playing on the street. Her harp playing wound in and out of the sounds. What struck me was that it didn't feel like a departure from traditional music, or a step into a different genre. These approaches are now part of the body of the art form.
The development of a new language based on traditional music means that searching musicians from other art forms can also find their way into the music. Fiddle-player Caoimhín Ó Raghallaigh has just released the fifth in a series of experimental albums, three of which are duets in which he collaboratively deconstructs the essence and structure of traditional music only to generate something new again. He began with the tentative solo album Where the One-Eyed Man is King (2007) and followed it seven years later with Laghdú with Dan Trueman and the solo Music for an Elliptical Orbit. In these last two albums, the language becomes very exploratory, but it produces the tune 'What What What', which could only have been written by discarding everything and starting again. It is in All Soundings are True from 2017, however, with viola player Garth Knox, that Ó Raghallaigh's language seems to find total fluency. Listening to 'Tasseography', in which computing sounds flash across the playing of a reel, only for the two to then merge and dissolve together, one can sense the complete confidence in the approach. In his latest album, with pianist Thomas Bartlett, traditional music structure becomes invisible; it is a long ocean shore, open to all ideas and histories. Last year at Loam in Galway, where I saw Ó Raghallaigh perform solo for eighty minutes, it was clear he had arrived at a point of total control of his exploratory language, able to draw on fragments of tunes and develop them, and step in and out of traditional music uninhibited by boundaries or structures. 
Anxiety and confidence
Although we are seeing this new musical language develop fast now, the notable thing is that it has taken so long to arrive. Traditional music, like Ireland itself, was very anxious about issues of culture and identity up until quite recently, and this inhibited free exploration. Now there is a confidence to it. At a concert at the end of September (26th), ConTempo Quartet played Seán Doherty's The Devil's Dream, a vibrant piece with a clever use of fiddle triplets, foot stamping and session feel. What stood out for me was the relaxed way he could use these features. A fiddle-player as well as a composer, he also programmed music by Smetana that night because he said he learned an important lesson from the Czech composer: 'Don't be afraid of using elements of your heritage.' The freedom that Irish musicians enjoy can also be seen in The Worlding by Jennifer Walshe, in which she incorporated nuns playing organs, a capella versions of 'Danny Boy', and sean-nós hand-winding. And it is difficult not to hear slices of traditional melodic architecture in Benedict Schlepper-Connolly's The Weathered Stone.
Of course, I am not suggesting that an element of traditional music is necessary in Irish music, but simply observing that more artists seem to be choosing to use it because the art form has totally opened up, and this has allowed the emergence of something new. There are many other artists and works feeding into this new language, from Michael Holohan's The Road to Lough Swilly to Dana Lyn's Buile Shuibhne (commissioned by piper David Power). Over the last year there have also been three concertos for traditional musician and orchestra (Kevin Volans' Gol na mBan san Ár for Power, Niall Vallely's concertina concerto, and Ryan Molloy's Géalan harp concerto performed by Anne-Marie O'Farrell), and two of these works were written by musicians who grew up playing tunes (Vallely and Molloy). 
It illustrates the new phase we have entered. In the latter part of the nineteenth and first half of the twentieth century, classical composers incorporated traditional tunes to capture Irishness (Stanford and Harty); in the second half of the twentieth century, composers began writing more sympathetic works that were to be played by traditional musicians (Davey, Ó Suilleabháin and Whelan); now, in this century, traditional musicians, who have often studied music at third level, are writing large-scale works themselves where the influences are even more integrated, commissioning works from composers, developing new unorthodox types of ensembles within which they can work (This is How We Fly, Irish Memory Orchestra, Ensemble Ériu, Preab Meadar), and developing a language based on the details of traditional music that they can use to collaborate with other musicians from contemporary music, jazz, and other genres.
There is an idea that employing Irish traditional music elements in your work is somehow an easier path, that it makes your music more accessible or commercial, but in fact it comes with a lot of baggage which makes it doubly difficult. It can even lead to your music being dismissed entirely by the classical and contemporary music establishment. 
Nonetheless, the development of this new musical language based on traditional music continues: Ian Wilson's new recording features a solo violin sonata that utilises extensive research into sean-nós ornamentation; Dennehy's opera The Hunger and Linda Buckley's song cycle Ó Íochtar Mara feature sean-nós singer Iarla Ó Lionáird at their heart; and Flynn's 'Keening' quartet on his Stories from the Old World album moves the language in another direction. Over the next year we will hear new works by O'Farrell, Monaghan and Máirtín Ó'Connor.
What does it all mean for Ireland's relationship to music? We don't know, but it is time to have a much more in-depth discussion about it.
–
Listen to a playlist of music mentioned in this article.
Published on 10 October 2019
Toner Quinn is Editor of the Journal of Music.