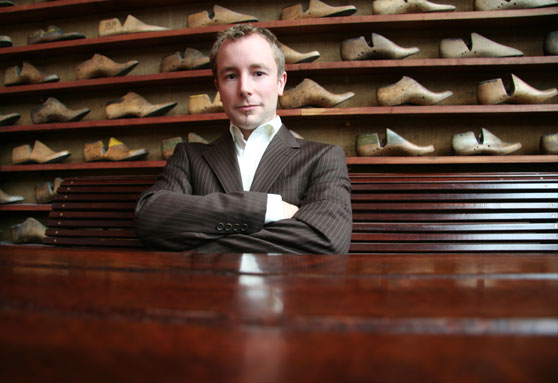 Now's The Time: The State of Irish Jazz
The jazz scene in Ireland has witnessed a rush of young talent and now plays host to a long list of international artists. Kevin Stevens looks at the range of music out there and explores the next steps for Irish jazz.
In the mid-1970s, when I first lived in Dublin, I was an inquisitive teenager with a hunger for new musical experiences and a raw but intense interest in jazz. Looking back, there was a surprising amount of music to keep me going: a world-class guitarist in Louis Stewart, who stayed in Ireland despite international stature and quickly became a touchstone for quality; local bands like Keith Donald's Jump and Jim Doherty's Spon, which drew on talent from the showband tradition and played in the Abbey Mooney and Slattery's on Capel Street; and more visiting North American stars than you might suspect, including Oscar Peterson, Buddy Rich, Gary Burton, and even Duke Ellington, who brought his orchestra to the Carlton Cinema in 1974, just a few months before he died.
Since then much has changed, but it is interesting to note how the features of a creative scene, however nascent, had taken root in Dublin more than three decades ago: local talent, friendly venues, global connections and a small but appreciative audience. Deserts are rarely as arid as they appear; there is always an oasis or two to keep you going.
I left Dublin in 1981, and when I returned in the nineties I was pleased to discover that those early roots had steadily grown, nurtured by a committed group of musicians, promoters and educators. What struck me most was the broad range of visiting musicians from both the US and Europe, as well as the depth of young Irish talent. A decade later, the scene is even better; students who wish to learn how to play, musicians looking to advance their art, audiences keen to enjoy good music and resources that seemed unreachable when I was a young fan.
Holding Their Own
Irish jazz – past, present and future – was much on my mind in March, when I attended the second 12 Points! music festival at Dublin's Project Arts Centre. Organised by the Improvised Music Company (IMC), the festival presented a dozen emerging bands from as many European countries in a relaxed, collaborative atmosphere. Over four nights, capacity audiences were rewarded with a range of musicians rich in talent and eager for recognition. Balanced between innovation and tradition, the cerebral and the visceral, the programme was an in-depth survey that showed how thoroughly European artists have mastered the traditional vocabulary of jazz while enriching it with deep reference to their own cultural norms. It was also exciting and encouraging to hear young Irish musicians such as Justin Carroll and Sean Carpio not only holding their own in this cutting-edge company but contributing some of the festival's most forceful and original compositions.
Who could have foreseen such an event thirty years ago? Very much a creature of modern metropolitan Dublin, 12 Points! avoids concessions to the mass market that events with more overtly corporate sponsorship must make. As such, it provides a balance – aesthetically, geographically and on the calendar – with the Cork Jazz Festival, which is held annually in October. The signs are good that 12 Points! will continue as a major annual event, yet it has a long way to go before it matches the record of Cork, which has been going now for thirty years. Some musicians and critics lament the inclusion in the Cork programme of much music that is less serious and less central to the tradition than it could be, but Cork has always attracted a wide range of the best Irish and international jazz.
Cork has also provided a working model for other events nationwide, including festivals in Sligo, Galway, Derry, Carndonagh, Belfast, Ballydehob and Bray. These festivals vary widely in their commitment to serious music (Carndonagh, for example, is very light, while the Sligo and Bray festivals have acquired solid reputations among knowledgeable fans), but whatever the quality of their programmes, they serve as a focal point for the development of the year-round music scenes in regions that do not have the fan base of the bigger cities.
Dublin, Cork and Belfast have the most vibrant scenes and form a dependable circuit. The best American and European players – from Tomasz Stanko to Wayne Shorter to Kenny Wheeler – tour this circuit regularly, visiting Dublin's Pendulum, Vicar Street and the Sugar Club, Cork's Triskel Arts Centre, and the Black Box and Sonic Arts Research Centre in Belfast.
But other cities and towns pull their weight. This year, Sligo's annual festival and summer school will feature master classes from Reggie Washington, Anita Wardell and Sligo native Mike Nielsen. This kind of event pays dividends all year long, creating demand for jazz at venues like the Clarence and the Garavogue Bar. Galway is building on the success of its three-year-old festival (guitarist Hugh Buckley was Artist in Residence last year), and the Galway Jazz Club has hosted visiting musicians Bill Carrothers, Kirk Lightsey and Dave Allen, as well as innovative Irish bands such as White Rocket. This May, listeners can choose between the Bray Jazz Festival, which will feature Richard Galliano and the Cuban percussion sensation Dafnis Prieto, and the City of Derry Jazz and Big Band Festival, featuring Irish artists Cormac Kenevey, Honor Heffernan and Louis Stewart.
Fuzzy Logic Ensemble

Musics In The Middle
Such a diverse musical landscape does not develop by chance, and though the drivers of Ireland's scene are many, a few individuals and organisations are particularly prominent. It is over twenty years since Newpark Music Centre established its Jazz and Contemporary Music Department in Blackrock, and, under the directorship of Ronan Guilfoyle, it offers the first Bachelor of Arts in Jazz Performance in Ireland, with the stated goal of training young musicians to the highest international standards. As Guilfoyle says, 'The vast majority of the professional jazz musicians in Dublin are teaching at the school,' including pianists Phil Ware and Greg Felton, drummers Kevin Brady and Conor Guilfoyle, the guitarist Tommy Halferty, and many others.
If Louis Stewart is the elder statesman of Irish jazz, then Guilfoyle is its renaissance man. As well as his leadership in education, he has been a tireless performer and a prolific composer in both jazz and classical contexts. His lectures are known to be very engaging and his articles on rhythm and improvisation are required reading for anyone who wants to understand how jazz works. He was the first jazz musician to be elected to Aosdána, and in 2007 managed to integrate jazz into the RTÉ Living Music Festival, the primary focus of which has always been contemporary classical music. He has collaborated closely with many prominent international musicians, including Dave Liebman, Keith Copeland and John Abercrombie, all of whom have performed Guilfoyle's compositions, and in 1997 he won the Julius Hemphill Jazz Composition Competition in the US.
Irish music promotion has worked hard to keep pace with performance and education, and IMC, Note Productions, Belfast's Moving on Music, Cork's Triskel Arts Centre, Music Network and other organisations have emerged. Note Productions has done a terrific job of attracting some of jazz's biggest names to Ireland, including Brad Mehldau, Wayne Shorter and Charles Lloyd. One of Note's strengths is its success in presenting programming that mixes genres and expands boundaries. Last year it developed a project that featured traditional music virtuosi Martin Hayes and Dennis Cahill with jazz guitarist Bill Frisell.
Like Note, IMC has consistently presented significant jazz talent to Irish audiences, yet it has also done more than most to provide support for local musicians. In fairness, IMC does receive a larger slice of the pie – its Arts Council funding this year is three times that of Note's. IMC chief executive Gerry Godley has played a huge part in the Irish jazz renaissance, but he is well aware of how much remains to be done. 'We have made significant investment over the last decade in the supply of good music, and now we need to back that up with comparable investment in demand. We need to create and sustain live audiences.' Irish audiences, he says, are one of jazz's greatest assets. They are young, open to new music, and eager for alternatives to the mainstream. 'I would contend that we need a half dozen or so dedicated music venues spread across the main urban centres that are similar in size, resources and programme commitment, anchored by a key piece of infrastructure in Dublin.'
Godley cites Nefertiti in Gothenburg and the Bimhuis in Amsterdam as examples of what a modern music venue should offer. He would agree with Branford Marsalis, who has described the Bimhuis in this way: 'It's simply one of the two or three best jazz clubs in the world, because the room is intimate and the focus is on presenting the music instead of selling food and drinks. There is a bar outside of the performance space, and people do go there to hang, but once they walk into the club itself, it's all about the music.'
Nevertheless, the fact that many new arts venues have appeared throughout the country in recent years begs an obvious question – do we really need more? I recently asked an Italian jazz critic about Rome's La Casa del Jazz, a dedicated jazz venue that opened three years ago at a cost of five million euro and which includes a 150-seat concert hall, recording and rehearsal studios, a restaurant, sleeping quarters for musicians, administrative offices and a book and record shop. 'It's just another venue,' he said. 'The number of people who attend jazz gigs doesn't fluctuate that much, so the more venues, the more this core audience gets spread thin.'
But Godley sees a wider context. 'We work closely with many of the MDA [multi-disciplinary arts] centres, and there are some highly motivated music stakeholders out there, people like Tony Sheehan in Triskel and Maureen Kennelly in Mermaid, but overall, the national picture is patchy. Consider the very low percentage of them that have a serviceable piano, while none as far as I'm aware has a dedicated music programmer, something that jars with the high levels of visual arts and theatre competencies to be found in the MDAs.'
Godley also points to the wider realisation that what he calls 'musics in the middle' – that is, genres that fall between orchestral and pop, including jazz, traditional and improvised music – share common values. Dedicated venues tailored for these genres, he argues, make sense for two reasons: firstly, because these forms of music depend on a similar performer-audience relationship and venue dynamic; and secondly, because pooling these audiences brings economies of scale while at the same time creating opportunities for cross-fertilisation. 'And the message is starting to resonate with the major stakeholders,' Godley remarks, 'including funding bodies and the Dublin City Council.'
Such a change could help prod Irish jazz to move to the next stage. What Godley calls 'the green shoots' are there: a burgeoning free scene, experimentation with many flavours of improvised and electronic forms, and a progressively more articulate dialogue between jazz and traditional music. 'The goal now,' Godley says, 'is to get to the stage where, as in Norway, the jazz scene is in perpetual motion.' Nordic jazz has for many years been developing a spare, glacial sound best exemplified by Jan Garbarek and his ensembles. The Norwegian band The Core, which concluded the 12 Points! festival with huge energy, revelled in a gloriously raucous, post-modern take on late Coltrane – an ice age away from what we've come to expect.
Organics
Get Artists Out There
Irish audiences now expect the unexpected, whether it is Ronan Guilfoyle's probing explorations of Indian music, or polyglot local bands such as Havana Son or Yurodny. Innovative jazz composition drives Justin Carroll's band Togetherness and Guilfoyle's Microclimate, while the Fuzzy Logic Ensemble has developed a unique orchestral sound. A range of young vocalists are also attracting attention, including Cormac Kenevey, who has signed with London's Candid Records, and Dorothy Murphy, whose performances and release of the album Calling last year prompted some critics to suggest that its unique arrangements and blend of instrumentation move close to what might be called an Irish jazz sound.
Musicians, educators and promoters have established credibility by building relationships throughout the world, resulting in cross-cultural projects and tours (see the review of the David Lyttle/Greg Osby collaboration elsewhere in this issue). This cultivation of the international connection is important for Irish jazz. Inward investment must be complemented by outward vision. 'The challenge,' Godley emphasises, 'is to get artists out there, off the island.' There are especially positive sentiments towards Ireland throughout Europe, which has the advantage over North America of more direct government support, not to mention the virtue of proximity. 'We need to get the scene to a critical mass of working ensembles that can get international engagements,' Godley concludes.
We do have some work to do to reach this critical mass. The scene, as good as it is, does not yet have the breadth of some other European countries, such as Holland and Italy. Norway, with a population, standard of living, and general cultural environment comparable to Ireland's, has a more developed scene. Jazz programmes in universities are more widespread and developed. There are twice as many jazz festivals and a greater range of specific organisations such as the West Norwegian Jazz Centre and the Norwegian Jazz Forum that drive funding and support. The result is that, over the last decade, Norwegian jazz has experienced an international breakthrough, with dozens of musicians getting exposure that for most Irish musicians is still only an aspiration.
Dublin's innovative Living Room Project, which creates fruitful ties between musicians and other artists, is a good local example of the kind of informal collective that is becoming increasingly important. As well as spreading the word about its members, the Project is also developing a series of educational workshops and establishing links with collectives in other European countries.
The leadership shown by Newpark, IMC, Cork and Note has to be matched by other schools and agencies if Irish jazz is to sustain its momentum over the next five to ten years. Irish universities and secondary schools must be more open to rhythmic and improvisational studies, and 'jazz in the schools' programmes should be expanded to the levels emerging in the visual and theatre arts. Looking again to the Norwegian model, we should also be considering a national jazz strategy.
Fans take daily delight in the continuing upsurge of activity and quality of Irish jazz. Louis Stewart is still playing sublime guitar, as he was thirty-five years ago, but now he has been joined by a long list of Irish musicians of international stature. As well as the many already mentioned, there is guitarists Tommy Halferty, Mike Nielsen and Joe O'Callaghan, the Buckley family (Michael, Hugh and Richie), Francesco Turrisi and Ariel Hernandez, bassists Dave Redmond and Cormac O'Brien, the dynamic young drummers Sean Carpio and David Lyttle, the multi-instrumentalist Sean Óg, and others. While we should certainly focus on creating a better future, let's not forget to enjoy what these musicians have to offer in the here and now.
Published on 1 May 2008
Kevin Stevens is is a Dublin-based novelist and writer on history, literature, and jazz.