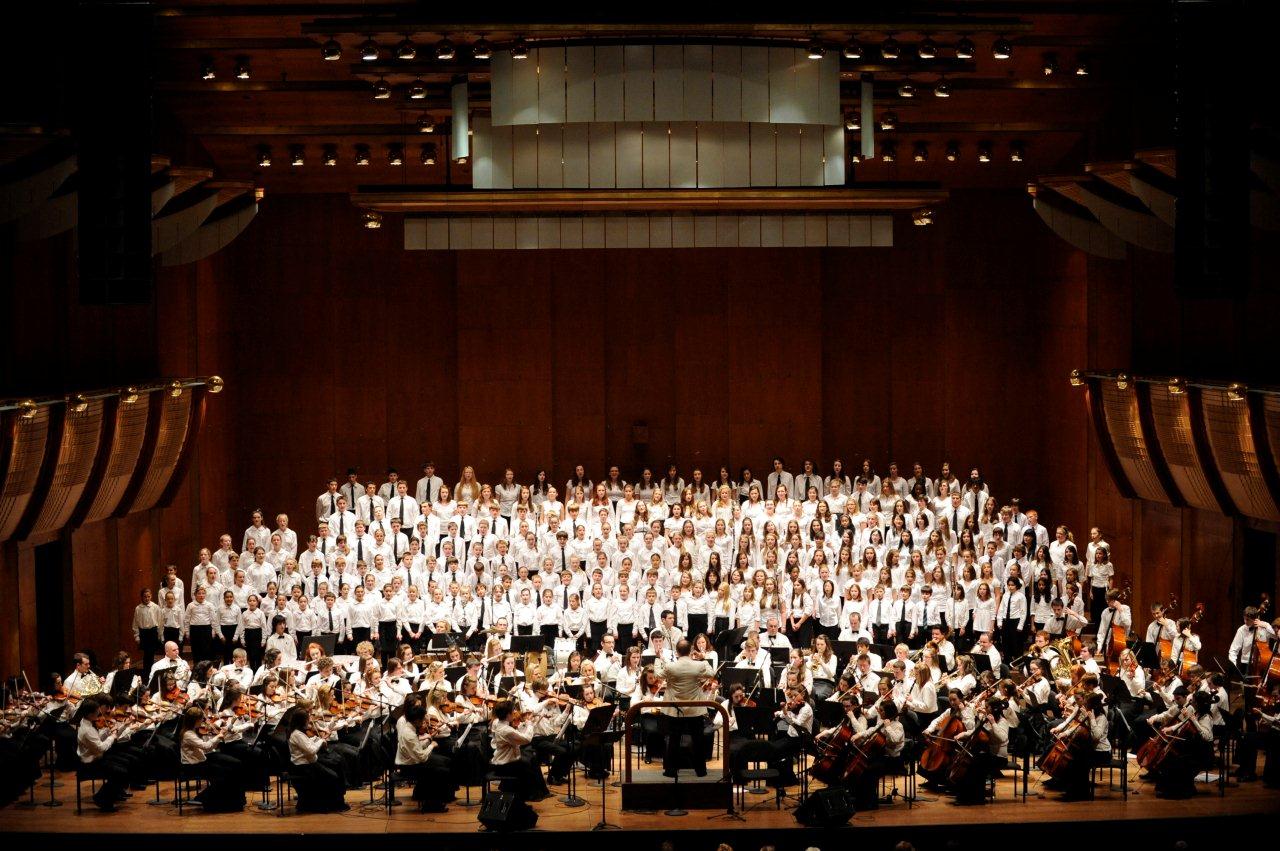 Obair le Déanamh
Breandán Ó hEaghra hears the Cross Border Orchestra of Ireland in New York
Nua eabhrac i lár an Fhómhair agus mé ag déanamh mo bhealach chuig an Lincoln Center, áit a raibh Ceolfhoireann Trasteorann na hÉireann le bheith ar stáitse os comhair míle go leith duine. Na sráideanna lán de chuile chineál duine; óg, sean agus bacach. Stop mé ag Ciorcal Cholumbus go bhféachainn thart orm féin – Central Park os mo chomhair, Broadway amach romham, agus trasna uaim bhí fear ag díol hotdogs agus deatach geal thart air. Labhair mé leis go bhfaighinn treoir mo bhealach.
'Am I going the right way for the Lincoln Center?'
'You want hotdog?'
'No, sorry, I am just looking for the Lincoln Centre.'
'No tour guide, I sell hotdog.'
Bhí fonn orm an hotdog a shá siar ina phluic ach choinnigh mé greim ar mo chuid múin. Ar aon nós bhí bean ag seasamh taobh amuigh de dhoras beauty salon agus thug an aghaidh a bhí uirthi beagán níos mó dóchais dhom.
'Excuse me, am I going the right way for the Lincoln Center?'
'The Lincoln Center?'
'Yes, the Lincoln Center.'
'I don't know no Lincoln Center.'
'It is definitely somewhere around here. It's a big white building where people go to concerts.'
'No, sorry.'
'That's OK, would you like a hotdog?'
'No. Thank you.'
'No problem. How about I take my shoes off and offer them to you as a gift from Ireland?'
'No, that's OK sir, they are not my size.'
'Well, I can have them shortened if you point me towards a pizza place that could put them in a clay oven for an hour.'
'I've got work to do, sir.'
Ar aghaidh liom, ag gáire liom féin. Cé nach raibh mé cinnte, bhí barúil mhaith agam go raibh mé i ngar don Lincoln Center agus ar aon nós bhí neart ama fágtha agam go tús na ceolchoirme. Bhí mé le casadh le mo bhean chéile agus deirfiúr léi i dteach ósta trasna ón Lincoln Center ar a dtugtar P.J. O Reilly's. D'aimsigh mé an áit sin gan aon deacracht, agus tar éis tamaill ghearr chuamar anonn go dtí an Lincoln Center (áit mhór mhillteach a bhí, dála an scéil, thart ar chaoga slat ón áit ar chuir mé ceist ar Mr Hotdog agus Ms Beauty Salon).'
Bhí na sluaite ag an gcoirmcheoil seo – Meiriceánaigh de bhunús Éireannach a bhformhór, ach bhí go leor daoine i measc an tslua freisin nach raibh aon fhuil Éireannach iontu. Is í Sharon Treacy Burke a bhunaigh Ceolfhoireann Trasteorann na hÉireann i 1995, nuair nach raibh an próiséas síochána sa Tuaisceart ach ina thús. Sa lá atá inniu ann tá céad triocha duine óg páirteach sa gceolfhoireann, iad ag cruthú cáirdis agus ceoil i measc daoine ón dá thraidisiún.
Ní móide gur shíl Sharon an méid seo nuair a bunaíodh an ceolfhoireann ach tá sí tar éis na hambasadóirí is fearr dá raibh ag an tír seo ariamh a chruthú chomh maith. Ar an stáitse sin i Nua Eabhrach cuireadh íomhá na tíre seo mar áit síochánta agus ghliondrach ós comhair an domhain mhóir. Léigh an t-amhránaí nótaí comhgháirdis agus fáilte ó Hilary Clinton agus dea-dhaoine eile ó Mheiriceá. Thuig an slua ar fad go rabhadar i láthair dócháis.
Bhí an ceol é féin go hálainn. Níor chasadar aon symphony, ní raibh blaiseadh ar bith de Mhozart ná Bach ann, ach ina n-áit sin bhí ceol ón dá thraidisiún curtha os comhair an tslua mar aon cheol amháin. Do phort amháin tháinig fear óg amach leis an Lambeg ceangailte thart air agus thosaigh sé á bhualadh in am le seanphort Gaelach ('Bhí mé lá i bPort Láirge'). B'é seo buaicphointe na hoíche gan dabht mar amach romhainn anois bhí siombal mór na námhad agus é ag casadh i dtiúin lenár bport féin. Bhí ceol á chruthú seachas cogaíocht agus bhí sé go hálainn.
Shiúil muid amach as an Lincoln Center i ndiaidh na ceolchoirme seo agus muid ocht dtroigh ar airde. Cé go ndúirt amhránaí ar stáitse go raibh an chontúirt ann nach ndéanfaí maoiniú ar an gceolfhoireann an chéad bhliain eile, níor chreid muid focal de mar ní féidir gan an togra seo a mhaoiniú. Tá seo ar an togra ealaíne is tábhachtaí le theacht ón tír seo le fada an lá.
Bhí seastán hotdog eile romham taobh amuigh den Lincoln Center. Chuir mé mo lámh i mo phóca agus tharraing mé amach cúig dhollar. 'How much for a hotdog?', a d'fhiafraigh mé.
'Two dollar fifty', a dúirt sé.
'Here,' a dúirt mé, 'keep the five dollars, but from now on tell everyone you meet that the Lincoln Center is there and that they should take a little time out every once and awhile to go and listen to something that lifts them out of this madness for a while.'
'You Irish. You Crazy', a dúirt sé.
Published on 1 February 2010
Breandán Ó hEaghra is a member of the contemporary Irish language group Rís and Director of Meas Media.