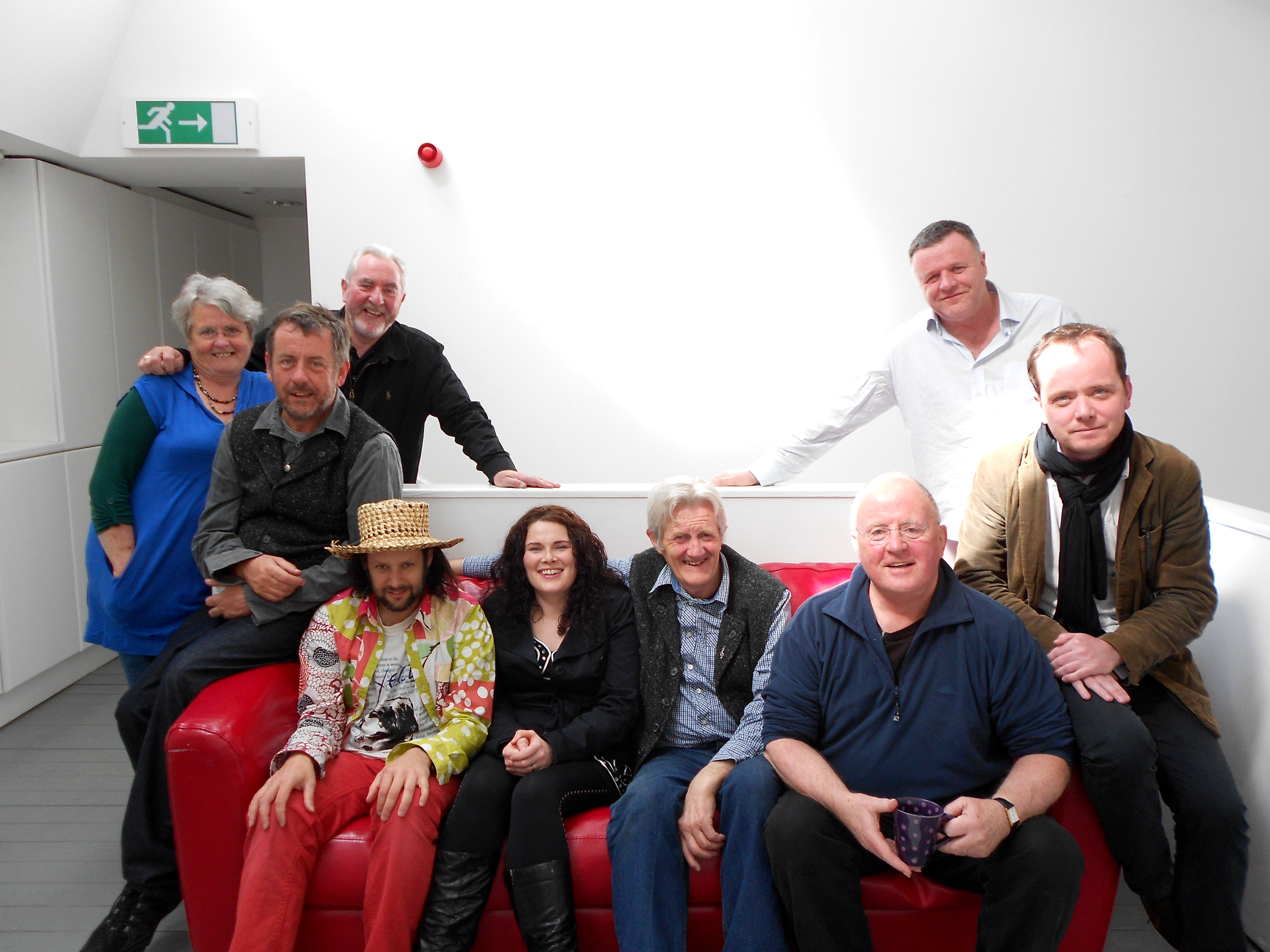 A Recording of a Rynne-Moore Get-Together
The Humours of Ennistymon is labelled as an album from Davoc Rynne (brother-in-law of Christy and Barry Moore) and though the whistle player from Co Kildare, resident in Spanish Point, Co Clare since the '70s, features on most of the tracks, this recording is actually a collective effort of family and friends. As Rynne writes in the notes:
Bar [Luka Bloom] was the first one to suggest to me that I make an album. He invited me to go to his house in county Kildare a couple of years ago and we would do an album together. He mentions that I have an unusual style and a great story to tell. But I got waves of inadequacy and started making excuses in me head not to go. But I take me hat off to you Barry – you were The One that sowed the seed! 

I did give it some thought though, talked way too much about it and of course did nothing until one day towards the end of last March I am on the phone talking family and stuff to Christy.  Out of the blue I say to him "would you play bodhrán for me in a studio if I made an album?" He answers without any hesitation "Yes and I will sing a song for you too…" I am a bit taken aback with the quick answer…

Next I am on the phone to Quentin [Cooper, sound engineer at the Courthouse Studio, Ennistymon] and the whole deal is set up.  Marked up in his diary and all ready to go – Sunday 22nd from 11am to about 5.pm. in the Old Courthouse Studio in Ennistymon. Now we have less than a month to organise and rehearse.  Got to get Anne on board but she is the easiest – always very willing and always very able. Trish is next – she gets time off from work and she is all set. What about rehearsing? Next is Johnny who does not really give me a firm commitment but is slowly coming on board! Sure I'll see you at the session in Marrinans next Wednesday! But what about rehearsing? No suggestions – and anyway I've got to busk really hard to earn money so as to make the album! What about rehearsing? I contact the great Luka and he says we will play a few tunes the night before the big day – so that we can get the feel of it. Well at least he is coming down the night before.  But what about rehearsing?
The album, and Rynne's relationship to traditional music as described in the sleeve notes, reflect many of the key forces in the recent history of traditional music: family, teachers, social life, Comhaltas, gap years in playing, a strand of professionalism. The recording was done in one day, with little or no rehearsal or studio trickery, and so it captures the flaws, fun and magic that come from that approach.
The family members and friends of Rynne's who managed to make it on the recording day were: Anne Rynne (vocal), Luka Bloom (guitar), Trish Dillon (tin whistle), Christy Moore (vocal, bodhrán), Eoin O'Neill (bouzouki), and Conor Byrne (flute and tin whistle), and Johnny Hehir (harmonica).
The tracks that made the cut for the album are as follows:
1. The Piper's Despair (reel) – Trish Dillon & Davoc Rynne whistles and the clan backing
2. Down the Broom (reel) – Trish & Davoc whistles and the clan backing
3. Lark in the Morning (double jig) – Johnny Hehir, Trish & Davoc and the clan backing
4.Carrigdhoun (song) – Anne Rynne vocal, Luka Bloom guitar
5. Munster Cloak (mazurka) – Johnny, Trish & Davoc and the clan backing and humming      
6. Dick Gossip (reel) – Trish & Davoc whistles and some of the clan backing        
7. The Galtee Mountain Boy (song) – Christy Moore with clan backing at the end
8. The Humours of Ennistymon /The Battering Ram (double jigs) – Johnny, Trish & Davoc and the clan backing          
9. Aisling Geal / Sunny Banks (slow air, reel) – Davoc solo followed by reel with some of the clan
10. Blackwater Side (song) – Anne vocal, Luka guitar  
11. Fairy Queen /The Derry (hornpipes) – Johnny, Trish & Davoc and the clan backing
12. The Chattering Magpie / Flax in Bloom (reels) – Davoc whistle, Conor Byrne- flute arid some clan backing
13. The Congress / Killarney Boys of Pleasure (reels) – Johnny, Trish & Davoc with clan backing
14. Murphy's (reel) – Johnny, Trish & Davoc     
15. The Road to Abbeyfeale (waltz) – all the clan       
Published on 25 January 2013