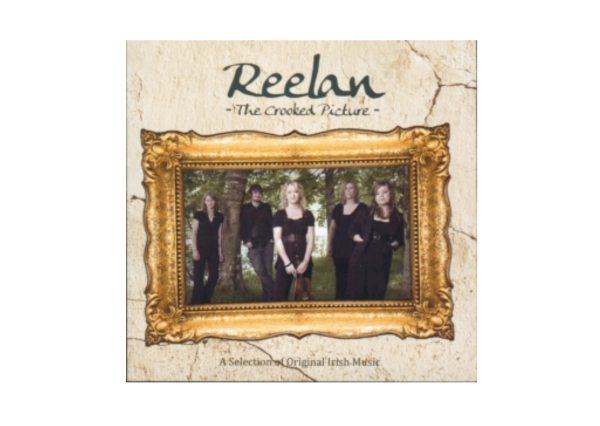 Reelan
The Crooked Picture, A Selection of Original Irish Music SPCD001
It would not be too inaccurate, if a little ungenerous, to say that band recordings of traditional Irish music tend to feature virtuosic boys showing off their rolls with middle-aged tunes and a format long past its sell-by-date. This recording turns two of these conditions of the modern trad ensemble on its head – the gender balance is reversed and certainly no-one is showing off – but the essence of it is disappointingly familiar.
Reelan is presented as a vehicle for fiddler Sandie Purcell's compositions, which can be found in her publication 101 Original Compositions of Irish Traditional Music. The Crooked Road contains twenty tunes and three songs, all newly composed, performed by an ensemble of two fiddles, voice, concertina and guitar (one track features some percussion). Most of the compositions would all be acceptable as session tunes, some with more obvious contemporary or traditional influence and some that are a little too like other tunes. Certain tunes are real growers: some of the jigs (in particular 'The Crooked Picture' on track three) and the slip jigs on track six will make the jump from my iPod to fingers.  Many of the tunes remind me of a style of contemporary composition current in Scotland and England, but sometimes because of their very square phrasing structure.
The three songs, performed emotively by Rossagh Purcell, are a strange fusion of traditional themes with a very contemporary style and structure – strange because they are written by a young woman concerned about marriage for money (to someone from 'Amerikay'), marriage to older men, and the loss of a lover fighting for his country – all presented in a style with no narrative and a distinct 'pop' sensibility.
The performances are polished, if a little underwhelming, and here lies the main root of the problem I have with the recording. The tunes sound as if the musicians are reading a score, and there is very little in the line of variation or an attempt to develop any dynamic in the performances. None of the performers make the tunes their own in the way they would, I am sure, if they were playing 'The Bucks'. I wonder if, like Patrick Kelly from Cree, they should have just played each tune just once, because they have little else to say in the repeats. This is then exacerbated by some bland arrangements that are left very much to the guitarist, apart from droning fiddles, octave playing and occasionally playing a third above the melody.
The problem is that too much respect is being given to the compositions and there is little room left for interpretation, which is, admittedly, a common complaint for contemporary traditional work. One of the redeeming features of traditional music is that the repertoire is a vehicle for the artistry of the tradition and its musicians. The Crooked Picture is unfortunately all about the vehicle.
Published on 1 August 2009
Niall Keegan is a traditional flute player and Associate Director at the Irish World Academy of Music and Dance, University of Limerick.