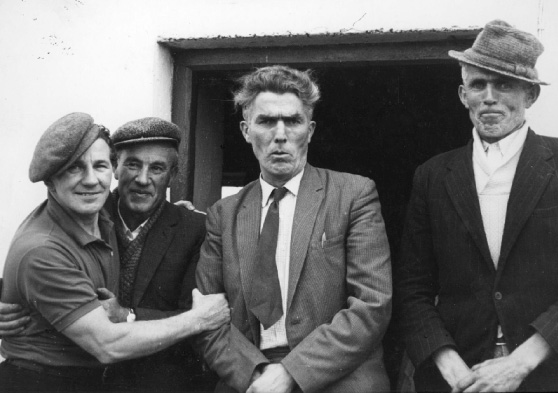 Seosamh Ó hÉanaí & Tom Clancy
Galway traditional singer Seosamh Ó hÉanaí (centre) with, possibly, a relative (first right); Tom Clancy of the Clancy Brothers singing group (?) (first left); and, possibly, a neighbour of Ó hÉanaí's. Photograph seemingly taken in Connemara in the 1970s,
Seosamh Ó hÉanaí (also Ó hÉinniú) or Joe Heaney (1919–84) came to prominence as an Irish-language singer at the Oireachtas cultural festivals of the early 1940s in Dublin. From Carna, Connemara, Co Galway, he had learned his songs locally. He attended teacher preparatory college, and subsequently lived in Scotland (where he married) and England, working mostly in building. Frequently heard on Radio Éireann and BBC Radio, he appeared in 1957 on one of the first commercial recordings of sean-nós singing, and recorded in English also from the 1960s. Living in the United States from 1966, he became a performer at folk festivals and a university artist-in-residence. A substantial archive of his singing is held at the University of Washington, Seattle, and an annual Féile Joe Éinniú festival is held in Carna. In 2007 Gael Linn reissued from LPs the CD Ó Mo Dhúchas 1–2, and Cló Iar-Chonnachta published his biography Seosamh Ó hÉanaí: Nár Fhágha Mé Bás Choíche by Liam Mac Con Iomaire.
Photo courtesy O'Donoghue's public house, Merrion Row, Dublin 2, where it has been on display for many years, and courtesy Irish Traditional Music Archive which copied it by kind permission of O'Donoghue's. Information welcome.
Published on 1 January 2008