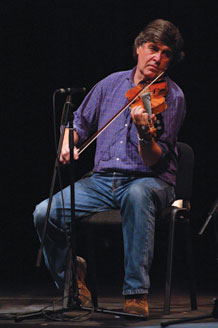 Short-circuiting the Soloist?
In a new series of columns, Toner Quinn looks at contemporary issues in traditional music.
I can't remember if it was meant to be a joke or not. I was talking about a traditional musician's new solo recording at a session when a musician innocently asked: 'Who's playing on it?' There is so much truth in that ironic quip!
A genuinely solo recording by a traditional musician is a rare bird; for many reasons – creativity, friendship, habit even – they are generally joined by an accompanying musician on guitar, piano, bouzouki or bodhrán, or any combination of those or other instruments. This naturally influences the style in which the traditional musician plays, the repertoire they choose, their intonation, the ornamentation and variation they employ, the harmonies they play on their instrument, and sometimes the speed at which they play, yet it would still be considered solo playing.
That much is clear from the way recordings are credited. Accompanists are rarely mentioned on the cover, or if they are, their name is in smaller print. Only a few artists credit the partnership between melodist and accompanist as an equal one – Martin Hayes and Dennis Cahill, for example, or Nollaig Casey and Arty McGlynn, or Máire Ní Chathasaigh and Chris Newman. Kevin Burke and Mícheál Ó Domhnaill did the same in the 1980s.
Accompaniment plays a key role in traditional music today, in stage performance, in sessions and in recordings. Seán Ó Riada may have been able to pronounce traditional music a solo art form in the 1960s, as did Breandán Breathnach in the 1970s, but traditional musicians have rarely found a lone approach to be practical or desirable, as Ó Riada himself proved.
In fact, without the development of skilful accompaniment by artists such as Dónal Lunny (bouzouki), Alec Finn (bouzouki), Ringo McDonagh (bodhrán), Paul Brady (guitar), Arty McGlynn (guitar), Mícheál Ó Domhnaill (guitar) and Charlie Lennon (piano), it is debatable whether traditional music would be even nearly as popular as it is today. Chordal and rhythmic accompaniment and group playing has been the way in for a huge swathe of the audience, and for practitioners too. It has been the bridge between an enigmatic art form of repetitive melodies and subtle ornamentation, and the mainstream popular music and song of the Western world in which we are immersed. Skilful accompaniment has inspired traditional music melodists to new heights of melodic invention, of technical mastery and virtuosity, and has regularly stimulated new approaches to tune composition and arrangement.
Perhaps it is to be expected then that solo playing has become a smaller part of the overall traditional music scene. Not that it would have been a large part in the past, but it is unlikely its audience has grown at the same pace as that for group and ensemble playing. More accessible traditional music does attract new audiences, and it is often assumed that they will then go on to appreciate 'the pure drop', but while some listeners find their way to the solo player, many others will simply want more of what they like. There is also so much enthusiasm for traditional music now, so many musicians seeking opportunities to play, that the space for a soloist has naturally shrunk.
As a result, there have been various initiatives in recent years attempting to bring the soloist to the fore: Masters of Tradition in Cork, for example, or Temple Bar Trad in Dublin. Yet despite these and dozens of other festivals nationwide, Aidan Scahill could accurately observe, in a review in the July–August JMI of a new CD of music from the Willie Clancy Summer School, that, 'What makes these recordings particularly interesting … is that these are, with some exceptions, solo performances, and highlight the school's instrumental recitals as one of the few contemporary performance contexts where this type of presentation is the norm.' In August, the Tradition:DL festival in Dún Laoghaire opened with an entirely solo performance by Paddy Glackin. A solo performance was such a rare occasion that the marketing material was able to emphasise this as a draw. Is it not striking that a 45-minute solo performance by a renowned traditional fiddle player appeared such a novelty?
Solo playing is of course a challenge, both for the musician and the audience. If this was not the case there would be a lot more of it. However, we overlook the fact that in the hands of a master all such issues of accessibility dissolve. We are also inclined to forget that traditional musicians are, in the first instance, soloists. When they practise at home, they play solo. When they work out their approach to a tune in their mind, when they envision how they want to sound, they are soloists. Their development is complemented by many opportunities to play in ensemble situations – sessions mainly, but plenty of stage gigs too – which can have an influence on the development of their style, but nonetheless their understanding of themselves as musicians is in their relationship with their own playing. As one musician captured it, 'I play for my own amazement'!
There is a conundrum however: if the private traditional musician at home is a soloist, and yet the public traditional musician in the session and on stage is, ninety per cent of the time, an ensemble player, does this mean that their development as a soloist is constantly short-circuited, an insistent diversion of their energy into other forms? The corollary is, in order to develop themselves as a soloist, they need to absent themselves from typical public performance. Some traditional musicians are doing this, while others consciously challenge the current formats.
When musicians disconnect from the requirements of typical ensemble playing – a certain approach to arrangement, structure and form – we can hear it in their playing. It has been evident in the performances of Tommy Peoples of late, and there are hints of it in Ciarán Ó Maonaigh and Aidan O'Donnell's new CD, Fidil, and in the music of a handful of other musicians too, but we cannot say that it is happening to any great extent. The few examples that are there, however, suggest that we may be about to see a lot more.
Published on 1 September 2008
Toner Quinn is Editor of the Journal of Music. His new book, What Ireland Can Teach the World About Music, will be published on 1 February 2024 and is now available to pre-order. Visit https://bit.ly/3uz7rGm.