Somebody is in Control
The first All Together Now festival took place on 3–5 August on the Curraghmore Estate in Waterford. It's where the new Irish generations come for freedom – or is it order, asks Toner Quinn.
'And will you know it when you find it? And do you know you're looking for it?' –  'By My Demon Eye', This is the Kit
A man in his twenties is in a purple dress, his head half-shaved. He and some female friends land with a bolt of energy at the Belonging Bandstand and start dancing to the Dublin-based Afrobeat group Yankari.
Two children are beside them and the man holds their hands and starts dancing with them too. Then he and his friends sense action elsewhere and start to rush away. One of the children was enjoying them so much, she toddles after them as they move away from Curraghmore House towards the main stage. Suddenly, they realise they have a new member of their group and shepherd the child back to her parents.
I saw the pied piper in the purple dress on more than one occasion over the three days of of All Together Now, his whirling vitality bringing animation wherever he went, but the creativity and freedom in expression was everywhere in Curraghmore. Space suits, t-shirts welcoming the Pope, men dressed in colourful patterned suits, angels waving flags, animal costumes, and fabulous golden hair and make-up.
Post-crash generation
This is the Repeal generation. It is also the post-crash generation, now with families and long-term partners but still no home of their own, mixing with the brilliant but anxious millennials, eyes darting and eye-rolling their way through Snapchat, Twitter, Trump and Brexit. They are too smart to believe anything will change soon, too connected to be able to block it out, and so they transfer to mega multi-stage festivals, nowhere places where they can disappear.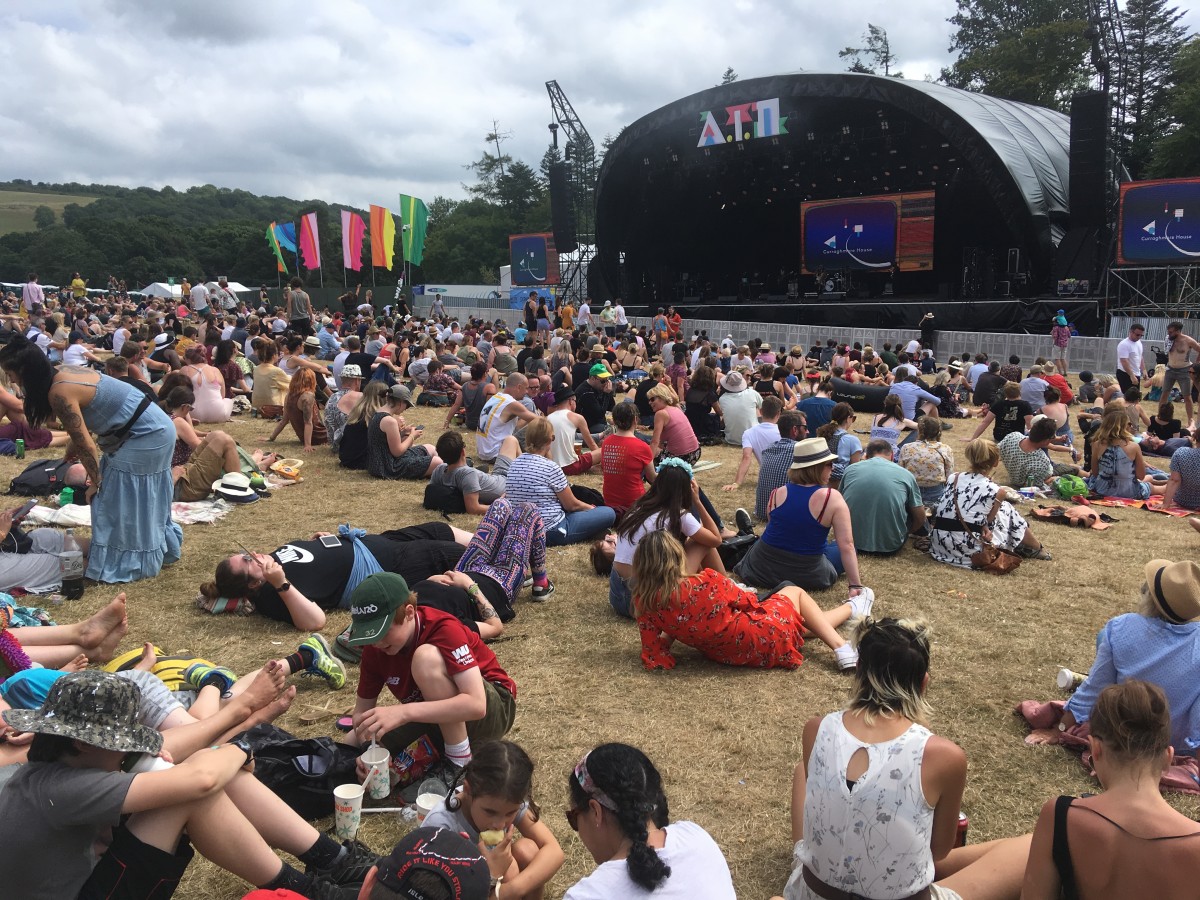 Almost 15,000 of us are listening to music across ten stages over three days on the Curraghmore Estate. We are overindulged, skipping between Mogwai and the New York Brass Band, Reggie Watts and Jape, the Fleet Foxes and Nils Frahm. And we are listening in the smartphone age, which is different to any other time. The phone is part of the experience, mediating the music, capturing it, sharing it, then welcoming the flow of red-dot endorphins. Audiences get distracted, retreating from concerts in the dark, their phone full of messages, their faces lit up by the blue of the screen. To really embrace the music, you have to be up at the front (which I only managed on a couple of occasions), as close to the artists as possible, making sure you are part of their experience. It is too easy to surf around the edges, building up the steps on your health app as you move around the several acres of festival. 
The mass smartphoned crowd can also mean uncertainty for the musicians, who become surprised when they attract attention, even on huge stages. 'Thank you so much!', 'You're beautiful!', they say, repeatedly. 
Moments
Over 100 acts played at All Together Now over three days, and I managed to see 21 of them, but the experience begins before you get to the festival and continues after you return home. You work your way through the Spotify festival playlist while journeying down, and when you get home, you notice your daily listening has changed, having seen certain acts live, and you recall moments from the festival. These are the four moments that I recall most.
There is something rare about the restraint in the music of English indy folk group This is the Kit. Kate Stables' voice is distinctive, but no matter how sorrowful the lyrics or how affecting the quiver in her voice, the band rarely break out from a gentle low rumble that instead draws you in to the subtlety of their sound. 'Bullet Proof', 'Moonshine Freeze' and 'By My Demon Eye' are true, crafted songs that display a real confidence in her voice and the band behind it. 
J Colleran's afternoon set in the Something Kind of Wonderful Stage meant entering into an orbital sound world. Colleran stood alone behind his desk, carefully manipulating what felt like sounds of space. Each piece had an inspired opening, a benevolent statement, drawing the audience forward, but then the pieces wouldn't develop. Gradually, you felt that this standing still in the music was actually the point of it, and I now return regularly to his recent Gardenia album.
J Colleran
Saint Sister drew a huge crowd to the same stage on the Sunday, surprising even the duo of Gemma Doherty and Morgan McIntyre. It is their elegant slow delivery, on 'Causing Trouble' for example, the carefully constructed lyrics and melody, and the musicianship of Doherty on Irish harp, that seem to express something essential for the audience. Finishing with an a capella version of 'Dreams' by the Cranberries illustrated just how skilful they are as singers.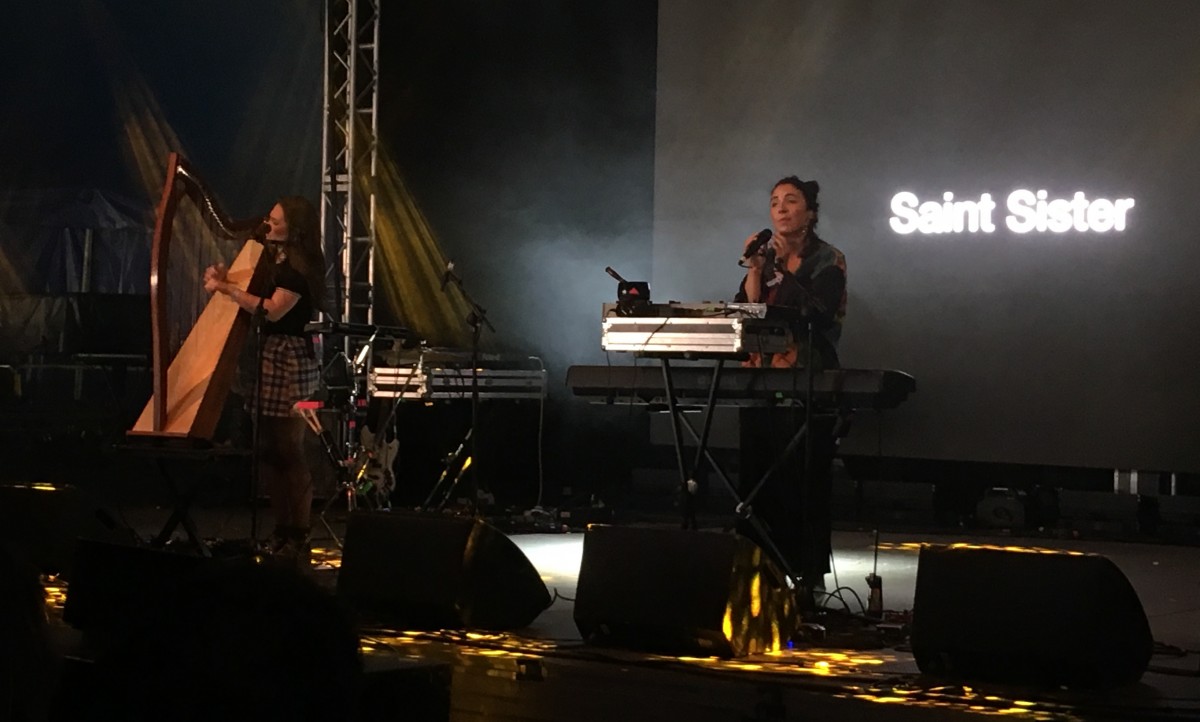 Saint Sister
My fourth moment is three gigs: Mura Masa, Underworld and Nils Frahm. In each, a man stands on stage surrounded by a huge complex desk of technology, shaped like a staple around him. The audience looks to him and waits, standing on the balls of their feet. The artist makes small gestures at arm's length to cause huge changes to our sonic world, gradually building deep bass, rhythm and light harmony until it explodes into a rhythmic release that the whole crowd can crack into. Sometimes they reach out and make an adjustment but we hear no audible change; then they do it again – still no change; then another knob is turned slightly and the collective physical shape of the crowd is transformed. 
These figures are like sonic wizards, the audience looking to them for direction, for them to take control and provide relief in the babel. For the new generations at All Together Now, in a world of strange forces, if these wizards do not give some temporary, unthreatening order, who will?
Published on 16 August 2018
Toner Quinn is Editor of the Journal of Music. His new book, What Ireland Can Teach the World About Music, will be published on 1 February 2024 and is now available to pre-order. Visit https://bit.ly/3uz7rGm.