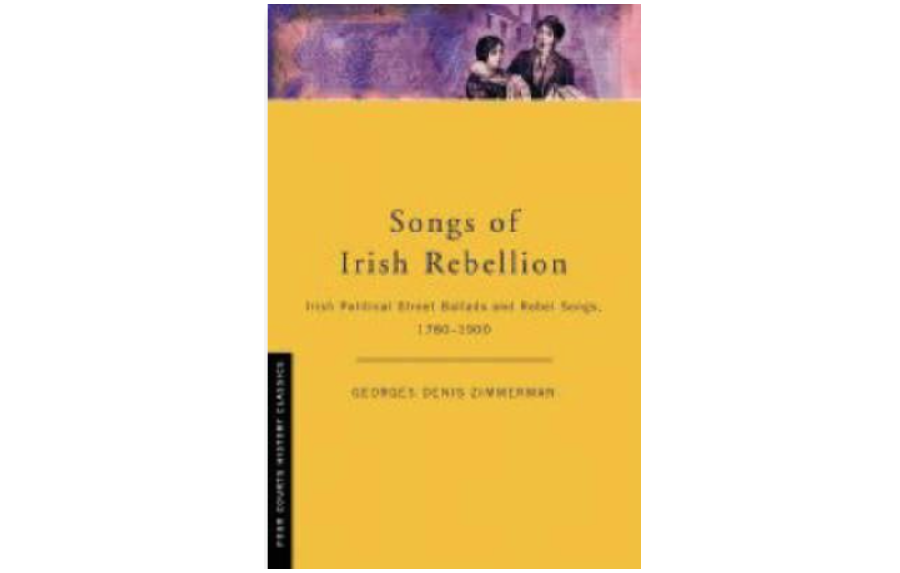 Songs of Irish Rebellion
A review of the re-issued Songs of Irish Rebellion: Irish Political Street Ballads and Rebel Songs, 1780-1900, by Georges Denis Zimmermann.
At a table quiz in Gleeson's of Coore during the Willie Clancy Summer School, one of the questions was 'Who wrote Songs of Irish Rebellion?' One of the answers received was 'Tom Munnelly', to which the quiz-master wittily replied 'not Tom Munnelly – the question was "Who wrote it?", not "Who read it?".'
It might indeed seem to the observer not involved with Irish song that only someone with a serious professional interest in the subject would dream of reading this book, but that is not so. It would be hard to overstate the impact that this work had upon me and upon my friends when we first came across it, soon after its first appearance in 1967. For people who were interested in songs, the only texts of any worth that were available at that time were Colm Ó Lochlainn's two collections, Irish Street Ballads (1939) and More Irish Street Ballads (1965). In these Ó Lochlainn paid the reader the compliment of revealing his sources, of both text and tune, and these turned out to be a mixture of personal contact with (by then) dead singers and collectors, and selection from (by then) unavailable earlier collections such as Petrie, Joyce and Sparling. His two volumes brought us behind the music to a certain extent, but Ó Lochlainn's collections were obviously a personal song-bag, as eclectic as yours or mine, and by no means the systematic consideration of street balladry implied by the book-titles.
Apart from Ó Lochlainn's collections, the print resources for the song enthusiast of the time ranged from the cheap Walton's songsters (still being sold in their original form, but at several thousand percent of their original price) to the collections of rebel songs which were regularly published by the 'republican movement/s'. These were usually totally uninformative about the history of the songs they contained, or the history contained in the songs. I suppose one was supposed to just know! There were, of course, circles where songs circulated in the folk manner, but one had almost to be born into these. If you had a personal acquaintance there was a whole different world there for the taking; if you didn't that world may as well have been non-existent. In Dublin, as I learned years later, it seems the Behans and their friends never stopped singing, and further afield men like Séamus Ennis, Hugh Shields, Seán O'Boyle and Tom Munnelly were amassing their historic collections. But this was all invisible to the generation of city youths attracted to the songs by the ballad-boom. The various printed collections were all that there was, and the range of those that were available was barely adequate.
Songs of Irish Rebellion landed into this situation like a visitor from another planet. It changed at a stroke just about everything I thought, or knew, or thought I knew about the song tradition. Where I had supposed simplicity of repertoire I discovered complexity and where I had assumed scarcity of resources I discovered abundance. Between the text (the work formed the author's university thesis), the included sample of one hundred songs, the notes and bibliography, the book is simultaneously a primer and comprehensive guide to the nature, background, themes, styles, sources and materials which comprise Irish political balladry, green and orange. I bought it initially hoping to learn songs from it. I never did, but I learned a colossal amount about Irish 'rebel' song. Far from it being the preserve of people such as McCall or Kearney or the Young Irelanders, I found that these writers were for the most part only poor imitators of the real thing, and imitators of the real thing is what they self-consciously set out to be. Songs like 'Dunlavin Green', 'Rody MacCorly' and 'The Green Linnet' have a startling directness and freshness that Davis and his circle could only occasionally achieve. These and other songs in this collection speak directly of personal, not vicarious, experience. To be sure, along with beauty and eloquence, there is doggerel a-plenty in the tradition, sometimes rubbing shoulders in the same piece. But that is the nature of traditional song – much is created and the best is preserved.
Along with the genuine street ballads (the author describes them as 'songs of spontaneous protest or complaint by those who had no clear political consciousness'), there is consideration of the more considered and/or propagandistic pieces by middle class or educated writers connected with the national movement. All the streams, in fact, that make up political balladry in Ireland in the eighteenth and nineteenth centuries.
A little of everything is included in the hundred songs that form the second part of the book, and much that is very good. The clever versification of 'Blaris Moor' (which tells the story of three soldiers executed for being United Irishmen), sustained for eight verses, makes for a superbly singable piece:
Verse 2:
Belfast may well remember
When tyrants in splendour
In all their power and grandeur
They hoisted them on a car
While infantry advancing
And cavalry were prancing
And glittering armour glancing
All in the pomp of war.
The song 'Ireland's Glory' contains richly comic descriptions of the change wrought in the outlook and capabilities of the peasantry by the Volunteer movement:
Verse 8:
The infants at the breast could practice each motion
And had of a battle an excellent notion:
Even mountainy rusticks, who never eat bread,
Could fire without blinking or bobbing their head.
On the Orange side, the various versions of 'Croppies Lie Down' are among the most skillfully-written songs produced in Ireland. I could point to so much else that is intriguing, instructive or entertaining in one way or another, but suffice it to say that the author does this in the earlier part of the work.
Is the book still relevant today? Decidedly so! It remains the most scholarly treatment of the subject yet published, and needs to be read even more than ever. Who should read it? Obviously, anyone who desires to know more about Irish song, particularly the political strain in the tradition. But also those who need to know more about it. For a start, all the rabid 'Republicans' and 'Orangemen', along with their fellow-travellers and sneaking regarders who think that to bawl out poorly written anthems praising the perpetrators of the latest atrocity is somehow to advance the interests of Irish people. They might find here, at the very least, that there are always two sides to every story, and that the story has generally already been told in a far better fashion. Who else? Perhaps the modern school of cultural historians who believe that they can learn all they need to know about traditional music in Ireland by reading the works of the middle-class collectors and dilletanti of the nineteenth century. Here they might discover that the creators and custodians of Ireland's traditions of folk song and music were not those educated ones who might be expected to produce art-music. They were, in the nineteenth century, the under-educated poor of country and city. And it is their descendants, no longer uneducated or unaware, who still hold it and understand it better than ever.
Although the Irish song tradition is spectacularly rich, varied and elaborate, it has not until recently been documented in any satisfactory way. There are less than a dozen works that I would consider absolutely indispensable for anyone with a desire to learn about the subject. This is one of them.

Georges Denis Zimmermann, Songs of Irish Rebellion – Irish Political Street Ballads and Rebel Songs, 1780-1900, Four Courts Press, 24.95/£19.95, ISBN 1-85182-629-7
Published on 1 September 2002
Terry Moylan is a researcher and archivist with Na Píobairí Uilleann. He is the author of The Age of Revolution in the Irish Song Tradition 1776-1815.