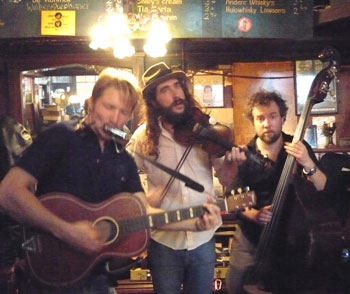 Too Much Culture?
In Belfast, culture has been ditched for something much easier to handle: events. But the tenth Open House Festival was able to do both.
Belfast has always had a problem with culture. How could it have been otherwise? This is, after all, the city in which the very word (with its troublesome partners-in-crime, identity, history, self-expression), was always liable to make itself known with a stand-off, a march, or even a riot. In 2006 the Irish News ran the story: 'Belfast? There's more culture in a pot of yogurt', in which a disgruntled lover of literature mouths off on finding out that his evening course on James Joyce had been cancelled due to lack of interest. What was more revealing than the details of the minor (very minor) news story was the apparent glee in the telling by the newspaper's editors. But the Irish News missed the point. There's not too little culture in Belfast, there's too much, and to confound the problem, it's all of the wrong kind.
Since 2002, when Belfast, having been the bookies' favourite to win European Capital of Culture 2008, failed even to be short-listed (thereby missing out on the EC designation of 'Centre of Cultural Excellence'), the city has had a long, hard look at itself. Moving into 2009, with a decade and more of peace behind it, things have clearly changed for Belfast.
Culture, that amorphous, viral progenitor of moral advancement, has been ditched in favour of something much more easily handled: events. Denied its year-long, city-wide, identity-forging festival in 2008 (by, we all agree now, a much worthier winner in Liverpool), Belfast decided instead to commit itself to pleasing its various communities in simpler ways. In the last couple of years Belfast City Council, with the Arts Council of Northern Ireland, developed the concept of the 'City of Festivals'. A recent count revealed that 57 arts and community festivals are now on the books, more than one for every week of the year; for a city of just 300,000. Now there are mutterings, amazingly, of 'do we have too much?'
On one level this policy of back-to-back festivals is no more than an effective means of compacting and publicising a programme of artistic product that in reality has many of the holes it always had. It's easy to see why the relevant authorities feel the need to repackage its activities: its all about visibility. With a small arts budget (Northern Ireland's per capita spend on the arts runs far below the Republic of Ireland's and Britain's) every pound needs to impact on the public consciousness. A programme exclusively made up of festivals gives the impression of glut, and if they run into each other, so much the better. Also, it's clearly not enough that people should enjoy cultural events; they need to be seen to enjoy cultural events. And this is why so many festivals have moved out into the public spaces of Belfast's city centre.
There is a problem, however. 'To make compact' has associations with the creation of weightiness, but it also signals restriction or confinement. If you are a lover of contemporary music, for example, you're unlikely to be served outside of one week in August where the Sonorities Festival now resides. Some arts practitioners feel that they are being asked to count themselves lucky: 'you have your festival, now don't be asking for anything more'. Visiting artists must also understand the nature of Festival Belfast. A classical music ensemble, for example, planning a one-off event outside its art-form's designated slot, will tend to fall between the cracks and will receive little publicity and scant patronage.
But let us celebrate. The Open House Festival, which ran from the 24–28 September this year, is in many ways the perfect Belfast event. A celebration of traditional and roots musics, the festival maintains relationships with pubs, restaurants, clubs, radio stations, music departments and stores and has a very public face at The Marquee in the recently redesigned and rediscovered Custom House Square in the Cathedral Quarter of the city. This is a family-friendly event known as Chillifest – 'red hot bluegrass, with authentic DIY hillbilly instruments… and an Insane Hot Chilli Pepper Eating Contest with paramedics on standby!', ran the programme. And when festivals work, they can illuminate more than just the local community or the target audience.
The tenth Open House, with its theme of American music, and with its many transatlantic visitors, was a truly international affair. The festival's band-in-residence, the Dutch/American hybrid trio The Samsonites, resonated perfectly with the (economic) times and the depressed punters. 'Baby don't you know there's a hard time comin'' and 'There ain't no liquor in this town' are songs that wipe away, in an instant, the militaristic America of invasion and regime change and remind us that ordinary people, the working classes, were the original inhabitants of the global village (the communicative force of folk music being far more durable, we hope, than the coffee-shop brand).
It was fascinating to see the audiences, the faces of 'old' Belfast, come out to play again; the one-time progressives, the former rebels, now middle-aged, squinting in the daylight after a decade of hibernation in the warm nest of the property boom. Born in a Samson tobacco touring van, 'with a love of wood and fine old luggage', the Samsonites' old style southeastern American fiddle and guitar led a programme of sweet, nihilistic, nostalgia with bands such as O'Death, Heavy Trash and the Tom Fun Orchestra playing their parts in a festival that hit far beyond its weight. This was four days of cultural engagement that will please funders, musicians and audiences alike. The audience numbers were impressive; the range of music and musicians was far-reaching. And, hey, we don't have to bother with folk music now for another year.
Published on 1 November 2008
Peter Rosser (1970–2014) was a composer, writer and music lecturer.

He was born in London and moved to Belfast in 1990, where he studied composition at the University of Ulster and was awarded a DPhil in 1997. His music has been performed at the Spitalfields Festival in London, the Belfast Festival at Queen's and by the Crash Ensemble in Dublin.

In 2011 the Arts Council acknowledged his contribution to the arts in Northern Ireland through a Major Individual Artist Award. He used this award to write his Second String Quartet, which was premiered in 2012 by the JACK Quartet at the opening concert at Belfast's new Metropolitan Arts Centre (The MAC).

Peter Rosser also wrote extensively on a wide range of music genres, with essays published in The Journal of Music, The Wire, Perspectives of New Music and the Crescent Journal.

He died following an illness on 24 November 2014, aged 44.