An Unknown Quantity: Addressing the Neglect of Historical Irish Opera
The neglect of historical Irish opera presents a problem – without performances and recordings, how can we assess their contribution to the wider world of opera? Following recent revivals, Una Hunt asks if there are signs that the situation is improving.
Opportunities to experience operas by historical Irish composers such as Balfe, Wallace and Stanford are extremely rare, and, given the cost of operatic productions, impresarios tend to tread cautiously around lesser-known operatic repertoire.  
There are also many hidden difficulties to be overcome. Research reveals that the orchestral sets and full scores for some of their works are often missing and these are costly and time-consuming to replace – which means that only the brave will persist! As a result, historical Irish opera is still, to a large extent, an unknown quantity. 
The neglect of this music poses a problem – without a proper and comprehensive catalogue of performances, recordings and opportunities to produce such work, the achievements of these and other Irish composers cannot be properly assessed and their contribution to the bigger world of opera remains fugitive.  
Burning brighter
As a result, a certain gloom has surrounded our historical opera composers for the last fifty years or more, although their stars are, at last, beginning to burn brighter with some welcome releases of CDs devoted to works by Balfe (1808–1870) and Wallace (1812–1865) – Maestro Richard Bonynge, in particular, has proved a constant and unwavering advocate. Balfe's Italian opera, Falstaff, was presented at the National Concert Hall ten years ago and recorded for CD by RTÉ lyric fm while Balfe's operetta, The Sleeping Queen, was given an update by Wexford Festival Opera in 2013 and was performed in its original form by DIT Conservatory of Music and Drama within the last year and is set for further revivals. And, just over twelve months ago, Robert O'Dwyer's Irish language opera, Eithne, was recorded and performed by Opera Theatre Company.
 
Irish composers actually punched well above their weight in the field of nineteenth-century English-language opera. Michael William Balfe and William Vincent Wallace were leading lights in the movement to establish native opera in Britain even though that aspiration was only partially achieved. In 1843, Balfe wrote the best-known opera in the English language, The Bohemian Girl, with the evergreen 'I Dreamt I Dwelt in Marble Halls' which has been sung by a myriad of successful sopranos throughout its 150 year history.  
Balfe's operas were rather more sophisticated and Italianate in design than the earlier works of English composers such as Henry Rowley Bishop and Charles Horn; Balfe had a successful career as a baritone in Italy and France and adapted bel canto style to his own compositions. Wallace, on the other hand, travelled the world as a virtuoso on both the violin and piano and propagated many hair-raising accounts of his adventures along the way. On his return to London in 1845, he turned his gift for melody towards operatic composition and had instant success with his first opera, Maritana. 
The operas of Wallace and Balfe are full of dramatic invention and it therefore seems such a pity that they are now so rarely staged. Both composers maintained their popularity well into the 20th century in Ireland and in opera houses around the world, and, as part of the so-called Irish Ring (with the German composer Julius Benedict's The Lily of Killarney (1862)), their most famous stage works received concert revivals at the RDS some years ago. Still, Balfe and Wallace wrote many other successful works, most of which have not seen the light of day in a very long time.  
Stanford's The Travelling Companion
Given this mix of activity as a backdrop, it was stimulating to see a recent production of The Travelling Companion (1916), an operatic work by Charles Villiers Stanford (1852–1924), recently in London. Dublin-born Stanford was a prolific composer who produced timeless classics for the Anglican church (he was said to have reformed English church music) along with crafted and witty songs which remain firm favourites in the repertoire of Irish singers today. 
Otherwise though, his music has fallen out of fashion – a familiar story when it comes to Irish composers. So, it's rather rare to get the opportunity to witness one of Stanford's forays into opera, a genre in which until recently, he has been almost entirely ignored. Perhaps that's due to a perception of his most successful staged work, Shamus O'Brien – no matter how worthy, the title hints at 'paddy-whackery' and it would surely prove a hard sell to any modern opera company. Furthermore, revivals of Stanford's operas over the last 60 years or so have been less than enthusiastically received. Yet, opera was something that he took very seriously – Stanford eventually completed no less than nine operatic works.
With all this in mind, it was a delight to experience The Travelling Companion, the composer's last opera and one which he himself never lived to see. The production was toured to four English venues last November and December by the New Sussex Opera Company and I managed to catch it in London on 30 November. Based on a story with morality-tale overtones by Hans Christian Andersen, the travelling companion comes back from the dead to repay his debt to the hero, John (sung by David Horton), before rejoining the afterlife. The story and the libretto (by Henry Newbolt) are spun with real purpose making the plot more successful than much of the usual operatic fare.  
Another twist to the story reminds us of a much-loved operatic masterpiece – Puccini's Turandot – as the suitors to an unspecified princess (Kate Valentine) are required to solve her riddle or lose their heads! In his pre-opera talk, Jeremy Dibble explained that Stanford's opera predated Puccini's – although, possibly not by much; it's funny how ideas circulate and fill the air at any given point in time. Attraction to the more gruesome aspects of the fairy tale seems, at times, quite marked. When John reveals the correct answer to the princess's riddle he enters carrying the severed head of the wizard – a reminder, perhaps, of the Biblical story, Oscar Wilde's play and Richard Strauss's opera – Salomé.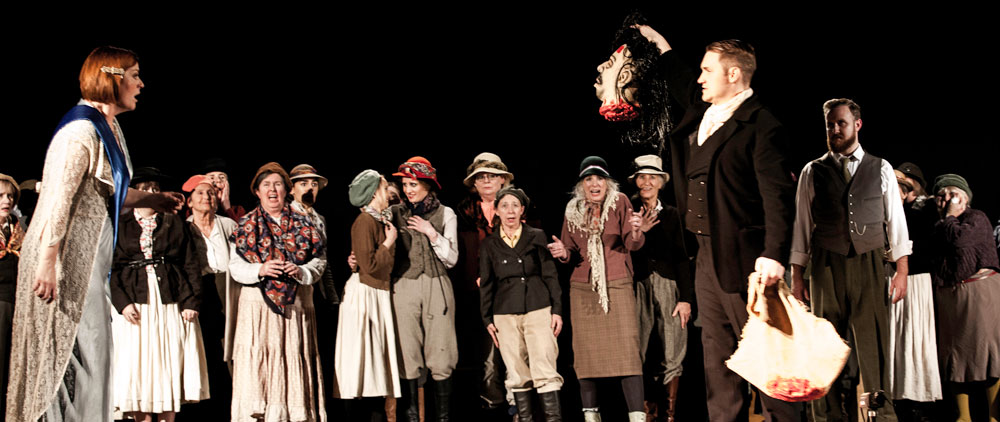 New Sussex Opera's production of The Travelling Companion (Image: Robert Knights)
Lighter touch
London's Cadogan Hall, with its pleasant aspect and lovely acoustic, provided the backdrop for the simple staging complementing the austerity of the plot. It was exciting to hear Stanford's music; while the influence of Brahms and Wagner is discernable in its rich orchestration, Stanford has a lighter touch, pouring forth an individual voice quite unlike that of any other composer. The vocal writing is intrinsically lyrical yet strangely unique while the overall impression of the music is dramatic and contrasted. Stanford's ability to compose for the orchestra is particularly evident; it might be worth mentioning that he taught almost all the prominent English composers of the generation next to his own, including Ralph Vaughan Williams, who considered Stanford's 'chameleon-like' ability to imitate other composers as a flaw.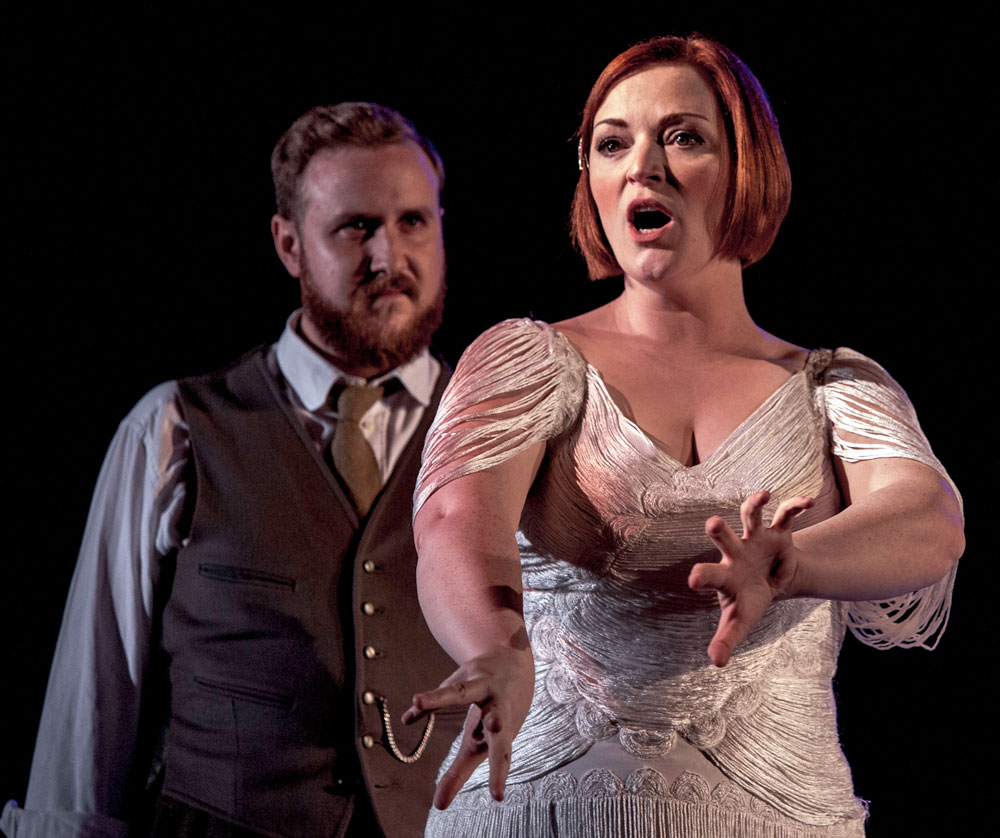 Julien van Mellaerts (Travelling Companion) and Kate Valentine (Princess) (Image: Robert Knights)
There were strong performances from the solo cast, and in particular from Julien Van Mellaerts (the travelling companion) and Ian Beadle (the wizard). Given his mastery as a choral writer for the English church, it's hardly surprising that Stanford integrated the chorus so successfully into the action. The New Sussex Opera chorus provided enthusiastic commentary throughout enhanced by the orchestra conducted by Toby Purser. At times, the orchestra obscured the finer detail of the solo singing, a problem caused by the lack of a pit in the venue, but on the other hand, having the orchestra on stage provided extra energy to the overall performance.  
Another highlight worth mentioning was the ballet music provided for by Stanford in the score and colourfully interpreted by dancing goblins (choreographer, Roseanna Anderson) and an effective lighting design (by Tom Turner). The last performance was captured for release by SOMM records.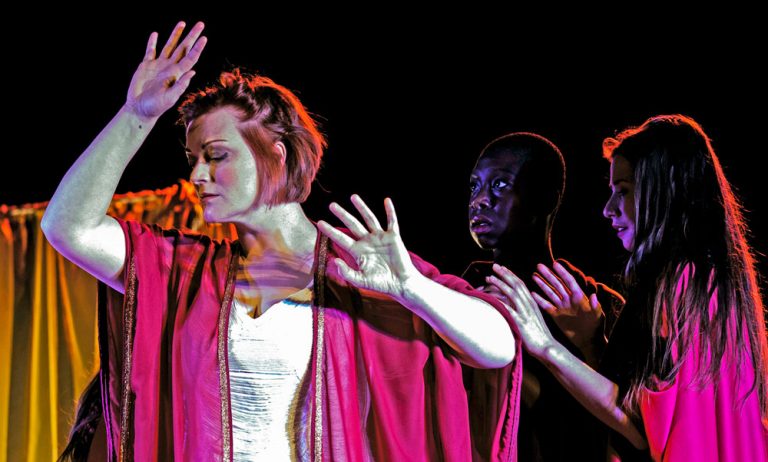 The Princess (Kate Valentine) and the dancing goblins in New Sussex Opera's production of Stanford's The Travelling Companion. (Image: Robert Knights)
The Veiled Prophet
Stanford's operas may be set for reawakening as another opera, The Veiled Prophet (1877), will be given in a concert performance at this year's Wexford Opera Festival. Dating from four decades earlier than The Travelling Companion, this was the composer's first opera for which, unfortunately, the conductor's score and orchestral sets are missing.
The vocal score (where the piano is substituted for the orchestra) reveals many similarities to The Travelling Companion although the full compass of its orchestration may only be revealed once the reconstruction of the score is complete. Most particularly, The Veiled Prophet seems to possess great dramatic flair, an observation at odds with mid-twentieth-century criticism of Stanford's operas which notes a lack of vitality and dramatic inspiration. The opera is based on part of the long oriental romance, Lalla Rookh (1817) by Irish poet and songwriter, Thomas Moore (1779–1852).   
Despite the evident strength of its storyline, The Veiled Prophet was doomed to a chequered performance history. While English was the original language in which the work had been set, it seems it was never performed in English during Stanford's lifetime – instead, the first performance was given in German as Der Vorschleierte Profet in Hanover. Strangely, its comeback at Covent Garden some 12 years later was not in English but rather in Italian under the title Il Profeta Velato.  
In terms of modern performances, the beautiful love duet from Act II was included in the Gems of Irish Opera concerts at the National Library of Ireland in 2008 and excerpts from the opera – the overture and ballet music – were released by RTÉ on a Naxos-Marco Polo recording in 1997 along with its most famous song There's a Bower of Roses by Bendemeer's Stream. Moore's text for the song is usually heard to the tune of Percy French's The Mountains of Mourne, but who knows, maybe Stanford's Bendemeer's Stream will catch on, and his operas may yet be set for a renaissance one hundred years after his death.   
Published on 16 January 2019
Una Hunt is a pianist, broadcaster and Irish music specialist, and Professor of Performance Research at DIT Conservatory of Music and Drama.