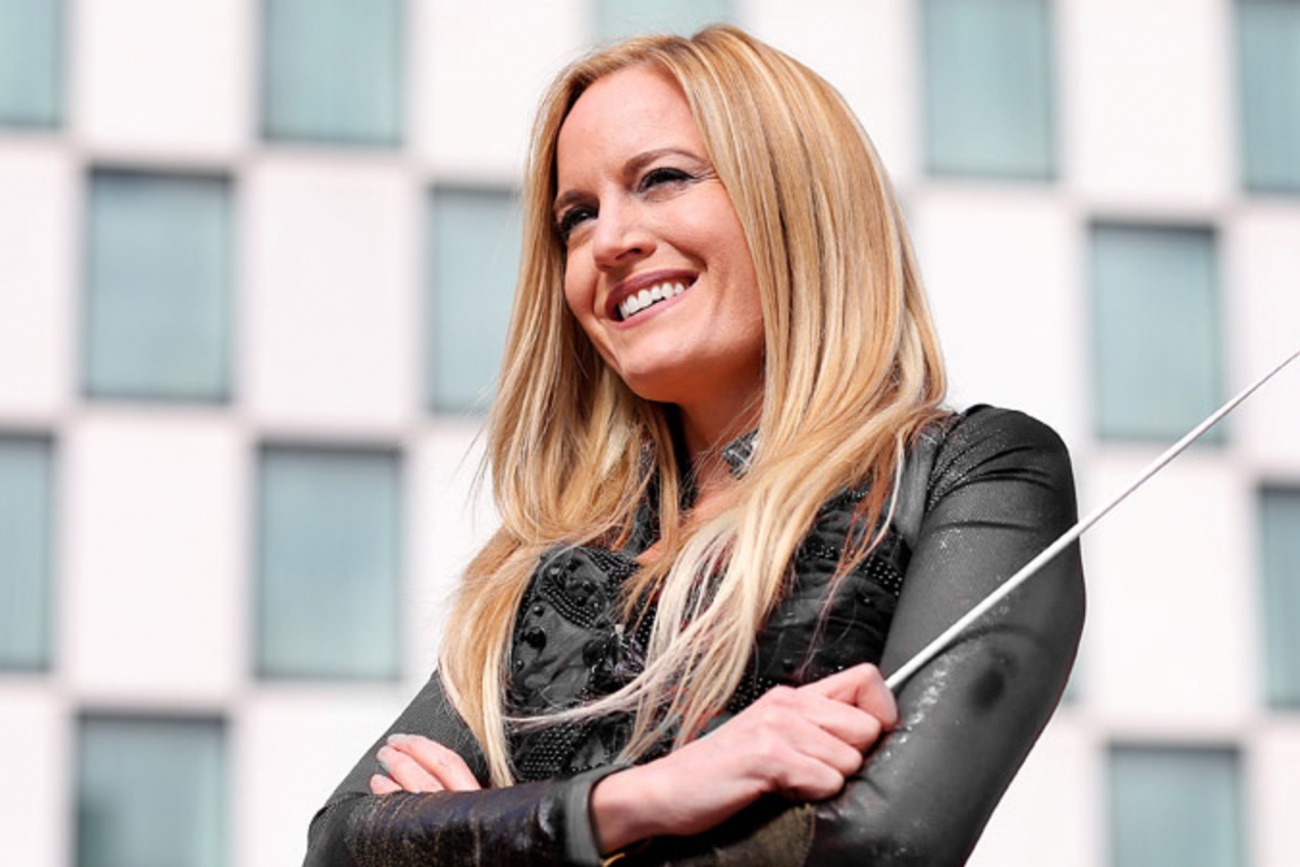 'We think you should be a conductor': An Interview with Eimear Noone
On 1 March, Eimear Noone will be recognised by Music for Galway for her work as a leading conductor and composer of video games music. In this interview, Noone speaks to The Journal of Music about her musical background in Galway, her career in the United States and the potential she sees in music in Ireland.
When Eimear Noone was 15, an army band played a concert for her school in Ballinasloe. Noone was already studying flute and piano and she was invited to sit in and sight-read a part with the band. Rather audaciously, she chose to play piccolo.
At one stage during the performance, the conductor invited Noone to take the role of conductor. Her friends told her it was just a gimmick. 'Just wave your arms around', they said, 'It's just a bit of a joke.'
But they didn't know that Noone had actually been studying scores at home for years, 'watching videos of conductors, anything I could get at the library, trying to figure out what on earth they were doing, looking at diagrams.'
I made the girls in the audience wait while I looked around the band… so that I could cue everybody… and really perform. I remember standing on the podium and feeling that, for the first time in my life, everything was in the right place. It was a memorable moment.
Afterwards, on the steps of Ballinasloe Town Hall, several members of the army band were waiting to talk to her. 'We were talking and we all thought we should tell you,' they said, 'we think you should be a conductor.'
Theme tunes
Noone is from Kilconnell, a small village outside Ballinasloe in County Galway. It also happens to be the home of the great tune composer Paddy Fahey – she actually recently recorded one of his reels with the DIT Traditional Music Ensemble on her album The Celtic Link: Themes from the Legend of Zelda.
Noone began learning music at school on tin whistle, playing traditional music, but also, prophetically, given how her career would develop, picking up themes from television by ear. She moved on to flute and piano, and travelled every Saturday to the Royal Irish Academy of Music in Dublin for lessons.
As a teenager, she was also composing and arranging. She worked with the local musical society, and participated in a young composers' workshop and competition with the National Chamber Choir under conductor Colin Mawby. She didn't win the competition, but Mawby saw potential and applied for a place for her at the Irish Composition Summer School in Ennis. She was only 17, and she returned the next year too.
One of the tutors on the course, Finnish composer Kalevi Aho, had a particularly big impact on her. 'I remember he made everyone cry, but we got on great' she says. Aho said composers should avoid surrounding themselves with 'too many musical platitudes', that is, idioms and styles that they think they should not write in, because they will ultimately box themselves in. For Noone, it was liberating.
Film music
She undertook a degree in music at Trinity College Dublin and started to gravitate towards film music, co-founding the Dublin City Concert Orchestra with her classmate Jillian Saunders and running it for five years. Set up to perform film music and popular classical works, the orchestra gave the Irish premieres of a range of well-known scores.
It was us and all our mates: Youth Orchestra people, Trinity people, UCD people, College of Music, Academy, everybody. There are so many professional musicians today that were in that orchestra…. We gave the first performance of the Braveheart score, of the Batman score and Empire of the Sun by John Williams.
Her further move into game and film music came via Screen Training Ireland in Dublin. Noone took a film composing course (part of the UCLA Extension Film Scoring programme), where she received training from renowned film composers such as Don Ray. She also met the orchestrator Steven Scott Smalley who had worked on the Batman score and which Noone had just performed and knew well. Smalley hired her as an assistant and asked her to do some orchestration on a video game project that he had received.
I was thrilled and I started orchestrating it in my apartment in Portmarnock… It was the first World of Warcraft and I still perform that orchestration to this day. Nobody knew that it was going to become this big thing.
Callas in Concert
Now based in Los Angeles, Noone has since recorded and composed the music for many video games, including World of Warcraft: Warlords of Draenor, StarCraft II, and Diablo III, and has written music for film thrillers such as Mirrors (2008) and The Hole (2012). She has also conducted performances of games music with the Philadelphia Orchestra, Qatar Philharmonic Orchestra, Dallas Symphony Orchestra and Sydney Symphony Orchestra, and she co-founded the Dublin International Games Music Festival with her husband, composer Craig Stuart Garfinkle. She has recently signed to the artist agency Harrison Parrott.
Since last autumn, Noone has been conducting a concert series throughout Europe and in the United States called Callas in Concert, featuring a hologram of Maria Callas singing with a live orchestra.
To me it's a piece of music theatre. I always find it very moving on stage. It's controversial because it's a brand new technology. It's like watching an audience see film for the very first time. It's at the cutting edge of where orchestras meet technology, but that's where I'm happiest. It is probably technically the most difficult project that I've ever been on in my life. 
At the cutting edge
Noone has been involved in various projects in Ireland recently, including contributing to the National Concert Hall's Female Conductor Programme. She stays informed about the Irish scene and is particularly happy to see a new music degree commence at NUI Galway, an opportunity that didn't exist when she was a student.
The conductor and composer has been following the news about the RTÉ orchestras over the past year, and, while she understands the financial challenges, she would still like to see more risk-taking in programming.
I think we could be more forward-thinking – the orchestras are fabulous. I'm looking at it from the United States where there's no such thing as a state-sponsored ensemble. When you have RTÉ behind you, the possibility is there to be really at the cutting edge.
An innovative approach could mean, for example, more use of technology in orchestras, which is something she has been looking at.
I'm looking at the VR [Virtual Reality] world and what that means for orchestras in the US. How can we incorporate cutting-edge technology into the live sphere?
Entrepreneurial by nature, Noone has been involved in a diverse range of musical projects and takes success and criticism as all part of the creative journey. 
If you're exploring music to the nth degree, you have to be OK with not being great at certain aspects of it for a while – until you figure it out and discover your own voice. You can't do that unless you're willing to be comfortable with failure. 
And whether it is new approaches to orchestral programming or technological innovation in music, Ireland, she says, has 'the talents … to be the first to do those things. It doesn't need to come from anywhere else.'
Eimear Noone will receive her Laochra Ceoil Cellissimo Honoree award from Music for Galway at their Fundraising Gala this Friday 1 March at the Meyrick Hotel in Galway. Cellissimo, a new cello festival, is Music for Galway's flagship project for Galway 2020. For further information on the Fundraising Gala and tickets, visit www.musicforgalway.ie.
Published on 26 February 2019