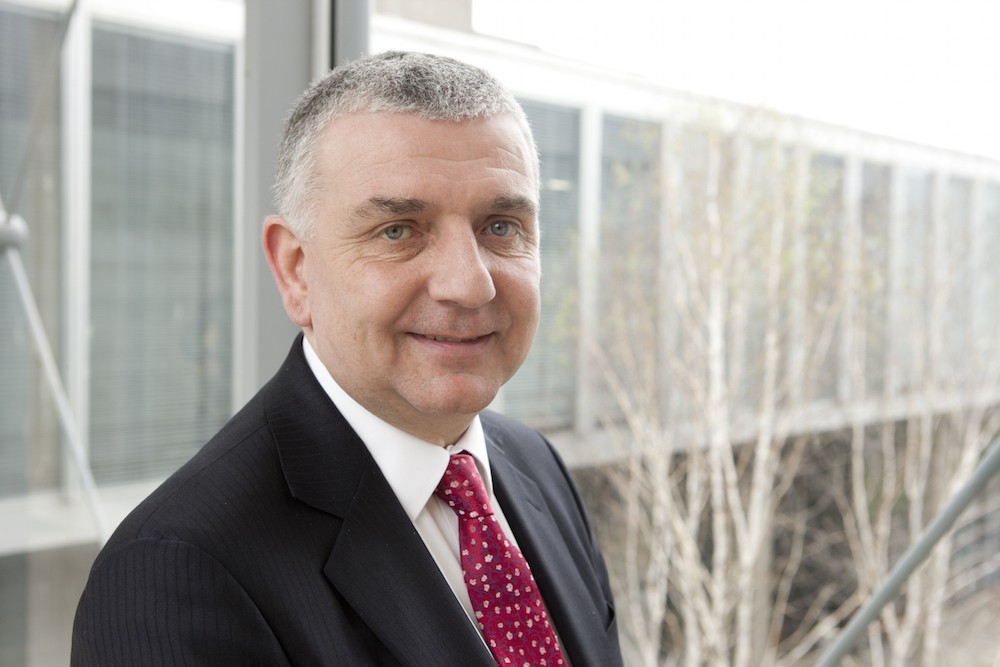 'We've got one chance to get this right': An Interview with Anthony Long
In 2017, Anthony Long was appointed manager of the RTÉ National Symphony Orchestra, following 15 years with the RTÉ Concert Orchestra. After an external review of the orchestras last April, the Government announced that the NSO was to move from RTÉ to the National Concert Hall. In this interview with The Journal of Music, Long discusses how the difficulties built up for the orchestra – and the challenge of getting things back on track.
When RTÉ published an external review of its two orchestras last April, it detailed an alarming range of difficulties: 16 unfilled positions, no principal conductors, management and administrative vacancies, fewer concerts, a decline in national touring and educational work, and appearing in just 4% of RTÉ Lyric FM's broadcasting of orchestral music. The report said that the RTÉ National Symphony's Orchestra's current number of full-time musicians made it 'one of the smallest [symphony orchestras] in Europe.'
More severely, morale among the musicians was low. Members of the orchestra complained that there was 'no sense of direction for either orchestra'; the report commented that there was a 'a highly charged, inward and mistrustful culture in the orchestras'; and musicians and staff felt that the reduction in the number of performances had had 'a detrimental impact on public value and orchestral competence.'
Leaving RTÉ
The response from the Irish Government was relatively swift. On 5 July 2018, it agreed in principal that the National Symphony Orchestra, after 70 years in RTÉ, was to be moved and would come under the remit of the National Concert Hall, but that the Concert Orchestra would stay in RTÉ. The Government said it would immediately establish an oversight group to begin discussions on the move. 
So what has been happening since? Speaking to The Journal of Music, Anthony Long says it's a complex process that will take time.
There have been some high-level meetings. We're moving along reasonably carefully, which is, in my view, a very good thing because we've got one chance to get this right. We've got a wonderful opportunity to cement the future of the National Symphony Orchestra. We're firmly embedded in RTÉ and we need to work out how a relationship in a new setting will work. There's a lot of work to be done, in terms of musicians' conditions, and that needs to be done sensitively, so that when we land it's the best thing for everybody.
While discussions are ongoing, there is as yet no set schedule for the move 'because it's never been done before', yet Long believes that 'once the underwriting of the orchestra – the financial position – is stabilised… that's the best outcome.'
But how did things get to such a serious stage for the orchestras after 70 years of stewardship in RTÉ? Cuts due to the recession and the changing media landscape were a major issue, he says, but there was also an underestimation of what it takes to support orchestral music.
The great thing about the report was that it focussed all of the key stakeholders on the importance and the fragile nature of the provision of orchestral music in Ireland. It also lay down a possible plan for the future. I thought some of the criticism [in the report] was justified, but at the same time I think criticism can be justified and unfair. It didn't always take into consideration that RTÉ had supported the orchestras for 70 years, which I think has to be commended, even though I'm sure a lot of critics wouldn't agree. The overall positive outcome is that it's looking for a commitment from the Government and RTÉ to fund the orchestras going forward.
Audience increase
Between the report last April and the Government announcement in July, one piece of news was strikingly good. In June, RTÉ's annual report showed that the NSO audience had increased by 53% in 2017, and those figures have been sustained for 2018.
The beginning of 2019 has also been signifiant in that the NSO has just announced its new Chief Conductor, Jaime Martín, filling a position that has been vacant since 2016. The Spanish conductor and flautist, also recently appointed as Music Director of the Los Angeles Chamber Orchestra, begins a three-season contract at the NSO this September.
Complex recruitment
Making the appointment was one of the first things on Long's agenda when he became manager, although the process was quite extended. 'He was always on my radar. I saw him once or twice obviously. You sort of get a sixth sense about these things. He was one of the first people I invited in.'
From my perspective, a conductor has to be all things to all people. … As a conductor, as a professional flautist at the highest level, [Martín] knows the job from inside of the orchestra; and as director of the Santander International Festival, at which he doesn't play or conduct, he knows it from the management point of view. He's ideal.
The process of recruiting orchestra members can be complex – taking up to a year or more to trial a musician. This is part of the reason why vacancies grew at the NSO and CO.
The vacancies built up because RTÉ found itself in a situation every couple of years where it needed to make cuts. It can take a couple of years to fill a job in an orchestra. Each time the shutters came down across the entire organisation [recruitment of orchestral members stopped], but when the shutters went up it took the orchestras a while to audition, to trial, to get people in. 
The NSO is currently trialling musicians for four positions; and the RTÉ Concert Orchestra has also just advertised for a General Manager, a position that has been vacant since Long left it, although Gareth Hudson has been Executive Producer and acting manager.
Orchestra development and programming
The National Symphony Orchestra has traditionally focussed on the core classical canon and contemporary music, while the Concert Orchestra – although it plays classical and contemporary repertoire too – is well known for working across a range of genres. For Long, the difference in managing the two is about repertoire but also planning cycle. The planning for the NSO could be two years in advance, whereas the CO, as a smaller orchestra, can be more commercially opportunistic.
In his years with the CO, the orchestra's profile rose considerably, particularly with performances with Jenny Greene at the Electric Picnic festival.
The idea of putting a DJ with an orchestra had been tried [in concert halls], but we took it into a dance setting. The orchestrators that we used – we got them to enhance the orchestrations. When we realised that we had something special, that was amazing.
His approach to programming at the NSO is influenced by his years at the CO, and he talks about 'orchestra development', not just 'audience development'. Orchestra development is 'developing the music that the orchestra plays, looking at the way we can present it and who we present it to.'
Our [NSO] audience tends to be reasonably conservative in its tastes. I don't think that's unfair. I don't think it's a bad thing to say either. We have to make sure that we cater for those people. The last thing you want to do is alienate your audience, especially those who come week in, week out.

If we're introducing some challenging or unknown works, we try to do that within a broader palette of music they know. The best example I can give is the upcoming concert of Mahler's seventh symphony with the Saariaho clarinet concerto [8 March]. We did it quite successfully last July when we played Mahler's fifth with the Magnus Lindberg clarinet concerto with Kari Kriikku. … I think people came mostly to hear the Mahler, but were overwhelmed to the extent that there was a genuine standing ovation for the Lindberg.
The NSO's current season has received criticism for not performing enough contemporary music and in particular works by Irish composers. Long is conscious of the neglect of Irish work.
I can honestly say over the past couple of years that we haven't championed as many composers as we would have liked to do, but that comes down to the fact that our budgets have decreased significantly as RTÉ's budgets have decreased. 

We haven't had the finance to commission as much as we would like. That being said, we need to look at how this is done and how we present it. One of the things we're doing is going back through the catalogue of music we've already commissioned and seeing where and when we could programme that. 
He is currently talking to four Irish composers about new commissions, one of which is Donnacha Dennehy. The NSO will premiere a new orchestral work by him in 2021. Next week at New Music Dublin, there will be premieres by Jennifer Walshe and David Fennessy that are also RTÉ commissions.
The other thing that I make no secret about is I want to look at older Irish music. I don't want to forget those composers… they have dropped off the radar as well. This sub-season that we have running through the seasons, Towards 2020 [featuring, most recently, Ina Boyle, Charles Villiers Stanford and John Buckley], it's a simple effort to get some of that music back into our repertoire.
One positive aspect of the external review, he feels, is that it acknowledged the importance of orchestral provision to Irish culture. 
I think a lot of people think that Western classical music isn't really part of our culture. There's a perception that it's not Irish culture, but I would totally refute that, given that our history goes back beyond Handel's Messiah to Geminiani and O'Carolan. And I think composers like Stanford are neglected. We need to reclaim them.
Putting the 'National' back in the NSO
Across commissioning, recruitment and more, Long reckons that, post-report, it is now possible for the NSO to start to plan properly again, but putting the 'National' back in the NSO is essential.
We are too Dublin 2-centric… I absolutely want to see the reinstatement of the two national tours that we use to do, and I think, in an ideal circumstance, with the right kind of funding, we would not be just rehearsing here for a Friday-night concert, but that concert would be repeated at a venue outside of Dublin. [We cannot] neglect the fact that we are a National Symphony Orchestra and we should be playing outside of Dublin more often.
Tours also contribute to the morale of the orchestra. Has morale improved since the issues highlighted in the report? 'We were starting from a very low base… there will be a lot of things that will influence the morale in the orchestra other than the current predicament.' It has improved but it varies. 'If we've poor attendances at concerts that will influence morale. If there are other issues going on, non-musical, that will influence morale as well.'
New appointments can have a positive impact though. For Jaime Martín's recent concert (18 January) featuring Barry Douglas playing Brahms' second piano concerto, 'There was an extra electricity in the air' – it was a 'wonderful evening.' 
Touring nationally is good for orchestras, he argues, because they are getting a chance to repeat a programme so they get to know the music better, they get to know their colleagues better too, and they are playing for audiences that don't usually see them. 'Without an audience we're nothing', Long says. 'The more audiences we can play to the better.'
The next RTÉ National Symphony Orchestra concert takes place on Friday 22 February at the National Concert Hall and features conductor Cristian Măcelaru and violinist Vilde Frang. The programme includes Rimsky-Korsakov's Russian Easter Overture, Stravinsky's Violin Concerto and Tchaikobsky's Manfred Symphony. For more information and tickets, visit orchestras.rte.ie. 
Published on 21 February 2019