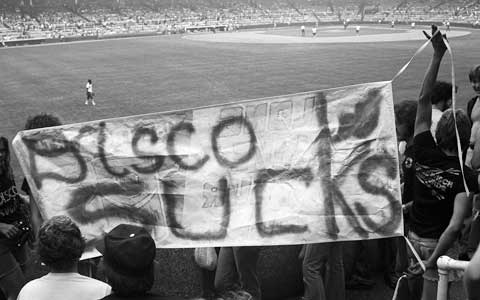 A Whole New Thing
Alice Echols tells the forgotten story of the daring, cross-racial experimentation that happened across rock, funk and disco during the 1970s.
Thirty years ago disco was left for dead. Radio stations abandoned it, record companies dumped their disco divisions, thousands of disco closed their doors, and disco artists fled to any other format. The Village People, famous for their short hair, moustaches, and macho uniforms, decked themselves out in make-up and straight fringes – New Romantic style. Chic abruptly announced their 'exit' from disco. In spring 1980 Gloria Gaynor's 1979 hit 'I Will Survive' won the first and the last Grammy for best disco recording. The category – hastily established after disco's clobbering of the competition in 1979 – lasted only twelve months. Within a year of having virtually owned the US top ten, disco was, in the words of Mel Cheren of the label West End Records, 'so officially over that the word itself ceased being used by the mainstream media except as a pejorative.'
There is no single reason for disco's spectacular flame-out, but certainly the rock world did more than cheer from the sidelines as the disco bubble burst. No one, with the possible exception of Christian fundamentalists, seemed to hate disco as much as rock 'n' rollers. American rock publications covered the glitter-ball world begrudgingly or sneeringly, if they covered it at all. Rock radio was even more openly discophobic. Rock DJs, with considerable prompting from radio consultants, destroyed disco records on air, and organised anti-disco vigilante groups to make discos not just unfashionable but unsafe. Two DJs at Detroit's WWWW radio station formed a vigilante group called Disco Ducks Klan and hatched a plan, which they later abandoned, to wear white sheets onstage at a rock club. Then there was the infamous Disco Demolition Night at Chicago's Comiskey Park baseball ground in July 1979. 'Oh my God almighty, I've never seen anything so dangerous in my life,' recalled Detroit baseball player Rusty Staub. After DDN organiser, rock DJ Steve Dahl detonated a fireworks bomb inside a crate filled with thousands of disco records, 7,000 fans rushed onto the field, starting bonfires, tossing firecrackers into the stands, and destroying turf, batting cages, the pitcher's mound, and, of course,any remaining disco records.
For several years after, almost any artist cutting dance-worthy tracks ran the risk of being dismissed as disco fluff. When Prince and the Revolution opened for the Rolling Stones in 1981, fans, believing his music sounded suspiciously disco-ish, greeted him and the band with vicious booing and such a veritable 'hailstorm of beer bottles' that it drove him from the stage. While the stigmatising of disco affectedwhite artists too – for years critics dismissed Madonna as a 'little disco tart', as she one put it – the fall-out from disco's collapse primarily hit black artists, who found the pop charts difficult enough to penetrate, and MTV especially hard. What is peculiar about this, is that for many disco was objectionable not because it was seen as'black', but because it was seen as 'white' or some bleached version of real black music. However, whether disco was deemed too black or toowhite, black artists shouldered the burden.
It wasn't just fans of rock who hated disco. Punk rockers made apoint of slagging off disco. Sex Pistols' John Lydon later admitted heloved disco, but at the time he bashed it. Adele Bertei, who was part of the New York punk scene and played keyboards in the Contortions,admitted, 'When it came to disco, we were like these vicious little misanthropes with Tourette's syndrome.' To journalist Mark Jacobson itseemed that for those in and around New York's Punk magazine, punkrepresented the assertion of 'all things white, teenage and suburban.'The iconic rock critic Lester Bangs pretty much corroborated this,arguing that to the Punk crowd virtually all music made by black peoplewas 'disco nigger shit'. (Yes, ironies abound, especially when you consider the debt punk owed to Chuck Berry.)
Because of this bad blood, most histories of 1970s music have characterised rock and disco as antagonists and have assumed that rockers who 'went disco' did so opportunistically. But to view these genres as though they were on a collision course from the beginning of disco's emergence, makes the mistake of reading this history backwards.It misses the cross-genre, transatlanic and often cross-racial longing that characterised the tangled history of rock with the earliest disco.Indeed, listening to the music of the early seventies, and combing through the music press of those times, reveals a different story – a forgotten story – about the enthusiasm of some rockers, particularly inBritain, for the music that would come to be known as disco, and the passion of some African-American R&B musicians for rock. The outcome was a moment of daring experimentation, with musical dividends that paid off on many disco dance floors in the early seventies.
British rockers had long been besotted with American R&B as well as the blues, and their infatuation did not die out with the sixties.By the early 70s, what grabbed them as often as not was California Funk group Sly and the Family Stone (and all the groups they spawned)and the new sweet symphonic soul coming out of Philadelphia. Disco and funk were in practice largely indistinct in disco's early days, and inAmerica appealed particularly to soft rockers, but in Britain the situation was somewhat different. While British aficionados of this new music certainly included musicians such as Elton John, who heated up disco dance floors with 'Philadelphia Freedom', they also includedveteran hard rockers such as Jeff Beck and Eric Clapton, both of whom collaborated with Motown artist Stevie Wonder. Indeed, Beck's guitar riffs were dubbed for Wonder's 'Lookin' For Another Love', and untilMotown scrapped it, the ex-Yardbird was set to record 'Superstition',the song that would become such a hit for Wonder. Another band making this move was English rock group Humble Pie, which moved further in the direction of R&B with the help of the Blackberries, the vocal triothat in earlier incarnations had been Ike and Tina Turner's Ikettes andRay Charles' Raelettes.
Indeed, by the time David Bowie ditched glam for the new R&B in summer 1974, Steve Marriott of Humble Pie judged it stale. What was all the fuss about Bowie's black female back-up singers when Humble Pie and lots of other rockers had been doing it for a while? 'He really hasn't stumbled on anything new,' argued Marriott. But Bowie's new 'plastic soul', as he called it, was a big deal to many, not least to Bowie, who declared to the press that he wanted 'a really funky sound with his band.' Bowie hired two African-American musicians, one of whom,guitarist Carlos Alomar, had played with James Brown. The album that followed, recorded between the summer of 1974 and January 1975,contained 'Fame', a song that critics neutrally called 'disco'. 'Fame' featured Alomar's brittle, percussive guitar, played in the style made famous by James Brown guitarist Jimmy Nolen. It landed Bowie in theR&B charts and made him among the first white artists to appear on the American television show Soul Train. If the song sounded like disco to many, it may have had something to do with the fact the song came about when John Lennon, who was in the studio with Bowie, began tinkering with, and evidently slowing down, the guitar line fromShirley and Company's disco song, 'Shame, Shame, Shame'.
Bowie's infatuation with the new R&B sounds stemmed at least in part from his time hanging out in Manhattan's emerging disco scene.From 1973 through 1974, Bowie frequented discos such as the Loft withAlomar, and the guitarist's friend, the then-unknown vocalist, LutherVandross, who would make his mark in the disco group Change. MickJagger often came along on these disco expeditions, and within a couple of months the Stones recorded 'Hot Stuff', a languorous but tense chunk of funk on which the American R&B keyboardist, and 'fifth Beatle',Billy Preston played. The Stones reportedly even considered working with American disco-funk band the B.T. Express, and Jagger, at least,toyed with the idea of covering Shirley and Company's 'Shame, Shame,Shame'.  In 1974, English keyboardist Brian Augur of the OblivionExpress wrote the falsetto-driven, disco-ish top ten R&B hit 'Happiness is Just Around the Bend' for the American R&B group theMain Ingredient. The Scottish group Average White Band, which included one of Augur's former band mates, drummer Robbie McIntosh, scored a number-one hit in 1975 with their disco-funk single 'Pick Up thePieces'. And although the Bee Gees (raised in Australia, butBritish-born) are frequently criticised as disco Johnny-come-latelys,their LP, Main Course, with its infectious 'Jive Talkin' was recorded about the same time as Bowie was cutting 'Fame'.
African-American musicians were also mixing it up, challenging the idioms of R&B as much as these rockers were challenging the conventions of rock. Chicago band Rufus (with Chaka Khan) pointedly refused to identify themselves as R&B, telling reporters they were making a different kind of music, which they inexplicably called 'Krudde'. American group Labelle, formerly the girl group Patti LaBelleand the Bluebells, made themselves over into a glam rock outfit with the help of English manager Vicki Wickham. When interviewed by MelodyMaker, group member Nona Hendrix made a point of calling the band a'rock act'. Stevie Wonder's knee-deep explorations of funk, especially in Talking Book and Innervisions, were aided and abetted by Tonto, the pioneering synthesizer duo of Robert Margouleff and Malcolm Cecil.Wonder's refusal to stay put, and his willingness to collaborate with rockers baffled some, including those at Motown who pleaded with him to junk all that rock music and 'come on back home'. But these musicians were yearning to experiment. Listen to Labelle, Rufus and Wonder in this period, and you'll hear music that defies easy categorisation.You'll also hear tracks that played on many disco dance floors.
By 1978, by which time disco had become disco, songs such as 'Fame' or 'Superstition' would have sounded out of place in the mirror-ballworld. Disco's eventual collapse stemmed in part from its growing sonic homogeneity, which made this hybrid dance music – this early disco– increasingly seem out of step. And as disco moved from the margins to that despised cross-generational center that included mums and dads,rockers bailed. But, for a few years, rock, funk and disco came together so incandescently one couldn't be blamed for thinking that pop music might be done with these categories and on the brink of a 'whole new thing', as Sly Stone once put it.  
Published on 1 February 2010
Alice Echols is a cultural critic and historian. Her latest book is Hot Stuff: Disco and the Remaking of American Culture (W.W Norton).