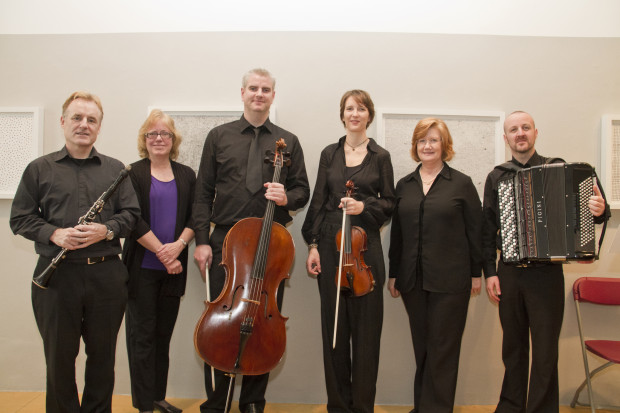 Up Close with Music 2014
Sunday, 26 January 2014, 2.30pm
Concorde are pleased to announce a new series of contemporary music events at the RHA Gallery in Dublin in 2014.  The very successful Up Close with Music series returns for a third season, with support from an Arts Council Music Project Award, and takes place on the last Sunday of each month from January to April between 2.30 and 4.30 pm. 
Once again each of the four events will feature new work by Irish composers. Featured in the January performance is a new work for flute, bass clarinet and live electronics by Dublin-based composer Enda Bates.  He describes his new work, 'The Dance of your Breath' as a 'sort of intimate and whispered conversation between the two instruments, like that of two lovers perhaps, speaking in close and hushed tones, in the half-light.' http://www.endabates.net/     
Also receiving a world premiere is a new work by Irish composer Ailís Ní Ríain: 'When I die, you can do what you want'.  Written for solo violin in collaboration with Bosnian video artist Adela Jusic, this piece is a reinterpretation of Bosnian sevdah melodies; together with a visual narrative based on a personal life story the work contemplates the loneliness of the elderly in changing cultures. www.ailis.info   
Concorde continue their partnership with the Chicago-based organisation ACM and are delighted to announce that ACM member Jorge Muñiz, Spanish born composer and Associate Professor of Music at Indiana University, will travel to Dublin to join Concorde for the performance of his duo for flute and harp - La Nueche de San Xuán (the Night of St. John).      http://www.jorgemuniz.com/   
Over one hundred composers from all parts of the world submitted works in response to Concorde's call for scores.  For the January concert, selected works by composers from Italy, France, Poland, Russia/USA and Spain/USA will be given Irish premieres.   
2.30 pm
Milosz Bembinow (Poland): PoliEtiuda (clarinet, violin, cello)  2004                           
Martin Loridan (France): Recitativo – Hommage a Constentin Silvestri (solo cello) 2013    
Enda Bates: The Dance of your Breath (flute, bass clarinet, live electronics)  - Premiere Performance
Jorge Muñiz (Spain/USA): La Nueche de San Xuán  (flute and harp) 2010
3.45 pm
Vera Ivanova (Russia/USA):Three Chants and Three Interludes (flute, clarinet, cello) 2005
Ailís Ní Ríain – When I die, you can do what you want  (solo violin, in collaboration with Bosnian video artist Adela Jusic - Premiere Performance
Massimo Lauricella (Italy): In un gorgo d'azzurro  (bass clarinet and cello)  2008/9   
Enda Bates: 'The Dance of your Breath' (flute, bass clarinet, live electronics)
Add a Listing