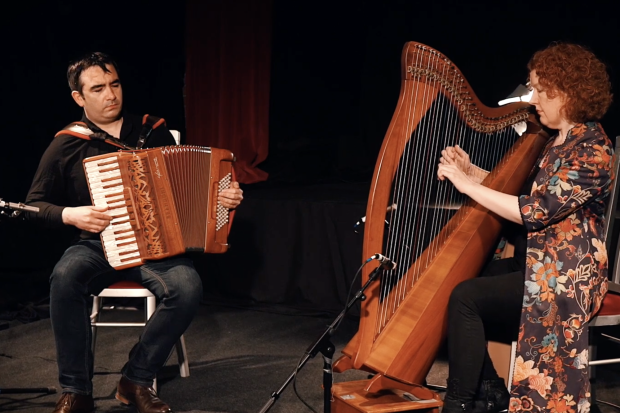 Tríona Marshall (harp) & Martin Tourish (accordion)
Saturday, 25 November 2023, 7.30pm
€20 from https://tinyurl.com/3h8a9p3y
The Garden of Strange Beauty is the place from where the intensity of all our joys, sadness and laughter spring. Throughout time, music has served as a pathway between the realms of myth and mystery and the earthly landscape wherein we all reside. In this strangest of pairings, the harp of Triona Marshall and the accordion of Martin Tourish combine to conjure an ethereal and dreamlike soundscape, full of the expressions of human emotions revealed in this experiential sphere.
Tríona Marshall
Tríona Marshall has played with The Chieftains since 2003, performing in festivals and concert halls around the world. She has regularly toured the USA and Japan, China and Australia. During her time with The Chieftains she also recorded multiple albums with multiple renowned artist.
Previous to this phase in her career, she was the principle harpist with the RTÉ Concert Orchestra, which in itself was preceded by many dedicated years of study in London's Royal College of Music and the Koninklijk Conservatorium in Den Haag.
In 2013, along with The Chieftains, Triona was awarded an honorary doctorate from Dublin Institute of Technology in recognition of the band's contribution to Irish music. Most recently Triona performed with members of The Chieftains to celebrate President Joe Biden's visit to Ireland in Ballina Co. Mayo.
Martin Tourish
Martin Tourish is an accordionist and composer from Co. Donegal. In 2008 he was named Young Musician of the Year by TG4 and after completing his PhD thesis in 2013, became a member of the band Altan.
As a performer, he has recorded for Naxos with the National Symphony Orchestra, played Vicar Street with Patti Smith, the Royal Albert Hall with the Chieftains and more recently, performed The Goldberg Variations with Dermot Dunne. As a composer, his music has been performed by Martin Hayes, the RTÉ Concert Orchestra, Paddy Moloney, and Macklemore.
Most recently, his piece for trad orchestra and choir, Inishowen, which he conducted, received a sell out performance at the National Concert Hall and another, Endgame, received a sold out performance at Derry's Guildhall. Publications include Altan: The Tunes (2015) as well as many titles in multiple languages for Universal Edition. In 2021, he completed a radical redesign of the piano accordion in partnership with Bompezzo.
Tonight's concert will be drawing from the music on Tríona's album Between Two Ways. This is a collaborative work with composer Martin Tourish and is a collection of new music, written for her to record with those masters who's music profoundly influenced her own musical journey, people such as Paddy Maloney, Sean Keane, Martin Hayes, Seamus Begley, Tim Edey and others.
This concert is presented by the OPW as part of the 2023 Cultural Programme at Farmleigh House
Website
Add a Listing