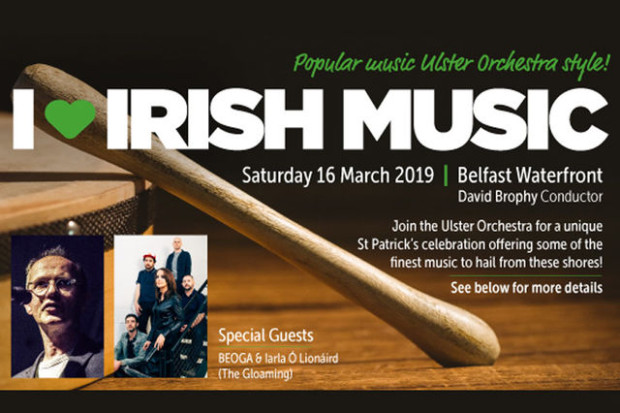 Ulster Orchestra, Beoga and Iarla Ó Lionáird – I Love Irish Music!
Saturday, 16 March 2019, 7.45pm
I Love Irish Music!
Join in the festivities for St Patrick's Day with the Ulster Orchestra, Beoga and Iarla Ó Lionáird.
Conductor David Brophy
Describing themselves as "four Nordy lads and a Limerick lass beating out the new wave trad", Beoga have pushed the boundaries of the Irish trad sound by embracing everything from Blues to the New Orleans party vibe. Their talent drew the attention of Ed Sheeran, and the subsequent collaboration resulted in the huge hit Galway Girl. Currently in the studio working on their next album, Beoga are the future of Irish music on a global scale.
Born and bred in Cúil Aodha, in the West Cork Gaeltacht, Iarla O'lionaird has carved a long and unique career in music both internationally and in Ireland. He is best known as vocalist with the critically acclaimed Irish/American band The Gloaming, who have just sold out a seven-night run at the National Concert Hall in Dublin for the third year in a row. Alongside movie soundtrack credits for Gangs of New York and Brooklyn, Iarla has also worked with legends such as Nick Cave, Robert Plant and Peter Gabriel.
Website