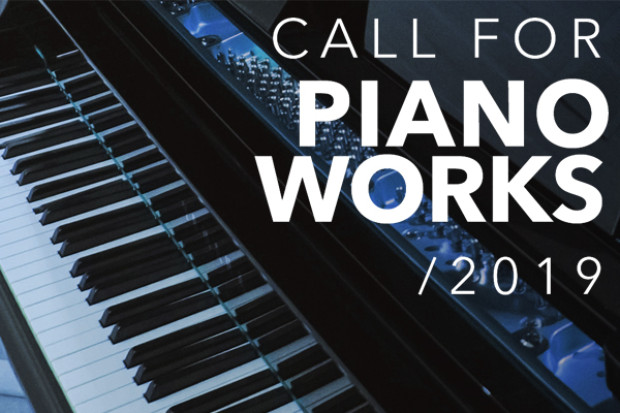 RMN Music - New Call for Piano Works 2019
Sunday, 26 May 2019, 11.55pm
CALL FOR PIANO WORKS 2019
RMN Classical has announced its new Call for Piano Works 2019. RMN Classical decided to launch the 2019 edition of the Call for Piano Works to discover and develop new composers and performers that would otherwise remain under the radar as well as promote and support the international growth of the more established ones.
This is an opportunity for both, those artists who have studio recordings of their works and are looking for an opportunity to promote themselves and showcase their music and ideas, and those, whose works have, indeed, been performed and recorded live but never got published or distributed. Composers and performers with previously published works can participate as well. Note that this Call is also addressed to pianists who own recordings of works from the repertoire or from less known composers. (Pianists will have to opportunity to participate in the Performers category).
WHO CAN PARTICIPATE
This Call for Piano Works 2019 is open to anyone, regardless of age or country of residency. The work(s) submitted are intended to be of Contemporary and Classical music and for piano solo, piano duos or four (or more) hands. Both Live and Studio recordings are accepted, as well as VST/Computer generated tracks. Works written for Duo, Trio, chamber music, etc, or those that include voice or electronics won't be accepted.
There are no restrictions regarding neither the duration – even though RMN recommends to preferably submit short and medium length tracks – nor the number of recordings that each applicant can submit.
PRIZE
The selected works will be featured in a top quality release and added to both RMN Music's catalog and to the Sound and Music Archive of the British Library, which already hosts all RMN Music catalog. The new album will be produced by RMN Classical, released worldwide and distributed on a high-quality edition on various platforms around the world (including but not limited to iTunes, Apple Music, Google Play Music, Amazon Music, Spotify, Pandora and many others).
The prize for the selected winners will also include high-quality design of the cover artwork, chart registration in the USA, the UK, and Canada, licensing and copyright clearance and the composers will retain 100% of the copyright. Additionally, there will be the opportunity for synchronisation and licensing (tv and media) and optionally physical distribution and manufacturing of the album will be available on demand.
DEADLINE AND HOW TO APPLY
The cut-off-date will be May 26, 2019, and the application fee will be divided into discounted Early Bird (ending April 28, 2019) and Full Price (ending May 26, 2019). Each applicant will have the opportunity to send their works via the Application Form, and the application should include the link to the recording(s) in mp3, the score(s), notes about the composition(s), about the composer, and about the performer(s).
For more details, guidelines and application form visit: https://rmnmusic.com/call-for-piano-works-2019/
About RMN Classical
RMN Classical, is a specialised record label launched by Composer-Producer Rick Romano, that focuses on exploring and promoting 20th and 21st-century contemporary art-music and all its ramifications. Since its start in 2015, the label has released a growing catalogue of productions including contemporary instrumental, sound-art, electroacoustic, acousmatic music and their sub-genres.
About RMN Music
London-based RMN Music is a modern music company devoted to the contemporary artists and audience. Originally born as a boutique label, it now offers strategic services to the industry professionals, empowering the artists, connecting the music and the people in new ways, creating unique experiences, inspiring dreams, ideas, and imagination.
Website
Published on 11 March 2019